Doors are boring. That's why they need wreaths. This sunflower wreath is so simple to throw together!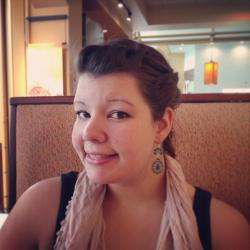 Jessica Griggs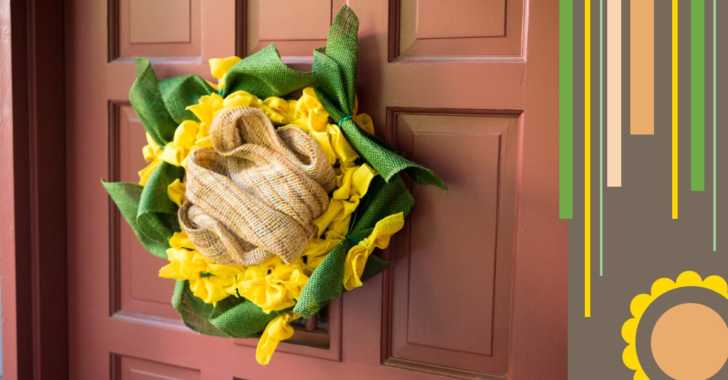 Doors are boring. That's why they need wreaths. Plus, the right wreath lets any and everyone who enters your home know that you're crafty and cute. This burlap sunflower wreath was so simple to throw together, and it turned out great! It would be a fun wreath to make in lots of different colors to change with the seasons – blue petals and a grey center for a gerber daisy during spring, orange, red, brown, and yellow burlap to look like leaves during fall, and light blue, white, and silver for snowflakes during the winter. There are a thousand different ways to customize this project once you have the basics down. Check out the easy to follow video below, and see the full instructions beneath the video. Happy crafting!
Need more festive wreath ideas? Check out this patriotic clothespin wreath. Perfect for Memorial Day, Fourth of July, Veteran's Day, and really every day. America goes with everything.
Supplies:
– 10" Green and brown Poly Burlap
– 5" yellow burlap
– 10" wire wreath frame
– Pipe cleaners
– 1 sheet of stiff plastic canvas
– 2 zip ties
Directions:
Place 7 pipe cleaners on the outside ring of the wire wreath, and 7 pipe cleaners on the middle ring of the wire wreath.
Cut 7 12" pieces of green burlap for the leaves
Take two opposite corners of the pieces and fold them inward. Gather in the middle until it looks like a bow tie. Flip over and attach to the outward layer of pipe cleaners on your wreath. Attach one yellow petal to the outside rim of the wreath, on top of each of the green leaves. Repeat until every green leaf has a petal.
Cut 34, 8" sections of yellow burlap. Repeat the process of folding the opposite corners inward and bunching to make a petal.
Add 2 layers of the petals onto the 7 pipe cleaners in the center ring of the wreath.
Once this is complete, add additional pipe cleaners and petals as you see fit, filling in the bare spots.
Measure (or trace) a 7" circle of plastic stiff canvas and cut it out.
Take additional pipe cleaners, cut into small pieces and thread through the canvas on the bottom of the circle and attach the brown burlap by pulling it over the front of the circle and securing it on the back of the canvas with the pipe cleaners. Do this several times, in a zigzag pattern to create the center of the sunflower.
Secure the plastic stiff canvas with the brown burlap to the center of the wreath using zip ties.
Trim the ties, and the pipe cleaners, attach a ribbon to the top, and hang on your front door for a festive, summer wreath!