Look what you can make with just a few scrap pieces of fleece, hot glue, and some batting!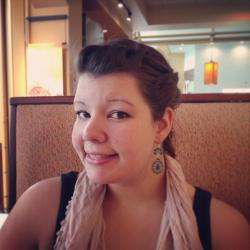 Jessica Griggs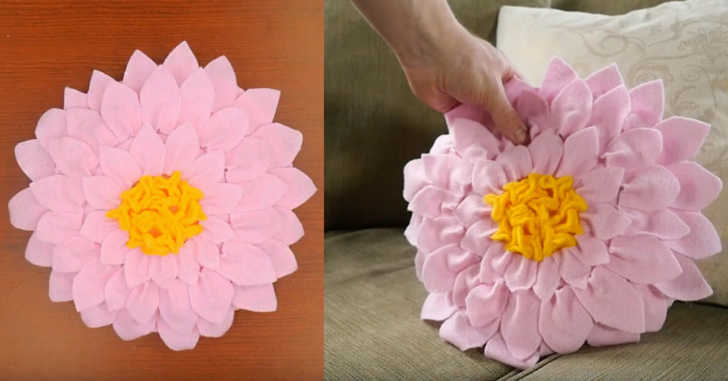 Look what you can make with just a few scrap pieces of fleece, hot glue, and some batting! These flower pillows are a fun little splash of color for any room in the house. They would be great out on a three season porch, or as seasonal accent pillows indoors. Of course, if you have little girls running around the house, you know they'll probably want the flower pillows on their own beds! We just love how comfortable these pillows are! They could be made with felt scraps, but the fleece is so much softer. It's really up to you and what materials you have on hand. How fun would an ombre flower pillow be? Starting with a lighter color for the outer layer of petals, moving to a medium color, and finally a dark color for the center circle. Make a whole garden of flower pillows! See how we did it in the video below, and get inspired to make your own. Scroll down for the supply list and instructions.
Want more flower crafts in your life? Check out these adorable flower buttons!
Supplies:
– Fleece
– Hot glue
– Stuffing
– Scissors
– Marker
Directions:
1. Cut two same sized circles out of fleece. Hot glue around the edges, leaving a small opening for the stuffing. Starting with a small circle in the middle, trace a bullseye around the pillow for a guide.
2. Optional: Cut out leaf shapes and hot glue together.
3. Add stuffing to the pillow, and glue the opening shut. If you made leaves, attach them to the edge of the pillow with hot glue.
4. Trace and cut out petal shapes – about 30 bigger petals, and 20 smaller petals.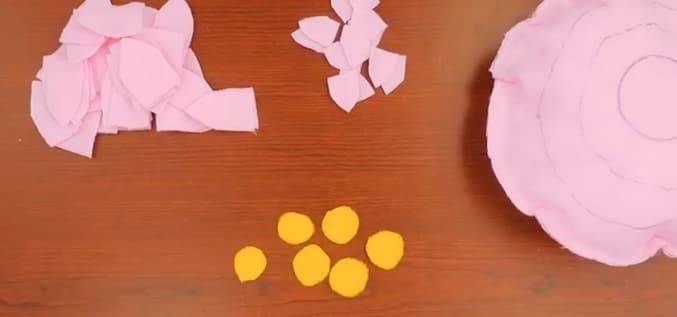 5. Starting on the outside ring of the bullseye, glue down a layer of petals by putting a line of glue on the bottom and pinching together in the middle to create a fold, and then attaching it to the pillow. You may need to add an additional dot of hot glue in the center of the pillow to keep petals down.
6. Keep adding layers, using the large petals for the first few rows, then a mix of small and large, and then small petals only for the inner circle.
7. In a different color fleece, cut out different size circles for the center. Fold and glue small circles, and attach to the center of the pillow.