Grocery shopping and meal planning can be such a hassle, and meal subscription services are popping up to save us time and effort – but are they worth it? Many of these companies now deliver across the continental US and cater to all skill levels in the kitchen. With so many options to choose from, let's look at how these services work, how they're priced, and how they compare to one another so we can figure out which plan is right for you.
Why should you even consider a meal delivery service in the first place?
Besides the obvious benefit of removing the need for all that recipe searching and grocery shopping, these services actually have a lot of positive effects. They've collectively raised over $500 million in investment funding, so there must be something to it, right? One immediate benefit is the promise to help with portion control, though I've also found the sizing generous enough that I often have plenty of leftovers. They often include fresher veggies than I can find in the grocery store, since most of the ingredients are sourced directly from farmers. Prepackaging ingredients in these meal kits mean there's a reduction in food waste, as everything that's sent gets used up in the prep work! And my favorite part is being exposed to new ingredients, dishes, and cooking techniques. All without needing to leave my home!
If you're ready to explore the options available, keep reading for the scoop on each service we tried so you'll know how they compare. They all start with the same concept, but execution is so different to fit different lifestyles and palates. We tried Blue Apron, HelloFresh, Plated, GreenChef, Sun Basket, Home Chef, and Purple Carrot – here's what we found!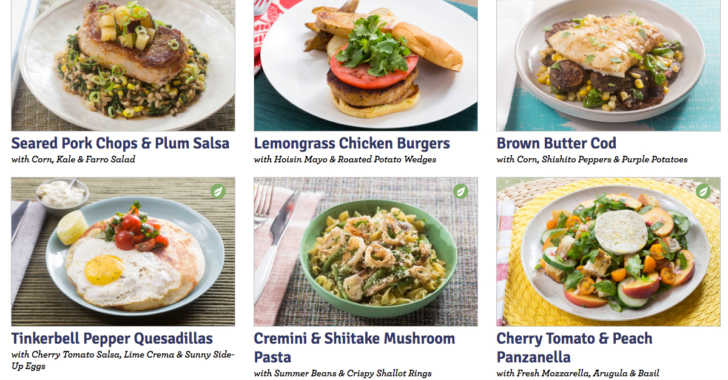 Blue Apron is perfect for gourmands who don't like grocery shopping or don't want to shell out big bucks for the unique ingredients and fancy-sounding dishes you'll make. Plus, there's an option to add on a monthly wine pairing box with six wines customized to enhance the flavor of your chosen meals. The company never repeats a recipe within the same year, and they focus on working with farmers to deliver super fresh, in-season produce. You get to choose which day of the week your box will arrive each week to ensure that you always have convenient, healthy food to cook!
Pricing
-2-Person Plan is $9.99 per serving for three meals each serving two. Shipping is free.
-Family Plan is $8.74 per serving for two or four meals each serving four. Shipping is free.
Meal Options
-The 2-Person Plan has six choices (you choose three), but not every combination of options is available. For example, if you choose two vegetarian dishes, you are unable to choose a chicken or meat dish as your third meal. Each week there is one beef or pork, one chicken, one seafood, and three vegetarian options.
-The Family Plan has four choices (you choose either two or receive all four). Each week these is one beef or pork, one chicken, one seafood, and one vegetarian meal option.
Sample Menu Choices
-Mexican Beef Quesadillas with Creamy Corn & Shishito Pepper Salsa
-Seared Chicken & Fregola Sarda with Salsa Verde, Corn & Tomato
-Seared Salmon & Miso Soba Noodle Salad with Fairy Tale Eggplant & Baby Greens
-Neapolitan-Style Stewed Vegetables & Farro with Purple Beans, Summer Sweet Pepper & Gremolata
Potential Drawbacks
-Meal choices are restricted, so you won't always be able to get your top three choices.
-Ingredients aren't separated by meal in the box you receive, so you'll have to do some sorting.
-Some recipes use the same ingredients in different amounts, so you'll have to actually pay attention while you're sorting.
-Recipe cards only list calorie information, not full nutrition facts.
-The vegetarian meals are priced the same as the meat dishes, which may not be appealing for vegetarians.
-If any of your recipes call for garlic, they will send you an entire bulb with many cloves leftover.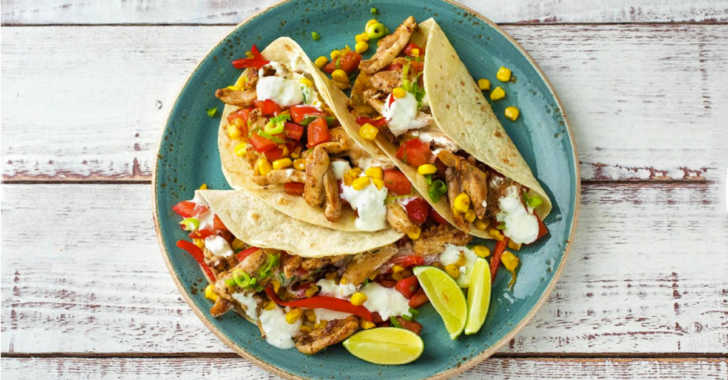 HelloFresh is perfect for the chef who loves simplicity – you won't need any fancy techniques or equipment and you'll be making easy, classic meals like oven-roasted salmon and homestyle meatloaf. Each meal has clear, simple steps to pulling together dinner in around half an hour, which is shorter than most other services. HelloFresh also partners with celebrity chef Jamie Oliver, who provides some of the more complex recipes for more experienced chefs to try out. A distinguishing feature is the company's in-house registered dietician who works to deliver a well-balanced, healthy, nutritious menu every week. If you're looking for detailed nutrition facts, this is the service for you! You can find extensive information on both the recipe cards you'll receive and on their website.
Pricing
-Classic Box is $9.90 – $11.50 per serving for three to five meals each serving two or four. Shipping is free.
-Veggie Box is $9.08 to $9.83 per serving for three meals each serving two or four. Shipping is free.
-Family Box $8.75 to $9.99 per serving for two to three meals each serving two adults and two children. Shipping is free.
Meal Options
-Classic Box has six choices (you choose three to five). Each week there is one pork, one chicken, one beef, two additional meat or fish recipes, and one vegetarian option.
-Veggie Box has three choices (you receive all three). Each week contains a variety of meals incorporating seasonal produce.
-Family Box has three choices (you choose two or receive all three). Each week there is one beef, one pork, and one chicken dish.
Sample Menu Choices
-Pesto Chicken Skewers with Tomato, Cucumber, and Corn Salad
-Sesame Beef Stir-Fry with Sugar Snap Peas and Basmati Rice
-Chipotle-Glazed Pork Chops with Garlic Mashed Potatoes and Roasted Broccoli
-Portobello and Orecchiette Primavera with Asparagus, Bell Pepper, and Chives
Potential Drawbacks
-Boxes sometimes include extra food (for example, a whole tomato when the recipe calls for a slice for each burger), which means more food waste.
-Many of the meal options are fairly basic. Some chefs would be comfortable shopping for and cooking burgers, pizza, pasta, and pan-seared chicken on their own and won't be inspired by these recipes.