This place is incredible.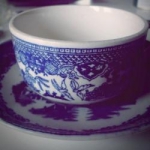 Rose Heichelbech
A lovely mansion from the Victorian era has just come on the market in Abilene, Kansas and some have been calling it an Addams Family style of house. We can certainly see why, but it still looks very inviting, if not a little (ahem) complicated in the wallpaper department. Have a look with us at this stunning mansion with true Victorian style.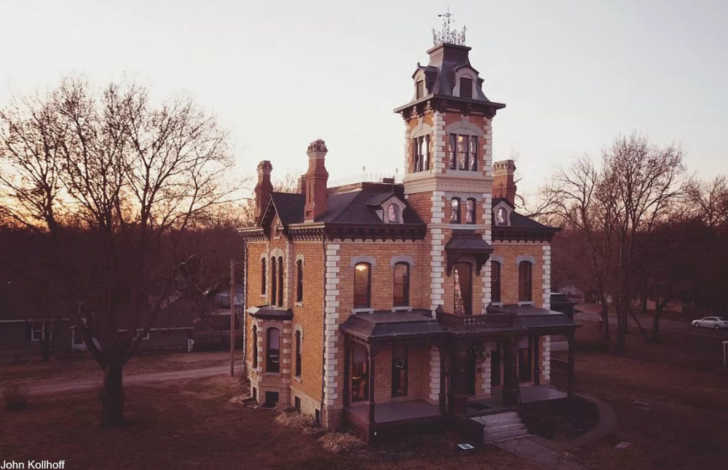 According to the real estate listing, the home was built in 1880 has has a whopping 23 rooms (6 bedrooms and 3.5 baths).
From Zillow: "One of a kind, stunning, 23 room Second Empire home located in historic Abilene KS, home of Dwight D Eisenhower. This stately mansion boasts as being one of the Eight Architectural Wonders of Kansas. Built in 1880 from native limestone, the Lebold Mansion has gone through a number of restoration efforts over the last several years. The current owners have installed a high-end kitchen, updated the servant's quarters bath with a steam shower, and fine tuned many of the details throughout the home. The grandeur of this Victorian home is found in the ornate, wallpapered ceilings and walls, the inlaid parquet floors, gilded detailing, and five story tower. The exterior features fountains, iron fencing, a spacious porch, and a carriage porch. This home is rich with history and would make a beautiful family home or a bed and breakfast."
That's a lot of information to take in. It's clear that despite some renovations, efforts have been untaken to ensure that the Victorian feel of this old house is maintained, something which is apparent when you look at photos of the place.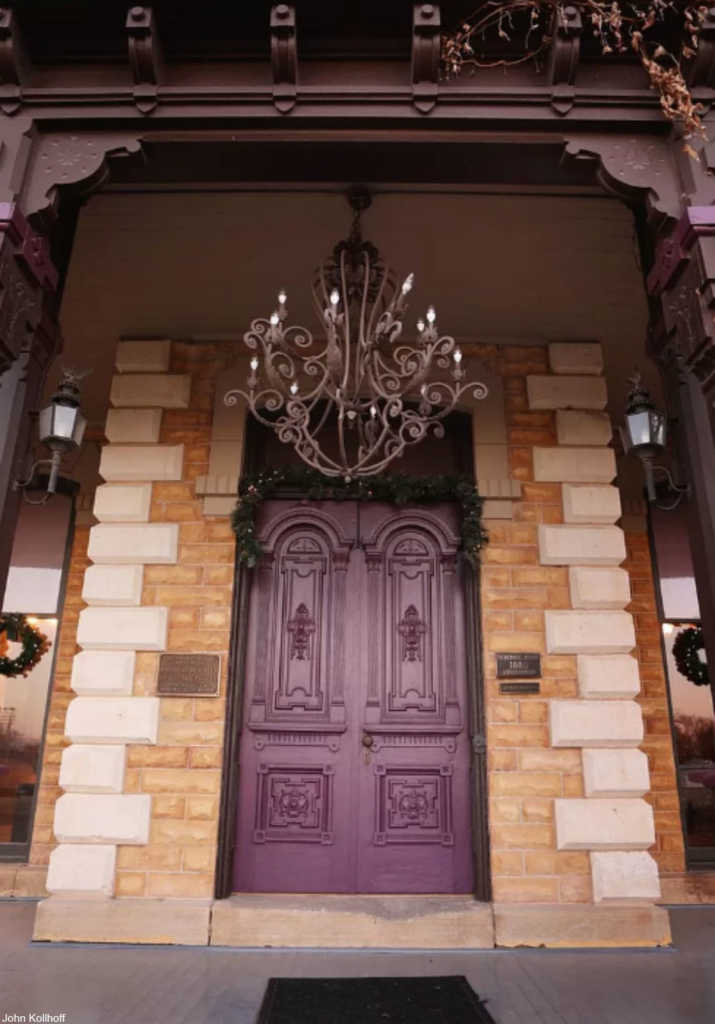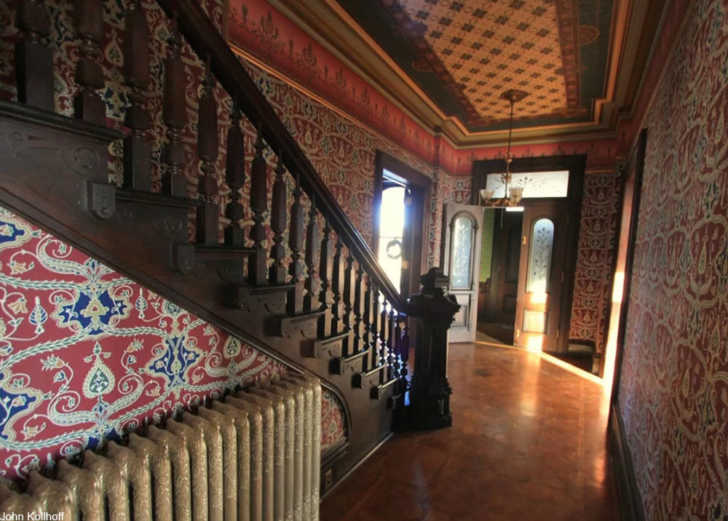 The intense wallpaper look isn't all that surprising since the Victorian trends for home decor centered around the concept of "more is more". Minimalism was considered bare and low class. However, a layered room filled with Persian rugs and busy patterns was the type of space that only wealthy people could afford, something the Victorians were quite concerned with.
In this house the endless amounts of wallpaper would be a buzzkill only if you wanted a neutral white background. Here's to hoping that someone who loves old things buys the house and really makes good use of the features.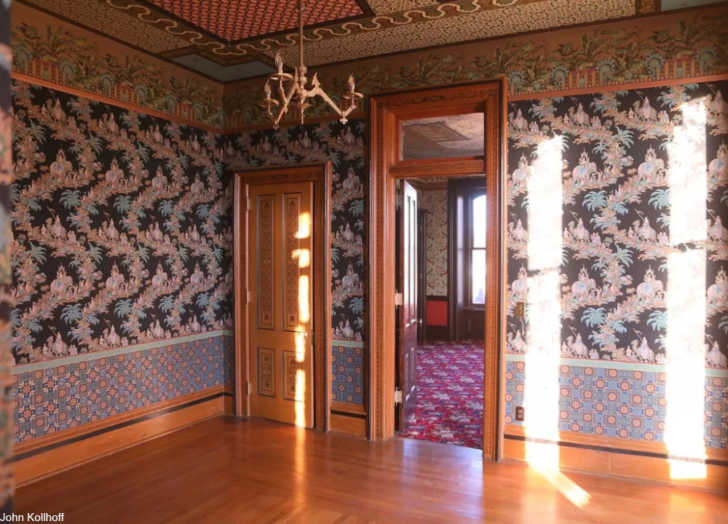 The building also features lovely details like a foyer with etched glass windows, classy chandeliers with medallions in several rooms, patterned parquet floors, and gorgeous carved woodwork.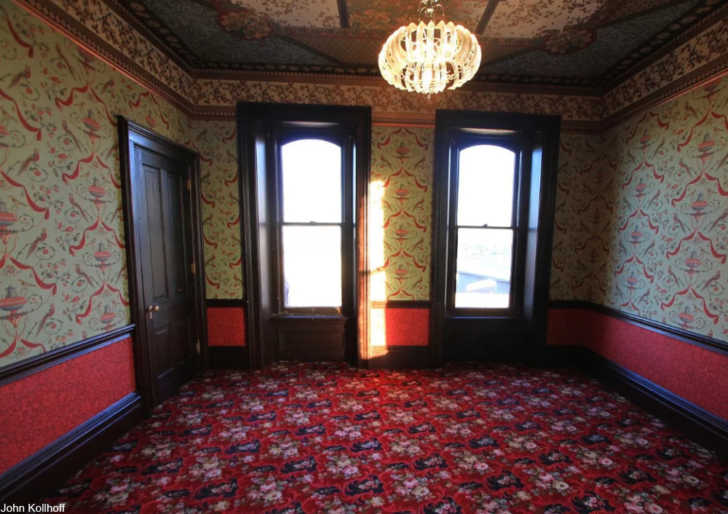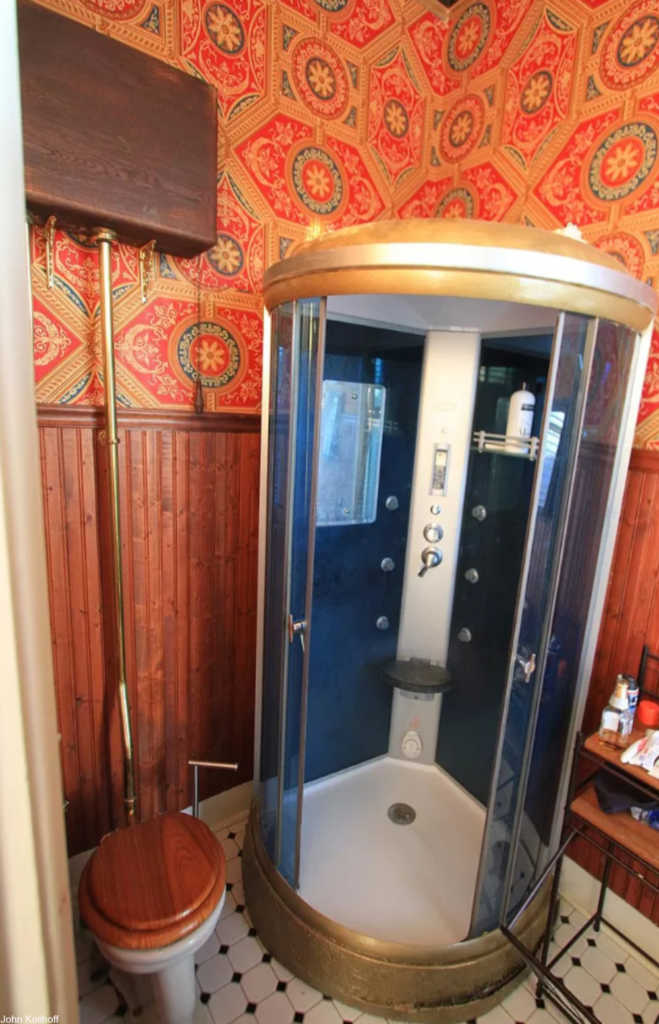 The mansion was first a private residence, then went through phases as an orphanage, a boarding house, an apartment building, and most recently a museum. The house is on the National Register of Historic Places and was recently restored with this in mind. This explains why the Victorian details inside this house are so strong and vibrant.
The house went through many hands over the years as one of the original owners, Conrad Lebold, underwent bankruptcy in 1889, less than 10 years after the home was built in 1880. It is for this owner that the house is named the "Lebold Mansion".
In the recent past the property has come up for sale at various sheriff's auctions. We have to presume that hefty upkeep costs of a stately home like this are a huge factor in why it has changed hands so many times.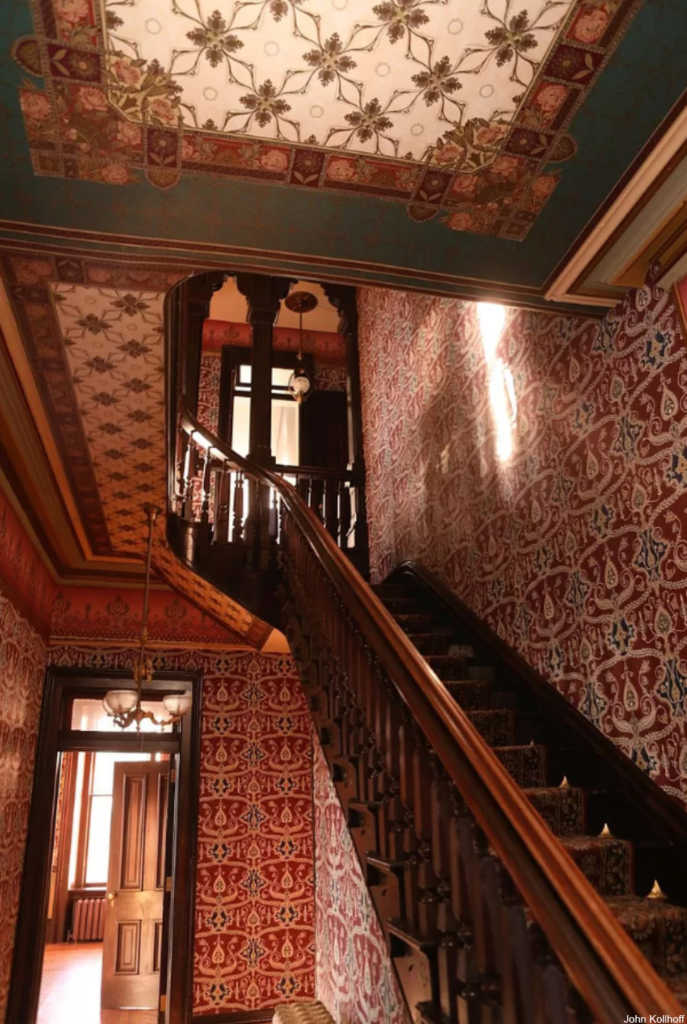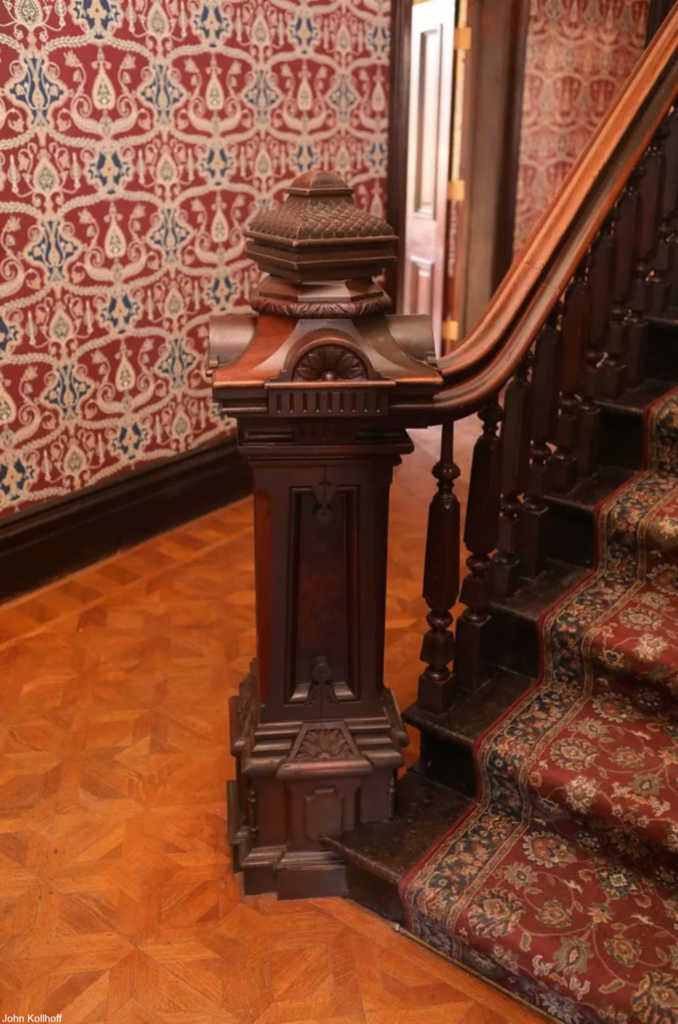 The exterior gets that Addams Family vibe from the Second Empire architecture which features the distinctive style of roof line and square gable above the front entrance. There is also a modern 3-car garage on the property for all your horseless carriages. Oh, and the kitchen has been fully updated- although not in Victorian style.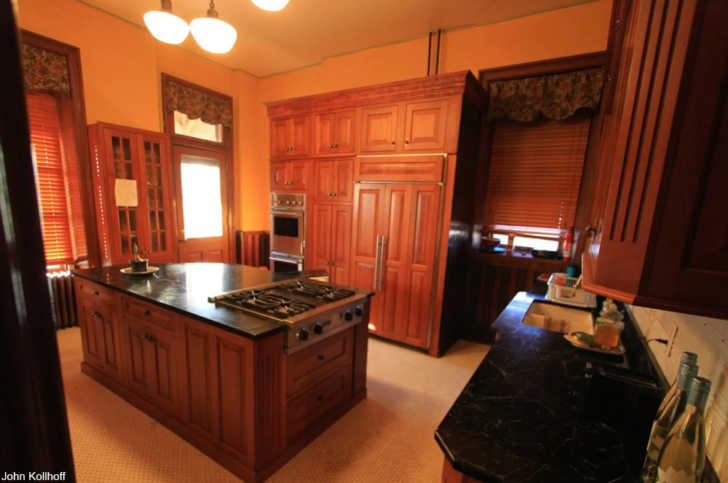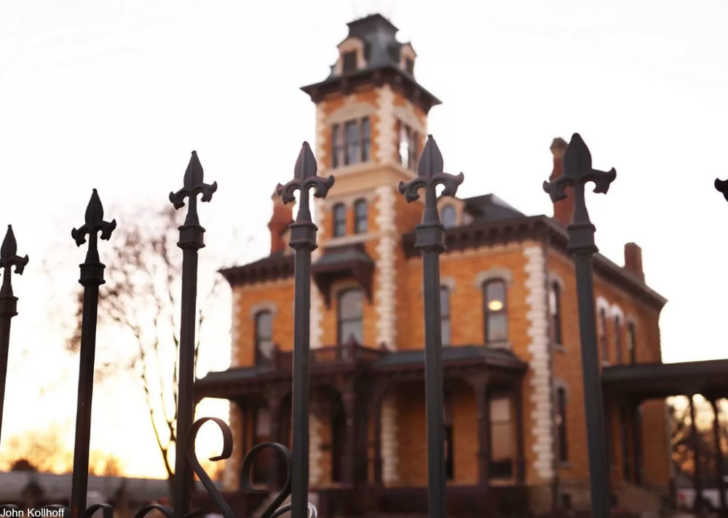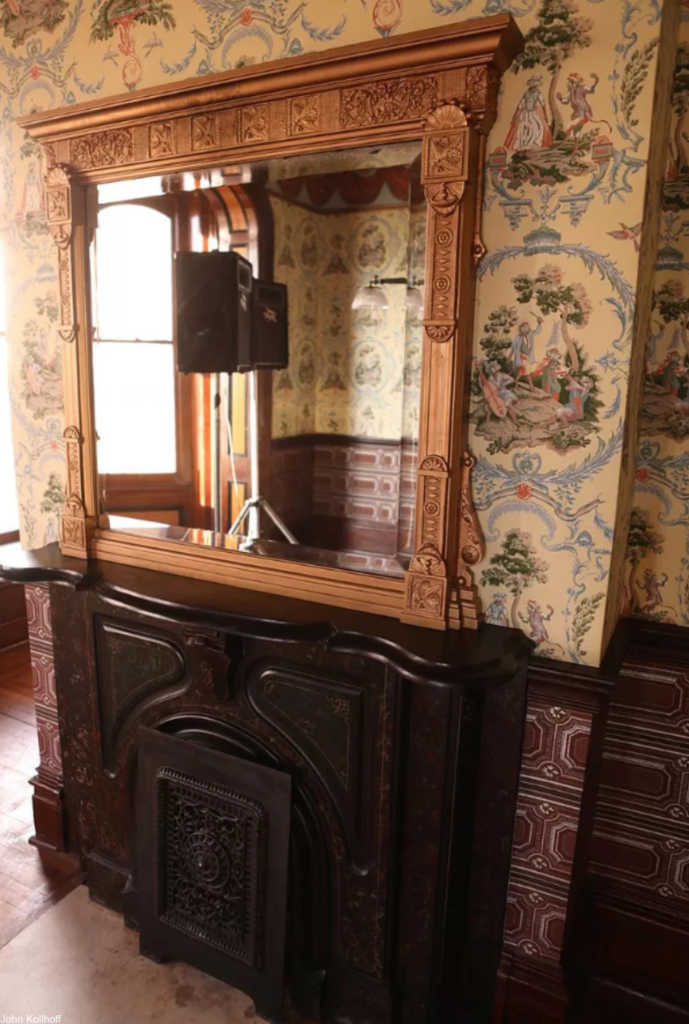 The asking price is only $429,069, which in many areas would never be enough to buy a mansion, and certainly not one of this incredible caliber. According to the listing the best light to see this mansion is between 4 and 7 pm. We can only imagine how stunning this would be to see in person on a sunny day in the afternoon!