Twitter has your back for advice, encouragement, and tips to get published.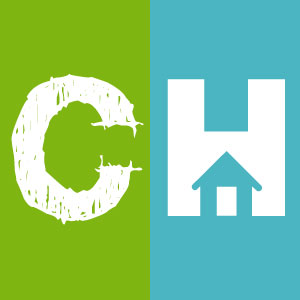 Crafty House
A lot of writers are still undecided when it comes to Twitter. It's not nearly as personal as Facebook, but it's a surprisingly great tool for writers! The brief nature of tweets encourages people to create original content. And, although the "retweet" feature allows others to re-post content, writers should see this as a vehicle for others to share their words! The best part about Twitter is interacting with published writers. Because Twitter is less about social networking and more about content production, it doesn't matter who you are; as long as you're writing, your words will be read! Just remember to include #amwriting, Twitter's most important hashtag.
Here is our list of 12 Twitter accounts that every writer should follow!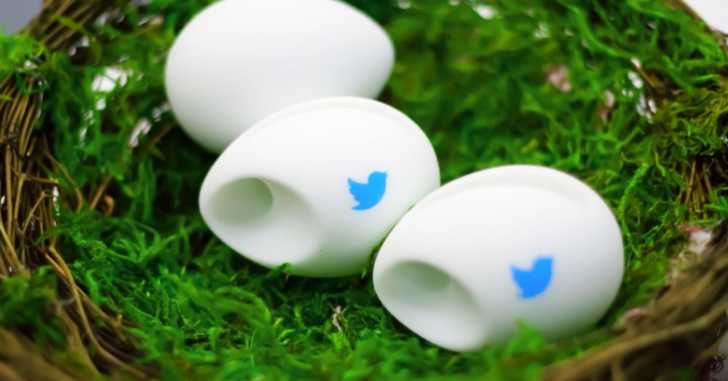 ---
12. Local journals and authors
Before we get into specific accounts, the most important part of being a writer on Twitter is to become active in your local lit circles. Take the time to follow journals from your city, state, and region; research which authors are publishing in your area. By following these accounts, you will begin to get notifications about events in your area, writing contests with fewer submissions, and chances to directly interact with writers just like you!
---
11. @WritersDigest
This account is a writer's best friend. Writer's Digest is also an 8-times-per-year periodical (oct-annual?), but their Twitter account churns out amazing writerly advice multiple times per day.
---
10. @StephenKing
The master of horror is also a master of Twitter. Many of us have pored over his excellent book, On Writing, for advice on craft. Well, his Twitter account is like a quotidian version of that. King spend a lot of time reacting to media (movies, TV, the news) from a writerly perspective and his tweets encourage us to do the same.
Also, his dog, Molly (who he affectionately calls "the Thing of Evil"), is adorable…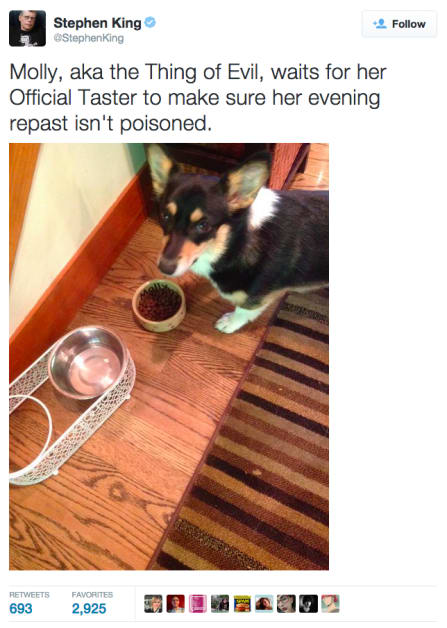 ---
9. @AdviceToWriters
There are times where you might find your own writing flat or uninteresting. There might be times when you don't even feel like writing (totally kidding)! Advice to Writers is the ultimate writing coach, tweeting out encouraging quotes from famous authors that will have you both inspired and intrigued!
---
8. @WritersRelief
The publishing world is constantly changing. Don't worry though; Writers Relief has your back. They specialize in advising unpublished authors about how to get started in the fertile fields of Internet publishing, author branding, and website building. This account is a "must-follow" for writers who want to establish an online presence.
---
7. @JoyceCarolOates
Joyce Carol Oates has published dozens of novels and short story collections. But in the past several years she has taken to Twitter. Unlike many authors whose accounts are full of promotional materials and event updates, Oates' account is full of funny, poignant tweets about whatever pops into her head! Oates is as entertaining as she is clever and gives us a fascinating look into the mind of an author.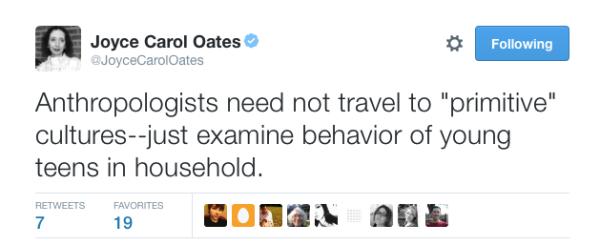 ---
6. @LunaParkReview
The Luna Park Review is our favorite resource for literary journals/magazines. The Luna Park review gives followers info about up-and-coming journals, which ones are accepting submissions, and who's working on what. This is the ultimate news reel for the lit journal scene!
---
5.  @LaphamsQuart
Lapham's Quarterly is known as a print journal that celebrates the past. Its Twitter account is full of wonderfully inspiring writerly quotes. Always intellectual, Lapham's specializes in the history of writing, drawing on the advice and words of our predecessors.
Tip: the quotes on their account make excellent epigraphs to start off a story.
---
4. @MelvilleHouse
Melville House is an actual publishing house whose catalog includes nobel winning authors, rediscovered international novels, and writers who are new to the scene. The reason to follow them though? Their Twitter account is hilarious! Melville House is constantly tweeting quips, jokes, puns, and hilarious literary observations. They are a perfect pick-me-up during your most vigorous writing sessions.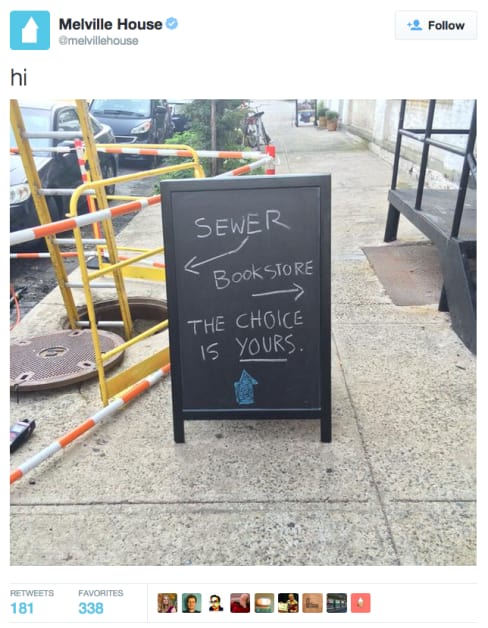 ---
3. @NewYorker
The New Yorker is likely the most respected publisher of contemporary fiction in the U.S. This account is a must-follow for bibliophiles. As Stephen King said in On Writing, "reading is the creative center of a writer's life," The New Yorker updates you on the most exciting stories being written; all you have to do is read them!
---
2. @LitRejections
Lit Rejections is the answer to the voice inside your head that tells you to give up. Their tweets are focused on letting you know who's accepting submissions and how we writers should respond when things don't go our way. Never give up!
---
1. Fellow twitter writers
Much like the first item on this list, "following" your fellow writers on twitter is an important part of engaging with the literary community. These are the people who will retweet you, reply to your messages, coax you through writer's block, and encourage you through every step of your writerly journey. These people make up the writing community on Twitter and its important to support them the same way that they will support you. So make sure, if a fellow writer takes the time to follow you, you follow them back; it's what makes Twitter's writing community so unique.
---