This desk organizer is everything I look for in a craft: cute, customizable, and easily accomplished in an hour. Double plus bonus – it uses recycled materials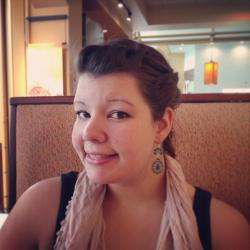 Jessica Griggs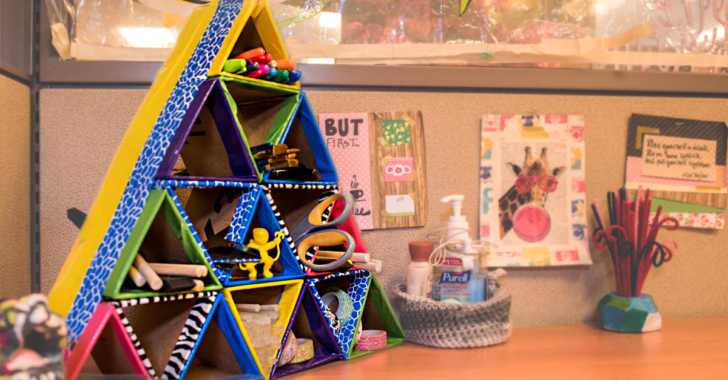 I'm always looking for ways to keep everything organized and accessable, especially in my work space! This desk organizer is everything I look for in a craft: cute, customizable, and easily accomplished in an hour. Double plus bonus: it uses recycled materials. Win win! I appreciate that everything can be categorized and still within reaching distance from my desk chair. How perfect is this for a crafting nook? You could make multiple organizers – one for yarn scraps, one for that collection of gel pens I know you still have, one for all of those random buttons and pins that keep rattling around your junk drawer…
Once you have the process of cutting and folding down, this project really does come together in a snap. Go fun and funky with duct tape like we did, or keep it classy with white and gold tape. You could totally spray paint this and hang it up too. The possibilities are endless! What space are you going to organize with this cute craft?
Supplies:
– Recycled cardboard
– Duct tape
– Hot glue gun
– Ruler
– Marker
Directions:
Cut cardboard into 12 x 4 inch rectangle pieces, marking the 4 and 8 inch mark on the 12 inch side.
Cut out 16 pieces to create a triangle organizer.
Along the 12 inch side of the rectangle, make a fold along the 4 inch and 8 inch mark.
Fold the pieces inward to create a triangle.
Align the 12 in side of your rectangle to the 14 in piece of tape, having 2 in of tape stick out on one side of your cardboard.
Make a small slit in the tape where it hangs over the edge of the cardboard.
Fold the tape over the edge of the cardboard, fold the edges in to create a triangle, and secure with the 2 inches of extra duct tape.
Place another piece of duct tape on the opposite side of the triangle for support.
Repeat steps 3-9 for the other pieces of cardboard.
Hot glue triangles together to form a pyramid.