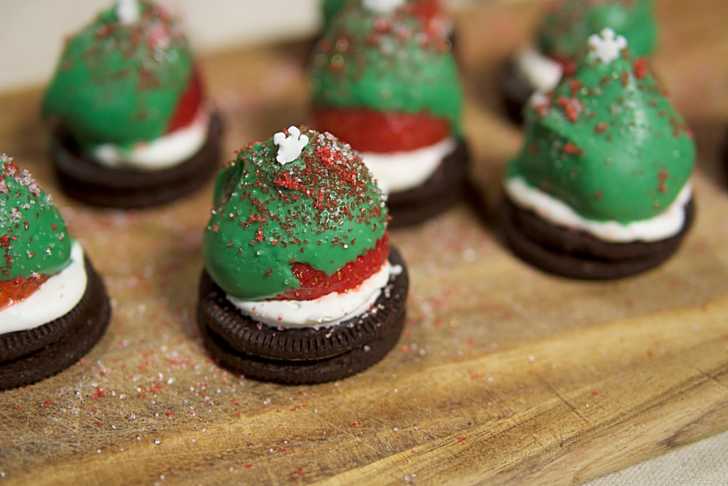 Fun with holiday food is what we've got in mind with this clever little treat. Not only is this another fun holiday cookie idea, it is also a great activity for keeping kiddos busy (for a few minutes) while home on holiday break. You'll need a few supplies from the store to make this happen, the most important part being the candy melts. Cut the stems off of the strawberries and you're ready to rock!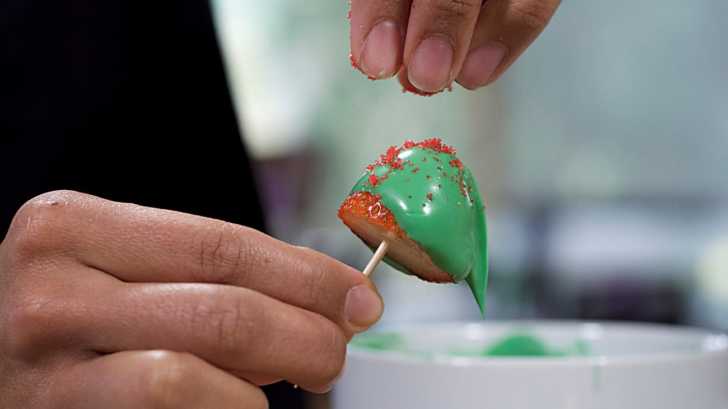 Set up a little assembly line: strawberries, melts, sprinkles, oreos, and in a matter of minutes you've got a sweet little Christmas tree cookie unlike any other! All you have to do is dip, sprinkle and top – three pretty basic steps result in one adorable little cookies. Juicy strawberries covered in a sweet candy coating are virtually irresistible – it will be difficult to not eat the strawberries right away! These make for a creative cookie exchange item or to share at a holiday party – and we're sure Santa wouldn't object to eating a few of these too! If you're looking for a fun cookie or holiday craft, give this little recipe for delicious fun a try!
Supplies
— Green and white candy melts
— Holiday sprinkles (include snowflake sprinkles for tree topper)
— Oreo cookies
— Toothpicks
Directions
— Cut off leafy stems of strawberries.
— Use microwave safe bowl to melt candy disks for dipping.
— Place a dollop of white melted candy on top of oreo cookie base.
— Insert toothpick in the wide end of strawberry and dip into green candy melts. Use a second toothpick inserted at the narrow end of the strawberry to aid in removing.
— Decorate "tree" with assorted holiday sprinkles (a snowflake topper followed by any decorative sprinkles of your choice)
— Final step: Enjoy!