When they spotted a 1999 transit school bus for sale for $4,000, they knew instantly that they'd found "the one."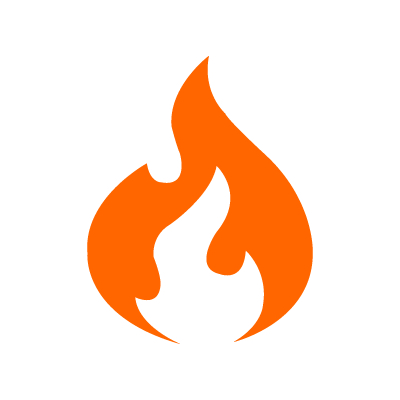 InspireMore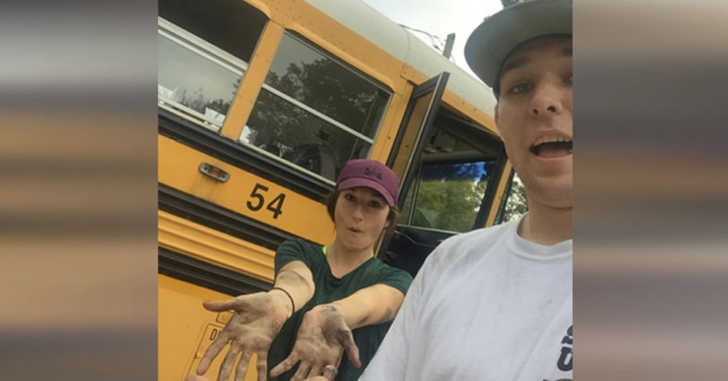 Many people think that when you become a professional baseball player the money starts rolling in, but that's a common misconception.
In fact, minor league players receive a fraction of the sort of salaries earned by their counterparts in the majors. When minor leaguer Jack Labosky found out he was drafted into the Tampa Bay Rays after playing for Duke in college, the reality of his future paychecks hit him like a ton of bricks. One glance at his new contract and he knew that he and girlfriend Madi Hiatt were going to have to get creative about their living situation.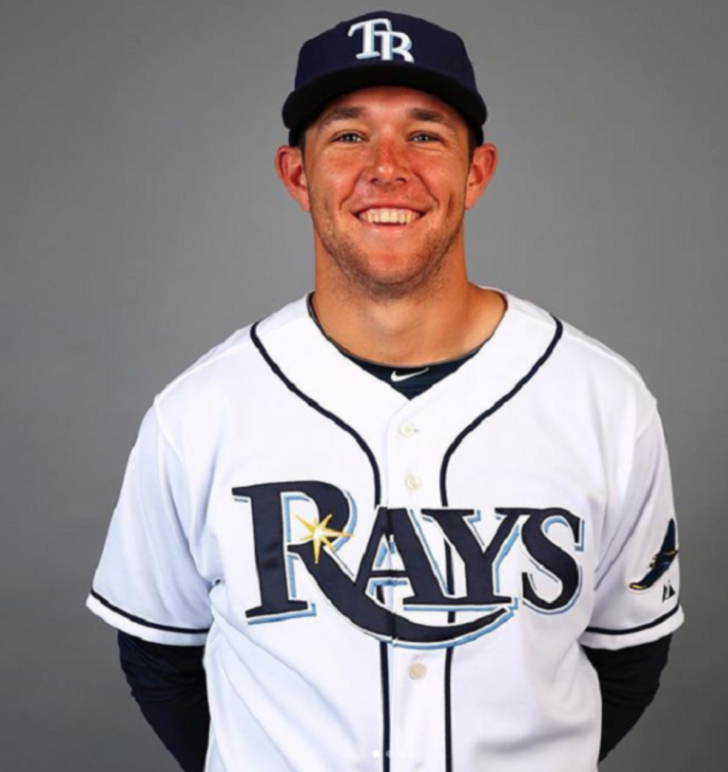 Jack and Madi began brainstorming ways to stretch their meager budget. With the tiny house craze still in full-swing, the couple soon turned to RVs or other custom tiny homes they could renovate to suit their needs. With Jack traveling to games, the idea of a mobile home particularly appealed to them. When they spotted a 1999 transit school bus for sale for $4,000, they knew instantly that they'd found "the one."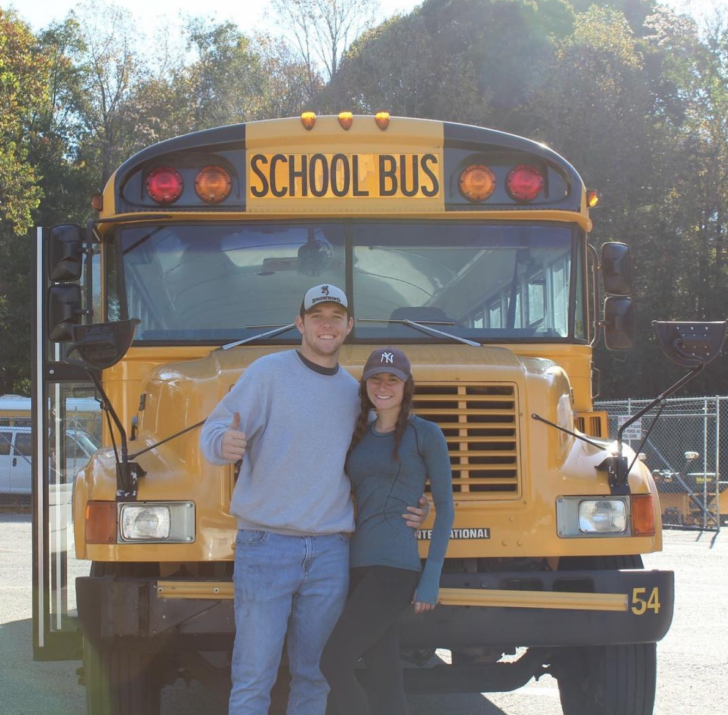 The couple bought the bus and immediately got to work giving it a complete renovation. Not afraid to get their hands dirty, Jack and Madi rolled up their sleeves and decided to do all of the work themselves. Along the way they carefully documented their hard work on an Instagram page called "J&M Express: The Great Bus Adventure."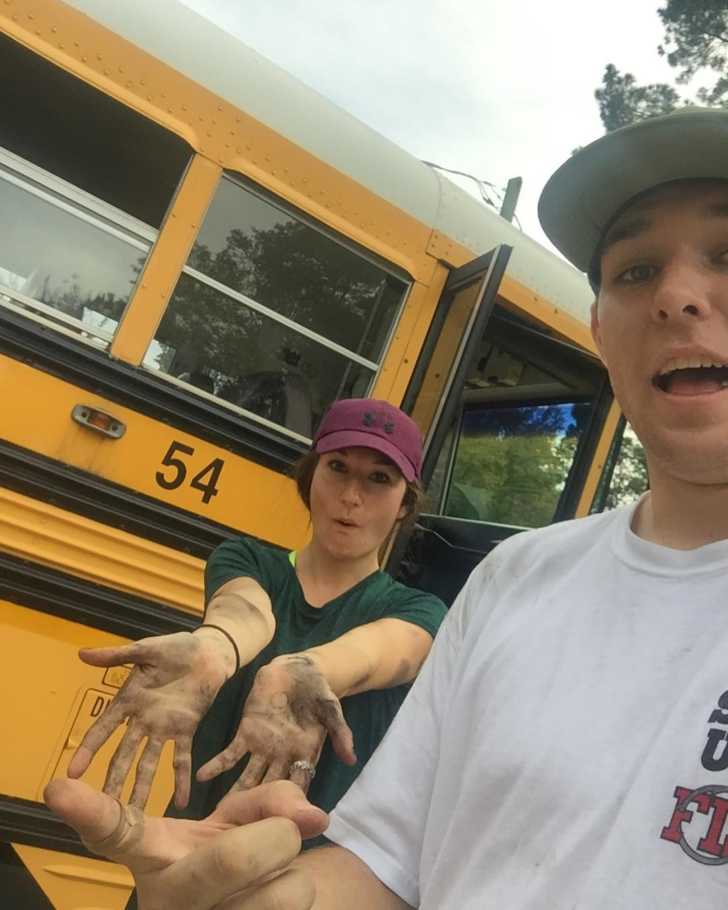 "Our story begins with Jack becoming a professional baseball player," they wrote on Instagram. "We figured it would be a challenge to move if he got traded or moved up which means a different state we would go too. We wanted to be together during season so we came up with building a skoolie to live in. Kinda a crazy adventure we have taken on! On October 30th we bought our 1999 transit school bus. Now our adventure begins."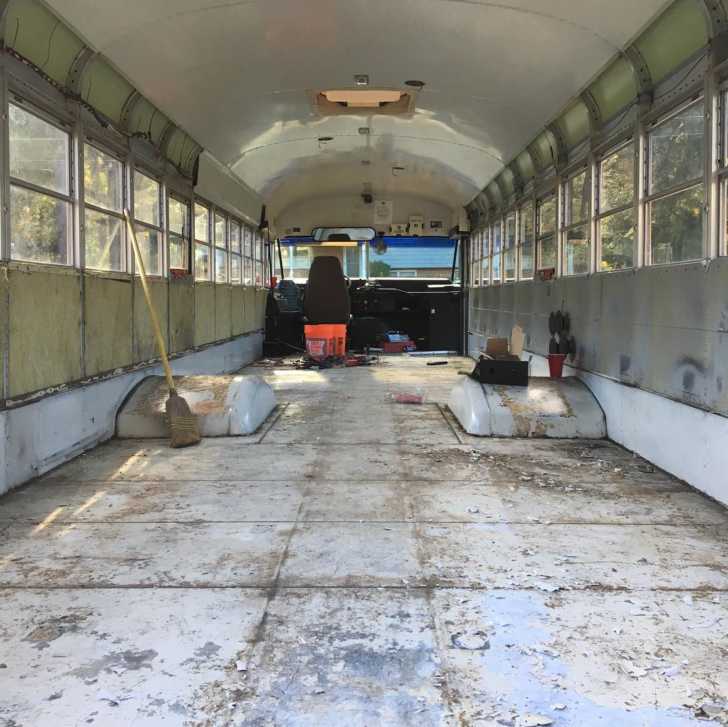 Jack and Madi began by ripping everything out of the bus, from the seats to the steering wheel and everything in between. Jack says the hardest part was installing electricity, but incredibly he learned how to do it all by watching YouTube tutorials! Jack's parents also gave the couple invaluable advice since they too have renovated a fixer-upper house in the past.
With a little internet guidance and a lot of elbow grease, Jack was able to rig the bus with electricity and running water. It wasn't long before the project really started coming together.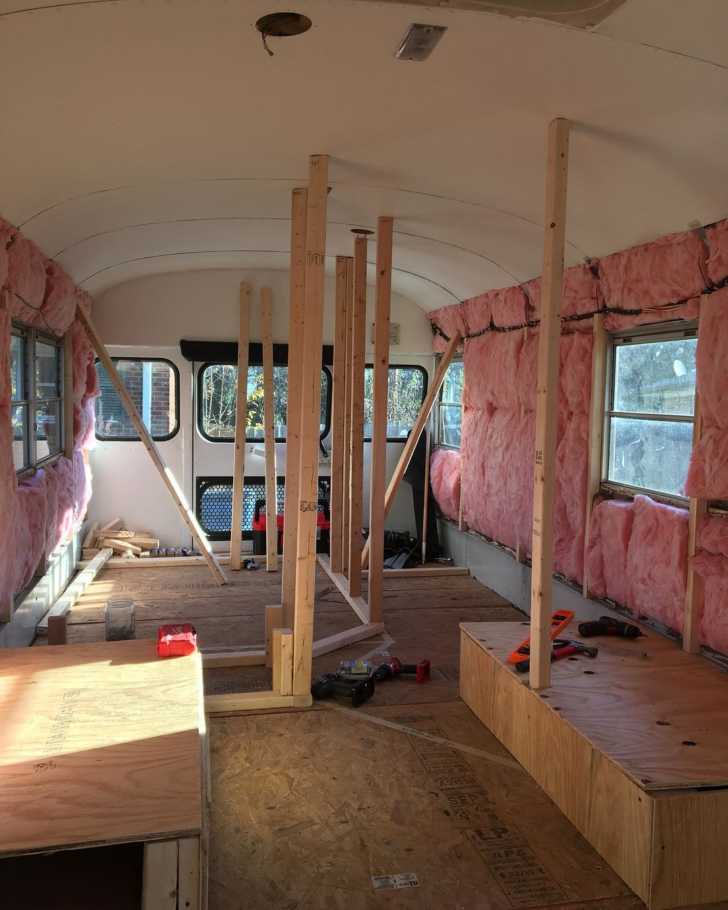 "It's set up with 120-volt electric — the same as a household — and has running water and hot water," Jack explained. "We have AC, heat, a stove, two sinks, a running toilet, a horse trough tub, plus a full bed."
After ditching the school bus's original bright yellow exterior in favor of white, the J&M Express really started to shape up into the dream home they'd been envisioning.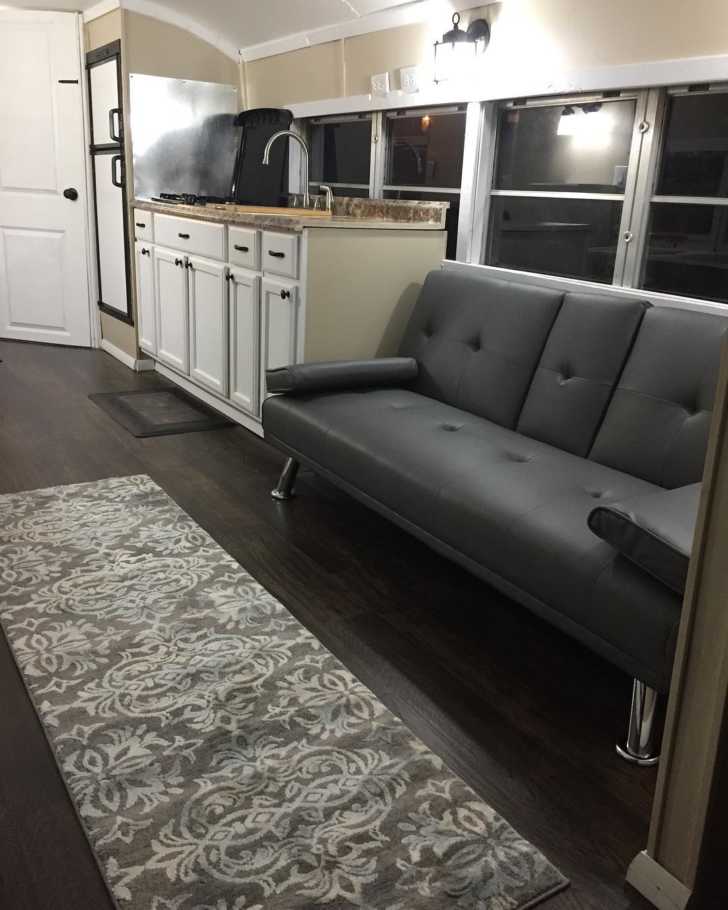 The bus renovation was done in just 90 days, coming in right at the top of their budget at $9,000. Jack admits that they splurged on a few non-essential design elements to suit their tastes, but still didn't break the bank. The fact that they installed everything themselves really helped keep costs down.
"We tried to cut costs, but we also spent on appliances and essentials, given that we do not want to be fixing things constantly," he said. "Some people can do what we did for much cheaper, as well as much more expensive."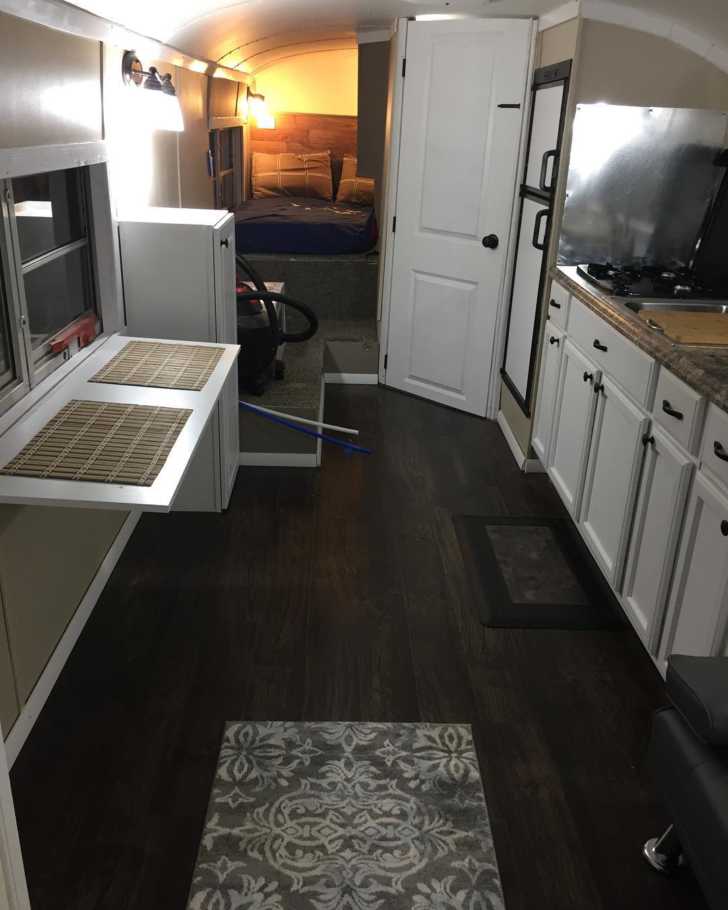 Both Jack and Madi admit to using fixer upper shows on HGTV for inspiration throughout their bus renovation, and you can definitely see the sleek modern design elements modeled on the network when you look through the bus's new living space.
"It may not be perfect but in our eyes it is," Madi wrote on Instagram. "Some areas might not fit right or cuts might not be 100% straight … but that's okay because it is our bus."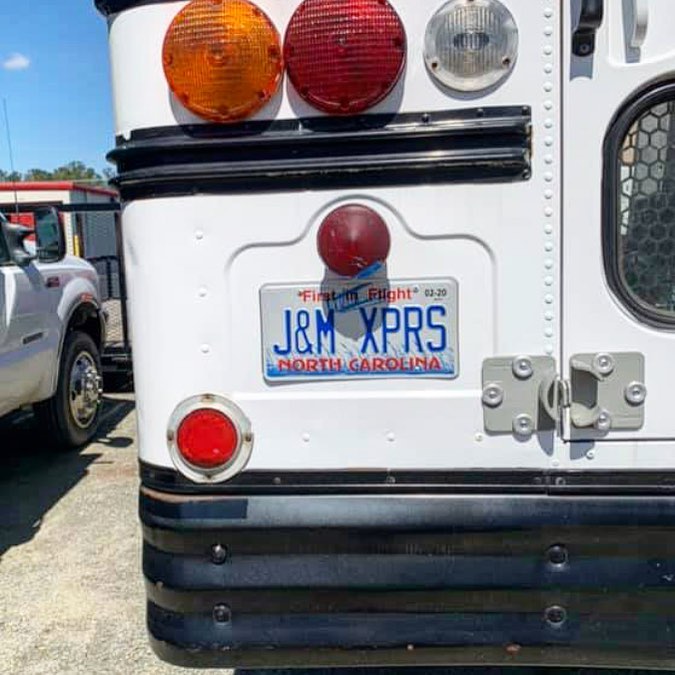 Jack says that having his "skoolie" waiting outside during games will be a real comfort to him as he starts his season this spring. He'll soon find out which minor league team he is assigned to for the season, but no matter where he ends up he knows that home is wherever he parks it!
"Living in the school bus gives us a place to have as our own, in a life where there are no guarantees and no plans for the future. The baseball life is a unique one in that there are an unlimited amount of possibilities. Being together and having a say in how we want to live makes us happy we chose the bus life."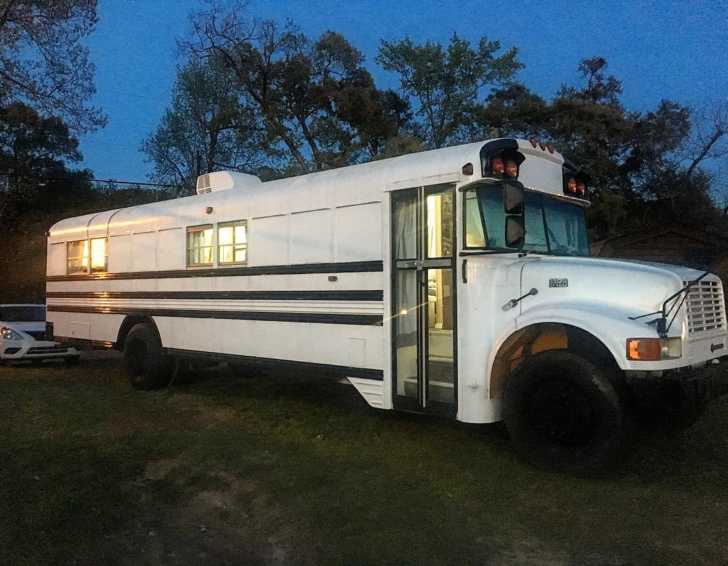 Talk about using your imagination to solve a complex problem! Jack and Madi have turned their budget dilemma into a dream house on wheels. Their hard work is so inspiring! We wish them nothing but love and laughter as they begin the next mile of their adventure together.
Please share this story to inspire others to dream big and live tiny!