Sandy, along with her dog, Zoey, are so happy in their new life!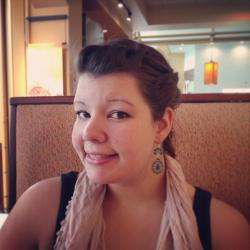 Jessica Griggs
Some people retire to warmer climates or live out their golden years in engaging retirement communities. Sandy, however, had a very specific vision for her retirement years. She started the transition into her tiny home lifestyle years before she actually made the big move. Sandy downsized to a 1,000 square foot home for the last five years leading up to her tiny home adventure. Let's take a tour of her beautiful little space!
Living Room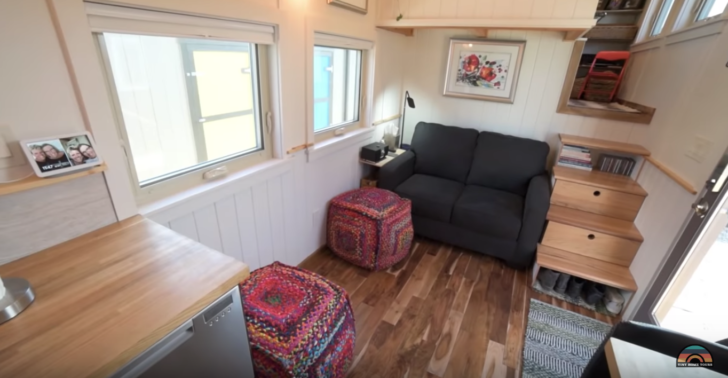 To start off, let's tour the living room. Here, Sandy has a couch and lovely foot stools for her and her dog, Zoey. The couch fits perfectly in her little space, which has plenty of natural light and storage for electronics, blankets, and anything else she might need. There's also a TV mounted in the opposite corner. As you can see, everyone seems pretty happy with this arrangement!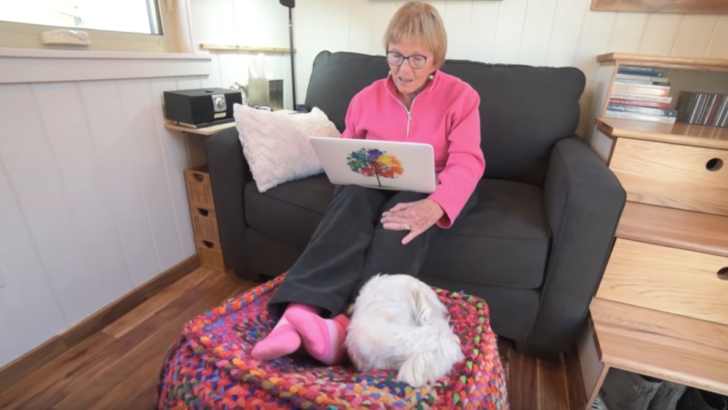 Kitchen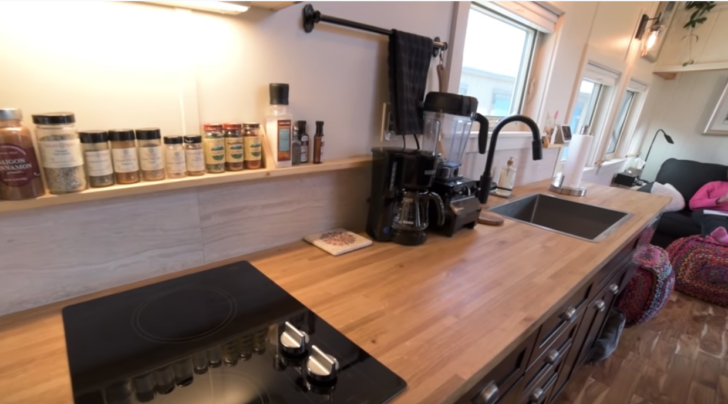 The kitchen is surprisingly large for a tiny home. It has a large fridge, a two-top stove, and a convection oven. There's a farmhouse sink and limestone backsplash to add a level of class and sophistication to the whole place. Sandy even has a dishwasher.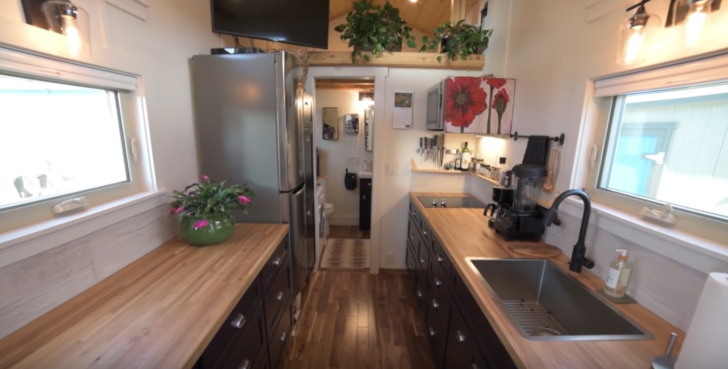 Bedroom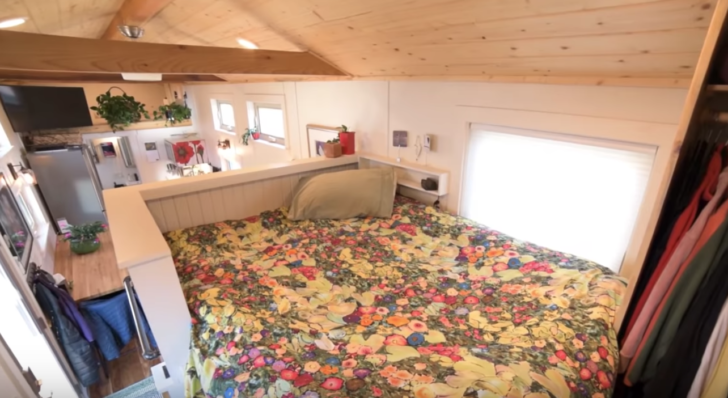 Sandy says she chose this particular layout when designing her tiny home because she can stand up in the bedroom. She has a full-sized bed, as well as lots of storage for clothes and pictures of her family. There's even a special space next to the bed for Zoey to sleep!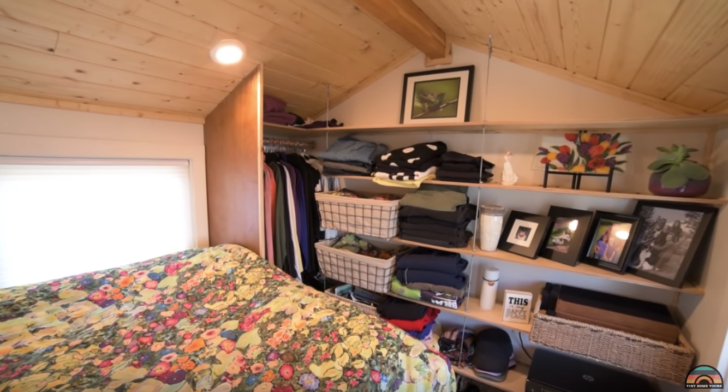 Extra Details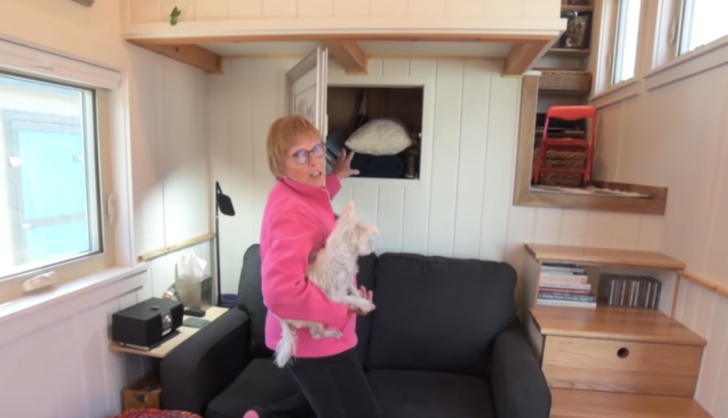 Sandy has added lots of little details to make this space hers. You'll notice lots or artwork on the walls, which makes for a beautiful and colorful space. A few of these photos are actually covering up hidden storage space. Brilliant!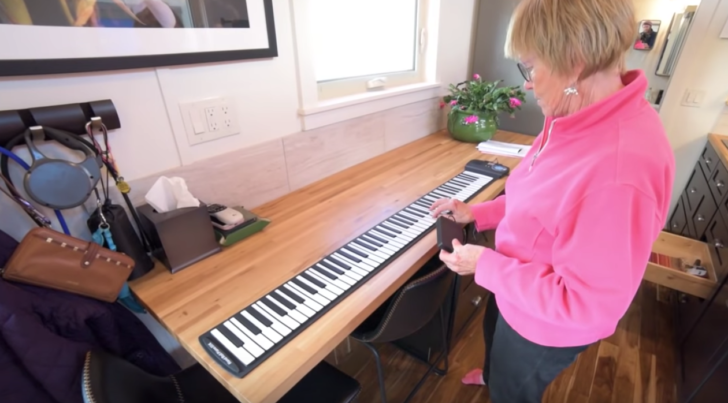 Sandy is a very musical person, and she found a way to bring her piano with her when she moved into her tiny home. Sandy found an electronic piano mat that she can roll out on the counter and play any time she wants. The best part, of course, is the fact that she can roll it up and stick the whole thing in a drawer. It's perfect for a tiny home!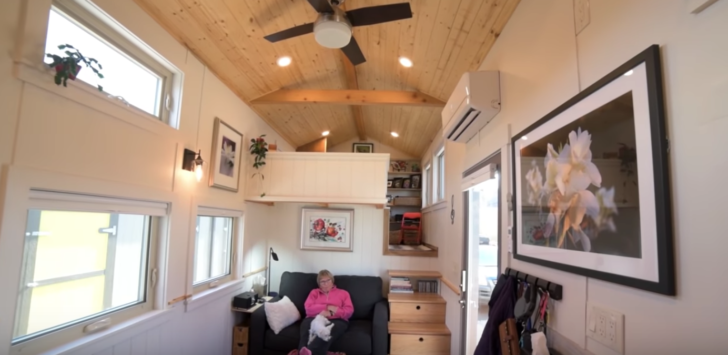 Another important thing for Sandy was to make sure she had plenty of natural light. The entire tiny home has 12 windows, which gives the whole space an open, natural feel, especially with all the hanging plants.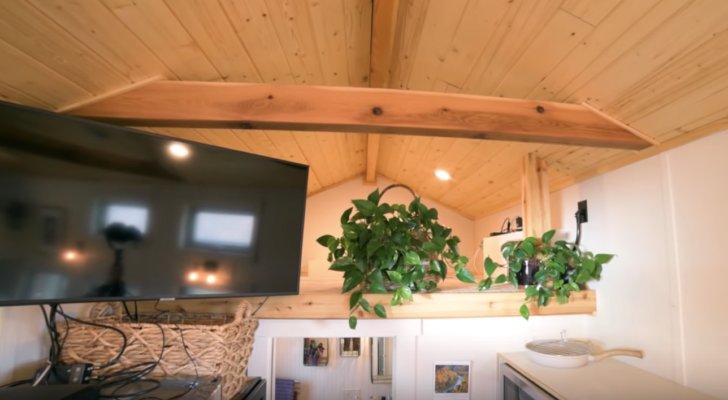 Get the rest of the tour in the video below!
[media height="270″ width="480″ provider="youtube" type="iframe" src="https://www.youtube.com/embed/5a9yPNEonCM?feature=oembed" ad="true"]