6 DIY Repurposed Trellis Ideas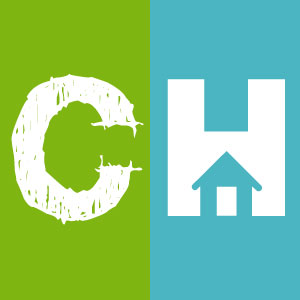 Crafty House
Trellises are not only major space-savers, but they can give your garden a real makeover. A beautiful trellis serves a conversation piece in the garden, drawing lots of attention and giving the yard some personality.
Outfitting your garden with a trellis comes with an array of benefits. It's easier to check for pests when you have a vertical garden, and harvesting is a cinch (no achy backs from leaning over!). All sorts of veggies, fruits and flowers can thrive on a trellis. Here's just a sampling of trellis-friendly plants:
– Tomatoes (trellis nonbush and indeterminate varieties)
– Gourds
– Melons
– Pole beans
– Acorn and buttercup squash
– Miniature pumpkins
– Peas (nonbush)
– Cucumbers (nonbush)
– Morning glory
– Climbing rose
– Clematis
– Sweet peas
While garden centers carry plenty of trellis options, the most striking ones tend to be homemade; in other words, objects that have been 'upcycled' and repurposed to serve as vertical support for plants. You can let your imagination run wild here, or you can take a look at some of the great DIY trellises we've rounded up below. Be inspired, and make this a must-do project this year in the garden!
Wagon Wheel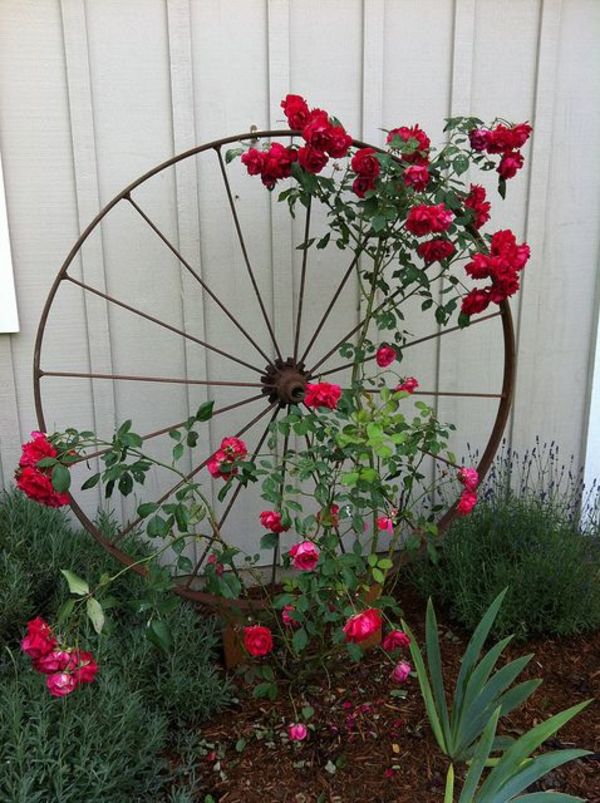 Converting a wagon wheelinto a trellis gives your garden a country-chic look. Just beautiful!
Bicycle Tires/Rims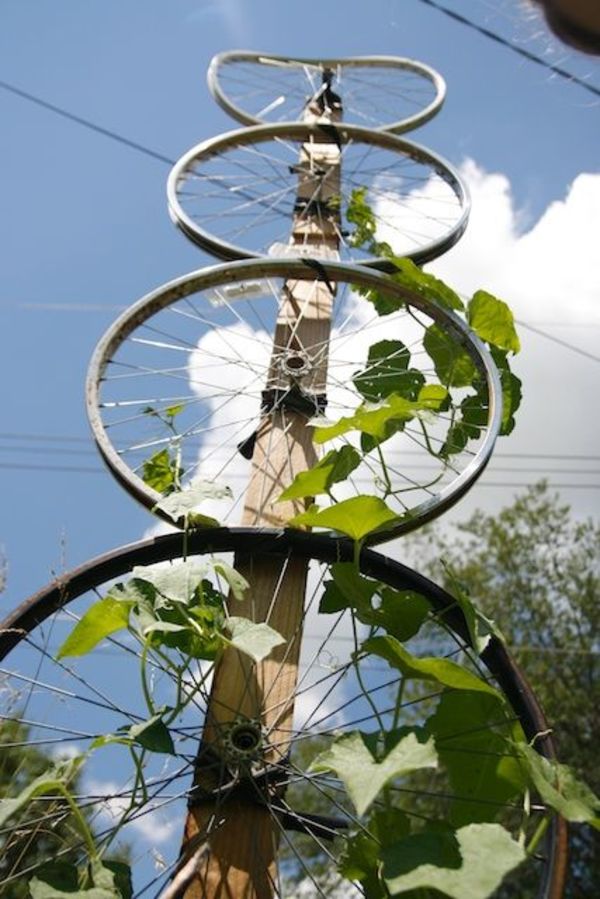 If youíve got a spare bicycle lying in the garage, upcycle it into a unique trellis.
Patio Umbrella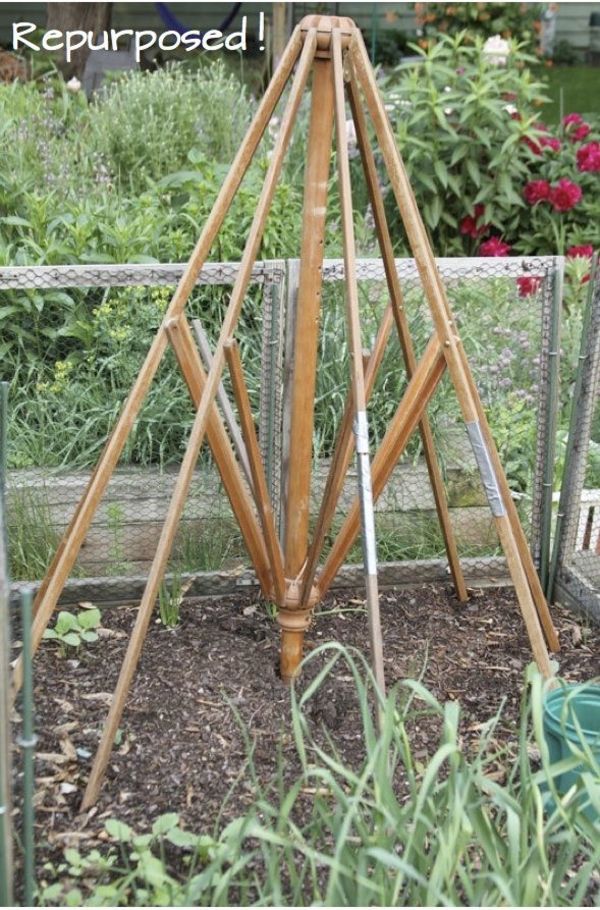 Take that old patio umbrella and flip it on its head. Ta da! Youíve got a trellis.
Iron Bed Frame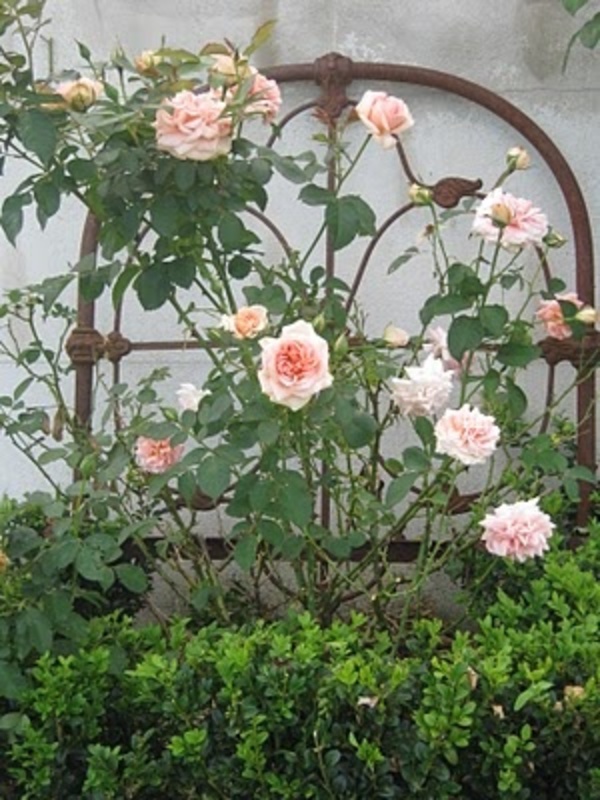 A vintage piece like this old iron bed frame makes the perfect vertical garden.
Old Garden Gate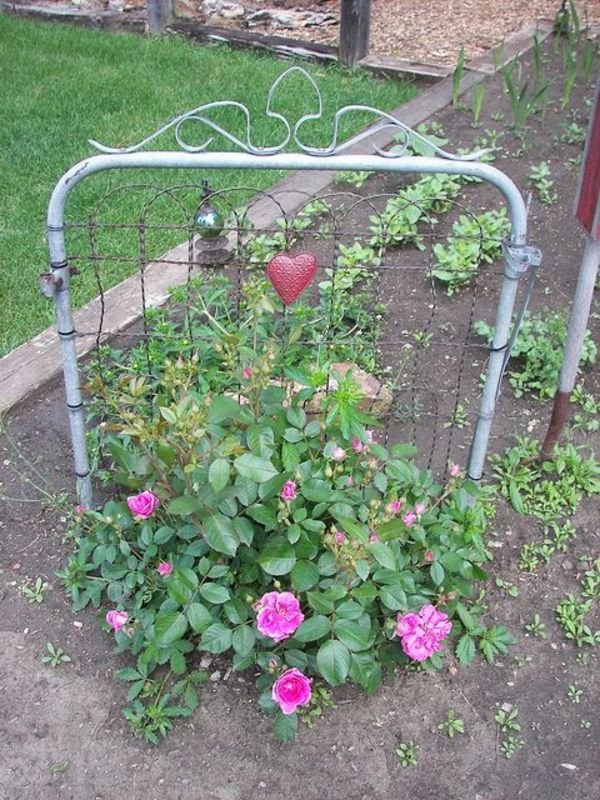 Transform a portion of your old garden gate or fencing into a pretty homemade trellis.
Twigs & Branches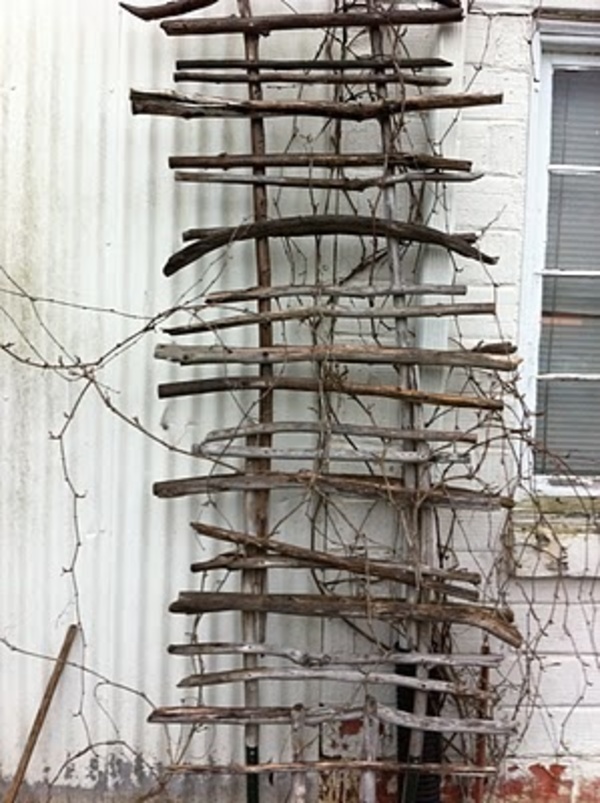 Collect the sticks and tree branchescluttering your yard and build a ladder for your plants to lean on.
All images via Pinterest.