Talk about garden fresh! Winter squash are in their prime right now, and butternut squash just might be our favorite of all the varieties. What makes this hourglass-shaped fruit such a winner? It's chock full of antioxidants and phytonutrients. A serving of this yellow-beige gourd gives you a boost in dietary fiber, potassium and vitamin B6. It's low in fat and high in flavor. And that vibrant orange hue locked inside the curvy, pale outer shell? It means lots of beta-carotene for you. Translation: protection against macular degeneration and breast cancer. Butternut squash also boasts a healthy dose of Vitamin C. You really can't go wrong.
Grow one of these in your garden and put it to good use in the kitchen when it's time to harvest– your body will thank you.
This time of year we often associate butternut squash with a hearty bisque. These creamy soups make delicious sides at dinnertime, but you can also put your butternut squash front and center as a main course. A roasted butternut squash lasagna is a tasy (and healthful) alternative to traditional meaty lasagna recipes. All you need is one large squash and a few simple ingredients.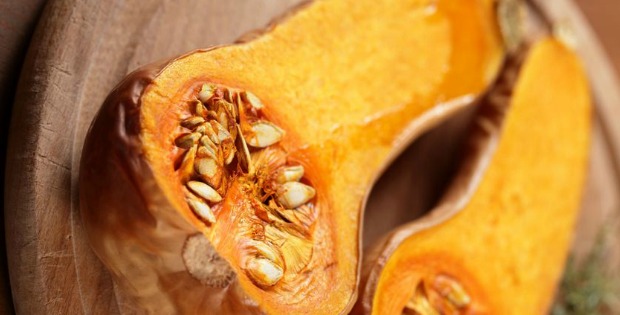 Roasted Butternut Squash Lasagna
Ingredients:
1 large butternut squash (about 4 lb) cut into 1/2-inch pieces
2 Tbsp extra-virgin olive oil
Kosher salt and freshly ground pepper
5 3/4 cups milk, divided
2 tsp dried thyme
7 Tbsp unsalted butter
7 Tbsp flour
12 no-boil lasagna noodles
3/4 lb fresh mozzarella, sliced 1/4-inch thick
Directions:
Preheat oven to 425F. Lightly coat butternut squash with olive oil and sprinkle salt and pepper to taste. Line two baking sheets with parchment and cover with squash. Roast the squash until golden and tender. After about 20 minutes, rotate trays. After another 20 minutes of roasting, squash should be ready.
Puree squash in a food processer with æ cup milk, thyme, and 1/4 cup water.
Make white sauce by melting butter over medium heat in a saucepan. Add flour by whisking it into the saucepan, allowing it to cook while continueing to stir the mixture until tan, about 5 minutes. Slowly whisk in remaining 5 cups milk and cook, whisking, until thickened, about 10 minutes. Season with 2 tsp salt and 1/2 tsp pepper.
In a 9-by-13 baking dish, spread 1/2 cup white sauce evenly across bottom of pan. Add a layer of three noodles, then scoop 1 cup squash over noodles, making sure to completely coat them. Add 1 cup sauce, distributing an even layer that covers squash and noodles. Repeat the layers 3 more times. Then arrange a layer of mozzarella slices on top and season with pepper.
Cover dish with foil and bake 50 minutes. Increase heat to 475F, remove foil, and bake until mozzarella is golden in spots, 5 to 10 more minutes. Allow lasagna to cool for at least 15 minutes. Enjoy!
Recipe adapted from Parade.