Wear this wrap four different ways!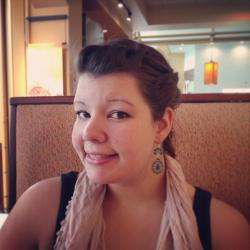 Jessica Griggs
This has got to be the absolute easiest craft we've ever done here at Crafty House. And I love it. I've gotten so many compliments on this wrap! I made one here in the video below with a pink feather pattern fabric and I loved it so much I went home and made a second one out of plain teal fabric! The only requirement for this craft is to use jersey knit fabric. Other fabrics will start to fray once you cut them, but the jersey knit is up for the task!
The best part about this craft, aside from the literal 2 minute time frame to complete, is that there are multiple ways to wear it. I found 4 ways that I just love, but I'm sure there are more! Go ahead and see how easy this fashionable wrap is to make, and then take some pics of your favorite ways to wear it. We'd love to see what creative things you come up with in the comments below!
Supplies:
– 1 sq. yard jersey knit fabric
– Scissors
Directions:
1. Fold fabric in half.
2. Measure 6" from the top & 6" from the folded side. Mark this spot.
3. Measure 8" down from the 6" mark. Draw a line connecting these points.
4. Cut the line, unfold, and wear!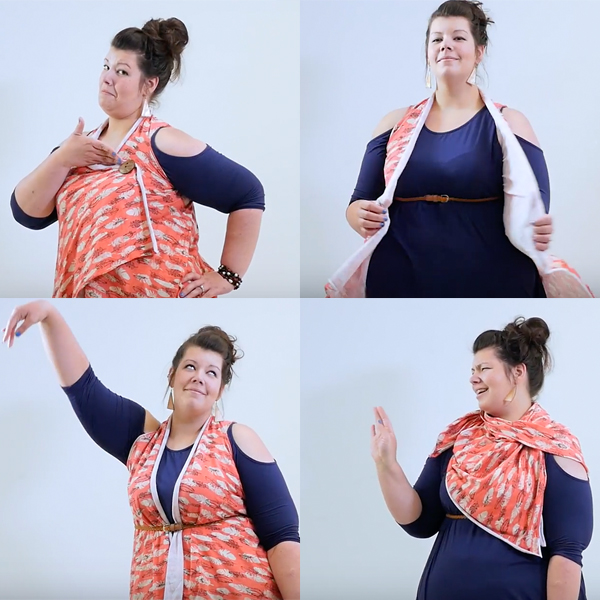 Ways To Wear This Wrap:
1. Wrapped with a broach.
2. Open.
3. cinched with a belt.
4. Tucked like a scarf.
Which one is your favorite look? Send us photos in the comments below!