If you are looking for a unique stitch to add to the collection, this is the video for you!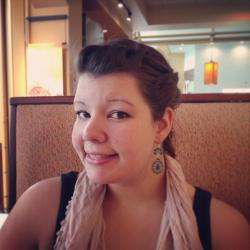 Jessica Griggs
Are you looking for a new and unique stitch? Look no further, we've got just the video for you! Today we're going to learn how to do Jacob's ladder stitch. It's more of a repeating pattern, as you'll see in the video below, done in multiples of six. Six double crochets, chain six, six double crochets. Repeat for multiple rows. The fun part comes at the end of this pattern – you slip your crochet hook into the bottom chain all the way in row 1, twist, and pull the chain from row 2 through! Keep hooking the chain of the next row into the loop. The result is stunning! You almost get the effect of a cable stitch in knitting. This is so cool!
I love the added texture this pattern easily gives to any project. Note that for sizing, the project will seem too big at first but when you go back and loop the chains together, it pulls both sides in, making a smaller final product. Go ahead and see how to crochet Jacob's ladder in the easy to follow video below!