Don't be intimidated by flower arrangements, they're fun and easy!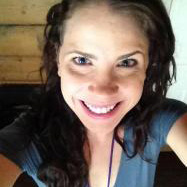 Katie Arnold
I think it's pretty safe to say that we love flowers, and honestly, we're pretty sure you all do too!
During the summer months, I love walking out to my garden, picking a few flowers and bringing them inside, placing in a vase and putting it on the dining room table or in the living room to enjoy. It helps to bring some of the life and beauty that exists outside, to the inside of my home.
But during the winter months, this isn't an option so during that time, it's not uncommon for me to pick up a few bundles of fresh flowers from the store to bring home and liven up the place.
With all that said, I've never been good at vase arrangements but after watching this tutorial from Shay Mitchell, I now feel inspired and better able to arrange my next vase of flowers!