"Becky Hammon Can Coach Basketball. Period."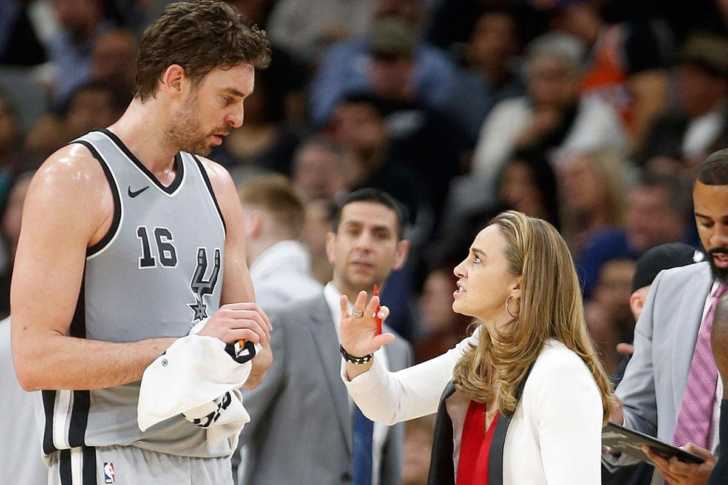 San Antonio Spurs Assistant Coach Becky Hammon made headlines recently interviewing for several open head coach positions around the NBA. The idea of a head coaching candidate emerging from the ranks of San Antonio's staff is hardly surprising. In fact, all FOUR finalists for the recently-filled Milwaukee Bucks job are Spurs alumnus.
The last four years has seen Hammon laser a white-hot pinhole through the glass ceiling of the testosterone-filled American sporting establishment. Hammon became the first full-time female assistant coach for any of North America's "big four" major sports associations (NFL, NHL, NBA, MLB) when she joined the Spurs coaching staff in 2014. Since then, her career arc has trended sharply upward and she recently became the first woman to interview for open NBA head coaching positions in Milwaukee and New York and she remains under consideration for the vacant Detroit Piston job.
Inevitably, the prospect of the league's first female head coach has generated considerable dialogue in the "hot take" driven male-dominant world of sports punditry. Even in those circles, it's nigh impossible to debate Hammon's qualifications, given her successful four-year apprenticeship under Spurs Head Coach Gregg Poppovich — the man generally considered to be the finest head coach and leader in the league.
But with Hammon, as opposed to the other three Spurs assistant coaches considered alongside her for the Milwaukee job, the external dialogue about her candidacy centers less on CV and more on the extra X….As in, the extra X chromosome Hammon was born with — comparatively speaking — and for many this development is as frustrating as it is unfair. And yet still, Hammon stands on the cusp of becoming the first female head coach in NBA history.
An Open Letter About Female Coaches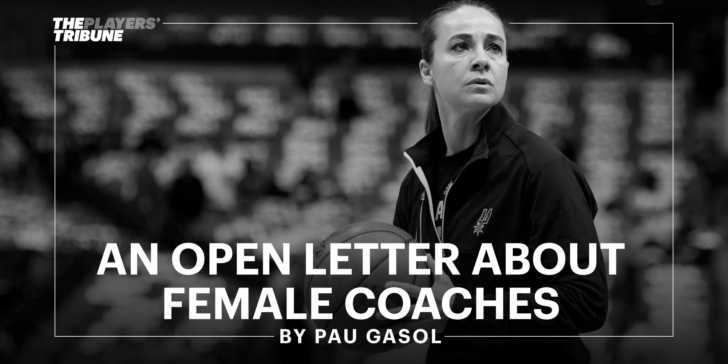 Hammon's candidacy received a boost in the form of an open letter published by one of her star players – 37-year-old Spurs Power Forward Pau Gasol, who recently published a first-person "Open Letter About Female Coaches" on the athlete-driven media outlet "The Players Tribune". Gasol says that Hammon has made an outsized impact on Gasol over their time together at the Spurs, and he felt compelled to write his open letter after hearing several "ridiculous" arguments about the viability of a female coach in the male-driven NBA. In the letter, Gasol rails against pre-conceived gender notions and disassembles common stereotypes while passionately backing Hammon's candidacy for open head coach positions:
"I've played under two of the sharpest minds in the history of sports, in Phil Jackson and Gregg Poppovich. And I'm telling you: Becky Hammon can coach. I'm not saying she can coach pretty well. I'm not saying she can coach enough to get by. I'm not saying she can coach almost at the level of the NBA's male coaches. I'm saying: Becky Hammon can coach NBA basketball. Period."
San Antonio Spurs All-Star Forward Pau Gasol is not the typical NBA star. He speaks four languages and has travelled to over 50 countries. He's closer to 40 than he is to 30. His youth was split between Spain and Memphis, TN and he's lived in San Antonio for the last three years. Pau used his vast and unique life experience to frame his open letter on female coaches which is supportive both of Spurs Assistant Coach Becky Hammon in particular — and the prospect of female head coaches in the NBA in general.
A Spanish National, Pau grew up in a Barcelona household headed by parents who occupied inverted gender-normative roles. Pau's mother was an esteemed surgeon known across Europe for her skill proficiency. She brought home the majority of the bread in the Gasol household. Pau's father, on the other hand, was a part-time nurse and a constant presence in the daily lives of Pau and his brother Mark. Gasol said that the happy household provided daily object lessons to Pau about the farcical nature of commonly-held gender stereotypes and the reactions that occur in response to people thriving in non-normative gender roles.
"I remember how people would often mistake my father as the doctor and my mom as the nurse — it happened more often than it should have, in my mind. To me, that my mother was a successful doctor … this was just the norm. And don't get me wrong: I admired my dad's hard work and job as well. But I grew up knowing that my mom got into a more rigorous school and program, and thus she had the more prominent job. That wasn't weird, or a judgment in any direction. It was just the truth. And we never really thought twice about it.Growing up, my brothers and I always admired this standard set by our parents," Gasol wrote.
So it was only natural to Gasol when Hammon joined the staff of the Spurs. After all, Head Coach Gregg Poppovich hired her because she was "the most qualified applicant for the job", and that was enough for Gasol and the rest of his teammates.
Becky Hammon: Pioneer and Trail Blazer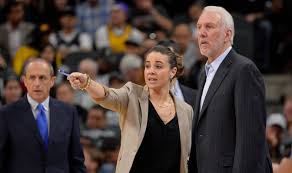 Prior to launching her coaching career, Hammon was a star point guard at the collegiate, Olympic and professional levels. After starring at the high school level in her home town of Rapid City, South Dakota, Hammon became a three-time All American at Colorado State University and went on to captain the Russian National Team (she is a dual citizen) in the 2008 and 2010 Olympics. Her accolades are too numerous to list. Suffice it to say her accomplishments include WNBA All Decade Team status and the 2014 ESPNW Woman of the Year award.
Hammon starred professionally for the WNBA's San Antonio Silver Stars — she is a member of the WNBA's Ring of Honor (Hall of Fame equivalent) and the Silver Stars retired her number in 2015. Hammon's coaching career began serendipitously before she'd even retired as a player. After tearing her ACL in 2013, Hammon spent countless days and nights rehabbing an d exercising at the Silver Stars' San Antonio-based training facility, which the team shares with the NBA's Spurs. It was during this time that Hammon began to build a rapport with Spurs Head Coach Gregg Poppovich, who often solicited Hammon's input and invited Hammon to attend Spurs practices, strategy sessions and coaching meetings. Ultimately, Poppovich convinced Hammon to join his coaching staff in lieu of her playing career when he made her a full-time offer. Hammon joined the Spurs staff prior to the 2014 season and since then, she's expanded her role and responsibility in the organization, serving as the team's Las Vegas Summer League Head Coach in 2015, during which she led the squad to the 2015 Summer League Championship both accomplishments were a first for a female coach.
"One, Becky was an accomplished player — with an elite point guard's mind for the game," Gasol said. "Two, she has been a successful assistant for arguably the greatest coach in the game. What more do you need? To me, it would be strange if NBA teams were not interested in her as a head coach."
Are NBA Locker Rooms Ready for Female Leadership?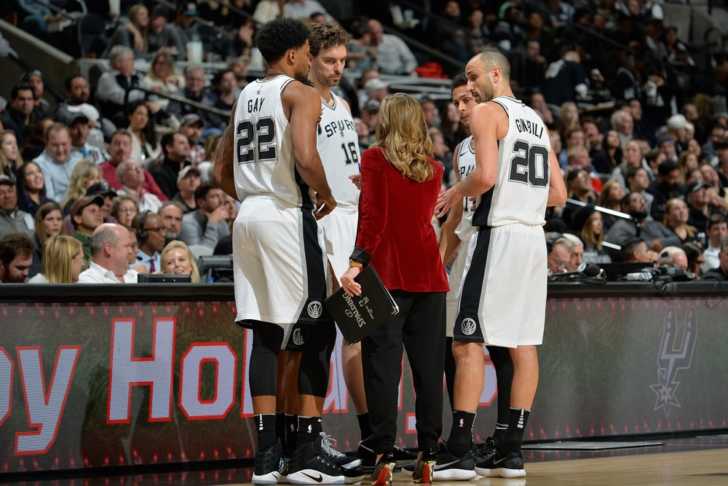 Gasol states that Hammon's qualifications for prospective head coaching positions "are obvious" and that arguing in favor of Hammon's obvious abilities would be "patronizing". He wrote the letter, he said, to head-off gender normative stereotypes that he feared might wrongly impede Hammon's path to a head coach position. Despite the fact that Hammon has been an institution inside the Spurs' locker room for four seasons now, silly hypothetical questions have been raised by some talking heads in the sports media world.
Front and center: the misconception that a female head coach's presence in an all-male NBA locker room would lead to some sort of "awkwardness."
"First, as for the idea itself: I mean, of course it's a myth. Give me a break. There's really nothing to say about it even. The players dress in a certain area, and the coaches dress in a certain area. O.K.? And yes, I'm sure, within that coaches area, Becky has a private space. But the point is — it's not like you're seeing male head coaches sharing a space with players while they're changing. It doesn't happen. So all I can tell you is that from a decade and a half of personal experience … this line of thinking — like I said, it's all just very ridiculous. In terms of the locker room, and in terms of behind the scenes, there really is no practical difference in this league between having a male or a female head coach," Gasol said.
"When I see arguments — or even jokes — that we shouldn't have female head coaches in the NBA because of "locker room" situations or whatever … I guess it just reminds me that, for as much progress as we've made as a league over these last few years … we still have a ways to go," Gasol wrote. "Because let's be real: There are pushes now for increased gender diversity in the workplace of pretty much every industry in the world. It's what's expected. More importantly — it's what's right. And yet the NBA should get a pass because some fans are willing to take it easy on us … because we're "sports"? I really hope not," Gasol ended.
At press time, May 23, 2018, Becky Hammon is currently an Assistant Coach for the NBA's San Antonio Spurs. She is reportedly a candidate for the Detroit Piston's vacant Head Coach position.