Raise your hand if you could use some help getting your jewelry organized!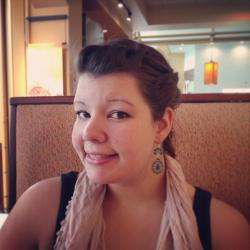 Jessica Griggs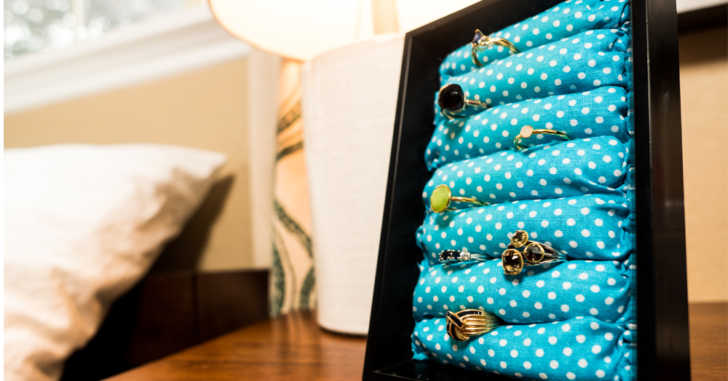 Raise your hand if you could use some help getting your jewelry organized! When it comes to organization, I take all the help I can get. I love when organizers and holders can be cute and functional. Enter: the picture frame ring display. The best part is, I already had all of the supplies on hand! All you need is an old picture frame, some foam rollers, and a piece of scrap fabric. You may need to secure everything with some hot glue, but this should hold together pretty well on it's own. How cute would it be to hang multiple picture frame organizers up, all with different, complimentary fabrics?! Now I'm just getting ahead of myself. Why don't you go ahead and watch this tutorial and get inspired to do your own!
Need more help with your jewelry junk pile? Check out this list of ways to keep it all organized!
Supplies:
– Picture frame, at least 1 inch thick. We suggest a 5×7 or 8×11
– Fabric
– Foam hair rollers
– Glue gun
Directions:
1. Take the plastic frames off of the foam rollers, and place to rollers on one of the inside sticks.
2. Insert the rollers snug into the frame. You may need to apply hot glue to get everything to fit and stay put.
3. Cut fabric to one inch thicker than the horizontal measurement of the frame, and twice the vertical measurement of the frame, plus a few inches. For example: 5 x 7 in frame = about 6 x 18 inches of fabric. 8 x 11 inch frame = about 9 x 26 inches of fabric. (Tip: You can always cut more fabric off, so it's better to start with more length than you think you'll need.)
4. Start tucking in the fabric, making sure to tuck in between each foam roller, and into the edges of the frame. You should be able to do this without the hot glue, but if it feels loose, feel free to add a layer of hot glue around the edges of the frame to hold in the fabric.
5. Enjoy your new ring holder! Straight back earrings also fit well into the frame.