You could complete all of these projects in one evening!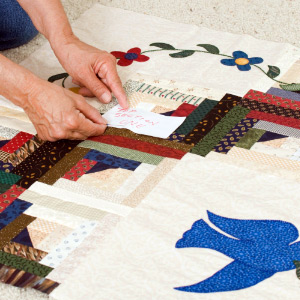 24 Blocks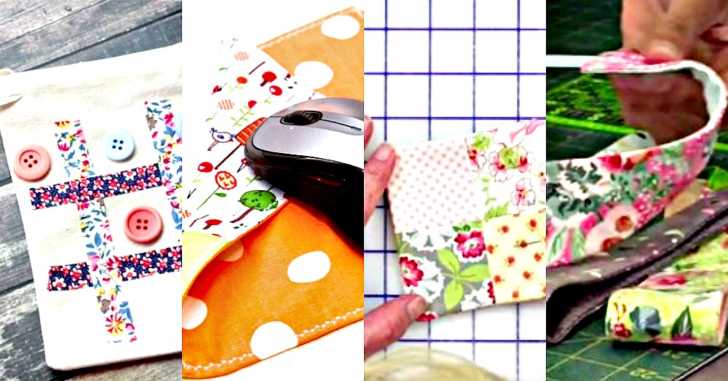 Quilting doesn't have to be a several week project. In fact, you can complete some easy, great-looking projects in under an hour as you watch your favorite television show after dinner. Sit back, relax and take in the beauty of these cute quilting projects you can do in less than an evening's worth of time.
Patchwork Headband
Piece together rectangular quilting scraps to go over the main strip of fabric in this 30-minute headband. Cut one piece of fabric 15 inches long and 5 inches wide, and fold over both edges so they meet in the middle. Slide a piece of elastic inside the folds and sew the seams shut. Attach two strips of fabric 8 inches long by 4.5 inches wide as a tie-down in back. Cover the main strip of fabric with your patchwork scraps for a colorful and decorative headband that you can take anywhere and wash easily.
Apple Core Swirl Mug Rug
This apple core swirl mug rug may look small at just 7 inches square, but if you have 30 minutes you can make a stylish gift by hand in under 30 minutes. Choose any colors you want and cut out two light-colored apple cores and two dark-colored apple cores based on your template. Find the center of one valley of a light apple core valley and pin the curved edge of a dark piece to the center of that valley. Pin the ends together, sew them shut and then do the same for the other two pieces. Iron both pieces, and then sew the two large swirl patterns together.
Cut the square to 6 inches by 6 inches, put the batting underneath the top piece and fold over a 7-square-inch piece of backing to cover the outer edges. Iron the folds, sew the mug rug shut and you're done.
Mouse Pad
Combine vinyl, vinyl fuse and your favorite cloth for backing to make this practical and adorable pentagon mouse pad out of 9-inch by 9-inch squares. Cut the laminated fabric for the front of the mousepad, and then put the batting behind it. Hold these two templates together with basting spray. Place the fusible vinyl underneath the batting. Cut the backing fabric 1/2 inch wider than the other pieces, and sew this around the edges of the top piece for this two-tone mousepad. This makes a great gift for any computer user in your life, which is just about everyone you know.
Travel Tic-Tac-Toe
If you have a long trip ahead with the kids, then you understand the importance of having travel-friendly games that can keep the kids busy in the car and save your sanity with a few less "are we there yet?" This travel tic-tac-toe is just what you're looking for and comes together quickly and easily.