This is a great way to use up scrap fabric!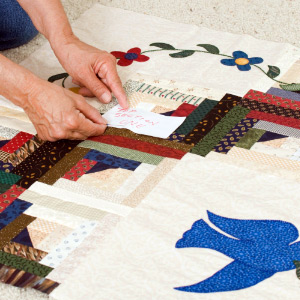 24 Blocks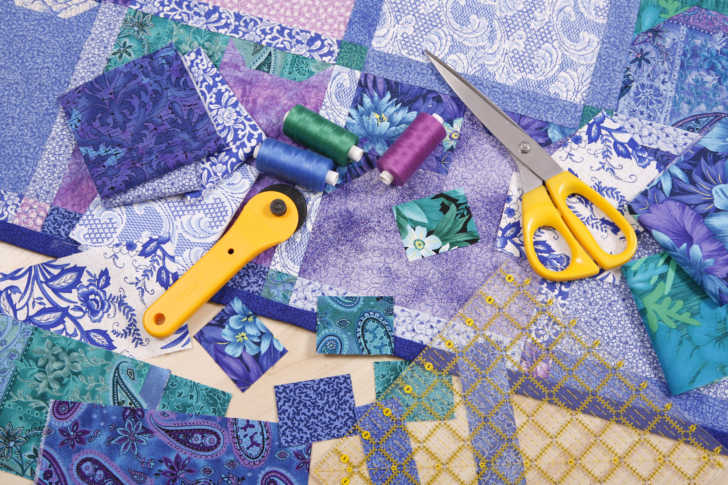 Traditional quilts, which include precise seams and lots of straight lines, offer a sense of symmetry that many quilters enjoy. Despite all the fun of using patterns and rulers, sometimes it's liberating to let loose and create a beautiful project from some asymmetrical scraps. Improvisational quilting frees you from following a pattern and lets you incorporate some less-than-perfect blocks, resulting in a quilt that's uniquely yours. To start an improvisational quilt, begin with a practice block or a scrap. Either way, it's a good idea to cut the block or scrap so that it has five sides. If you start with a four-sided piece, the result can look too much like a log cabin block.
Once you have the starting piece ready, grab any scrap, and sew it to one side of the starting piece. After sewing, press the scrap back, and use a rotary cutter to trim the edges even with the starting piece. Continue working around the starting piece, adding scraps of any color and size until you're happy with the result. To obtain a truly random, improvisational look, jumble all your scraps into a basket, and pull out one piece at a time without looking. This method is a great way to make the most of your scraps and use odd-size pieces.
After your improvisational blocks are finished, you can make an entire quilt by setting them next to each other or by adding sashing to break up the blocks. Another option is to trim the blocks and incorporate them into a traditional pattern, such as a charm-dash block. Improvisational quilting is a fun activity for quilting guilds and clubs because members can share materials, and no two quilts are ever the same. Ask each member to bring a starting block and a bag of scraps to the next meeting. Share your photos of the good times and improvisational, pattern-free quilts here.