This Cute DIY Gardening Apron Makes Outdoor Tasks Fun and Mess-Free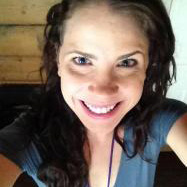 Katie Arnold
Aprons, with their handy pockets and protective fabrics, aren't just for the kitchen. This instructive video shows you how to make a gardening apron that keeps your trowel, gloves and seeds conveniently close so you can make the most of your time outside.
Make this project a sure success by starting with the right type of fabric. Because you use this apron outside and in a potentially wet environment, select water-resistant fabric that withstands the effects of moisture and dirt. When working with fabrics that have directional patterns, such as words or chevrons, carefully cut the rectangles with the pattern running in the same direction, whether it's horizontal or vertical. Purchase a little extra fabric to ensure you can match a pattern when you cut, advises Craftsy.
This project is particularly well-suited to beginning sewers because it requires only straight seams. As with all projects that endure a lot of wear and tear, you must backstitch this apron at the beginning and end of each seam for extra security, recommends the Sewing & Craft Alliance.
Once you finish making this easy apron, find other ways to organize your home with the items in your fabric collection. Watch this tutorial to learn how to make versatile fabric bins to store crafts, toys or books.