DIY Bleach Gel Turns Ordinary Fabrics Into Hand-Made Artwork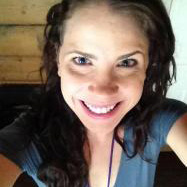 Katie Arnold
Bleach gel is one way you can re-style some of your clothes to give them fresh, new looks. This works especially well on denim since the bleach gel removes the original dyed color of the fabric and turns it white. Make your own bleach gel with water, cornstarch and bleach before putting this mixture into an empty glue bottle. We love using glue bottles because they serve as an easy way to cleanly distribute the gel exactly where you want it.
Watch the below video tutorial for the step by step instructions on how to easily make this gel!
Then comes the fun part: crafting! Create faded designs in denim or other dark fabrics by applying the gel to your older garments. Use a piece of cardboard to keep the bleach gel from soaking through. Create your designs with stencils, tape or freehand until you get the desired shapes. Add splashes of color to the white using highlighters or fabric paint.