These are so cute! The perfect finger food for your Halloween party.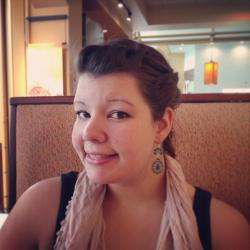 Jessica Griggs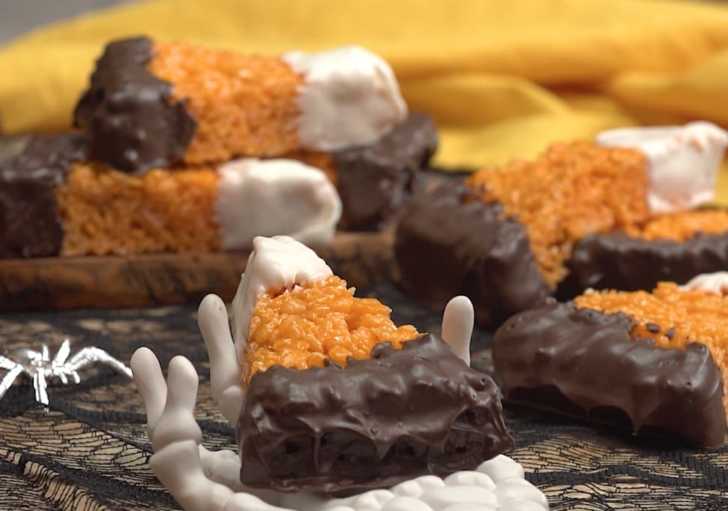 This dessert recipe is brilliant! It's super simple to make, delicious and perfect for all your Halloween and Thanksgiving get-togethers. I just love this fall treat. How can you go wrong with rice Krispies, marshmallows, and chocolate?
Even if you're not a fan of candy corn, you won't be able to get enough of these Candy Corn Rice Krispy treats. They're ooey gooey, crunchy, and perfectly chocolate-y. You've really got to try them!
Plus, this recipe is perfect to make with the kiddos. They'll love dipping the triangles into the chocolate (and probably licking the bowls when you're all done). Go ahead and give this Halloween recipe a try and let us know how they turn out in the comments below!
Ingredients:
– 6 cups Rice Krispie cereal
– 6 cups mini marshmallows
– 5 tbsp orange gel food coloring
– Dark chocolate
– White chocolate
Directions:
1. Melt the butter in a large pot over medium heat.
2. Add the mini marshmallows to the pot and stir until melted.
3. Add some orange gel coloring to your melted marshmallows and remove from heat.
4. Add your cereal to your marshmallow mixture and stir until everything is well coated.
5. Press the mixture into a buttered baking dish (11×13) and let cool.
6. Once cooled, cut into triangles (like the shape of candy corn).
7. Melt your dark and white chocolate in separate bowls.
8. Dip the base of your triangle treat into the dark chocolate, and dip the top into the white. Place the treat on a sheet of wax paper and let cool.
9. Treats can be stored in an airtight container for up to 3 days. Enjoy!