Fall is in full swing – the temperatures are dropping, the leaves are turning, and we're looking forward to scarves, all things pumpkin, and the kick off of the holiday season! These DIYs are sure to get you in the mood for the fall season. We've got a little bit of everything on here, from ways to make your house smell like fall to home accessories. There's something for everyone on this list!
Easy Coffee Cup Cozys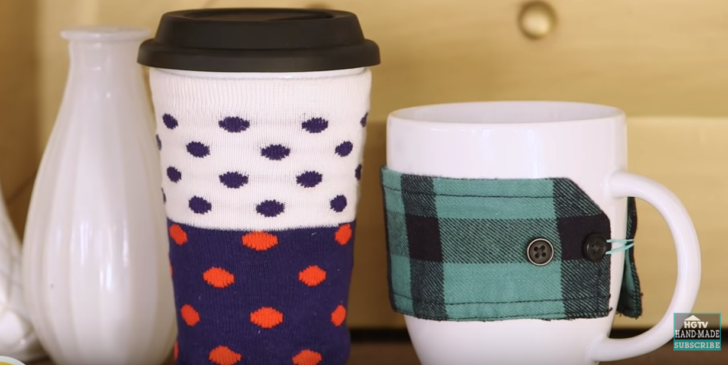 Cooler weather means wrapping your hands around a cup of coffee or tea and letting the warmth soak through to your very bones! Keep your drink of choice warmer for longer with these super easy upcycled coffee cup cozys. The first one is perfect for those to-go cups – simply grab a festive sock and cut off the tube part. Then, turn inside out and roll the ends, hot gluing along the edges to give it a nice finished edge. When it's done, just slip it on your to-go cup! The second cozy is perfect for a mug. Take an old button up shirt (or pick one up from your local thrift shop) and cut off around the cuffs. Take a matching rubber band and loop it through the buttonhole, wrap the cloth around the mug, and secure the rubber band over the button on the other side of the cuff.