Barriers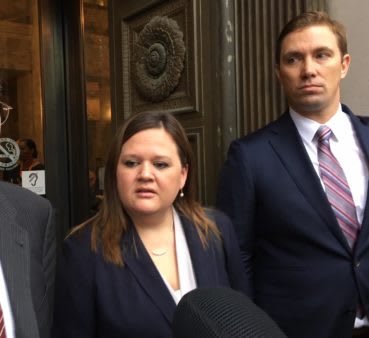 In short, things did not look bright for Simmons four years ago, on the day she was released from prison.
"Returning to the free world after incarceration is challenging," Simmons relates.
Jobless, bankrupt and facing foreclosure – the 36-year-old convicted felon and opiate addict started looking for work, but everywhere loomed "barriers to reintegration".
"No one would hire me because of my criminal record," Simmons said in a public access interview.
"I faced a lot of barriers…finding employment, housing, reunifying family… paying off the overwhelming debt imposed as part of a conviction."
But instead of giving in to the despair that grips so many "rehabilitated" former inmates upon re-entry to society, Simmons did the seemingly impossible: She found the internal fortitude to not only reclaim her past life, not only to make up for lost time – but to zoom past any realistic notion of where her career might've been had she not been sidetracked by grief, loss and addiction.
In effect, she used her lost decade as a catalyst for professional and personal advancement.
"Throughout this journey I met many struggling against the barriers of reintegration after incarceration," Simmons said.
"I decided that I want to use my past experience to (help) others that are suffering."
From BK to JD
Simmons got a job flipping burgers at Burger King and in her spare time, began to dig out from under the problems that pile up parallel to addiction and incarceration.
Simmons sought help from social workers and pro bono lawyers. Those who helped also encouraged, often remarking on Simmons' keen grasp of the law and encouraging her to look into law school – so much so that Simmons ultimately applied to law school in 2014.
"I decided to go to law school to learn how to help myself and others in overcoming legal barriers to re-entry."
Over the ensuing four years, Simmons plowed through all the barriers in her way with hard work and dedication.
Earlier in 2017, Simmons graduated magna cum laude from the Seattle University School of Law, and her rags-to-riches story appeared to be approaching completion.
As if it would be so easy.
Before Simmons could become a lawyer, she'd have to confront a few more barriers.