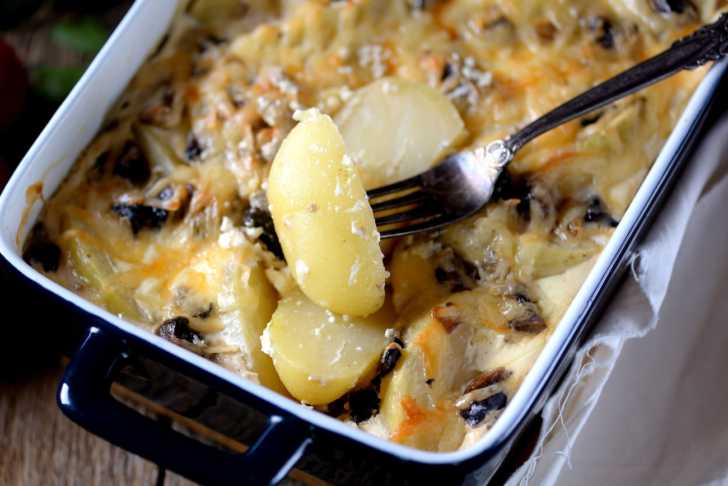 There's no end to our love for potatoes baked in a casserole dish. Gratins, scalloped potatoes, potato casserole… we love it all. We also love the creamy and subtle tang of sour cream and since it goes so well with potatoes, we thought we'd give it a go in a rustic and comforting potato bake. We probably don't even have to tell you, but this Potato & Mushroom Sour Cream bake is more than worthy of your love.
For a change, we halved some waxy potatoes rather than slicing them thinly. It gives the dish more of a substantial, but still tender bite. You'll want to boil those potatoes briefly, until they're just south of tender, so that they cook through all the way in the oven.
Sour cream is the main player in the sauce here. You just thin some sour cream with a bit of olive oil and mix it with some garlic, cheese, and salt and pepper. We've used a mild cheddar cheese in this because we didn't want it to overpower that special flavor of the sour cream, but you can use whatever good, melty cheese you happen to like best: Swiss, mozzarella, gruyere, even gouda… The world is your oyster.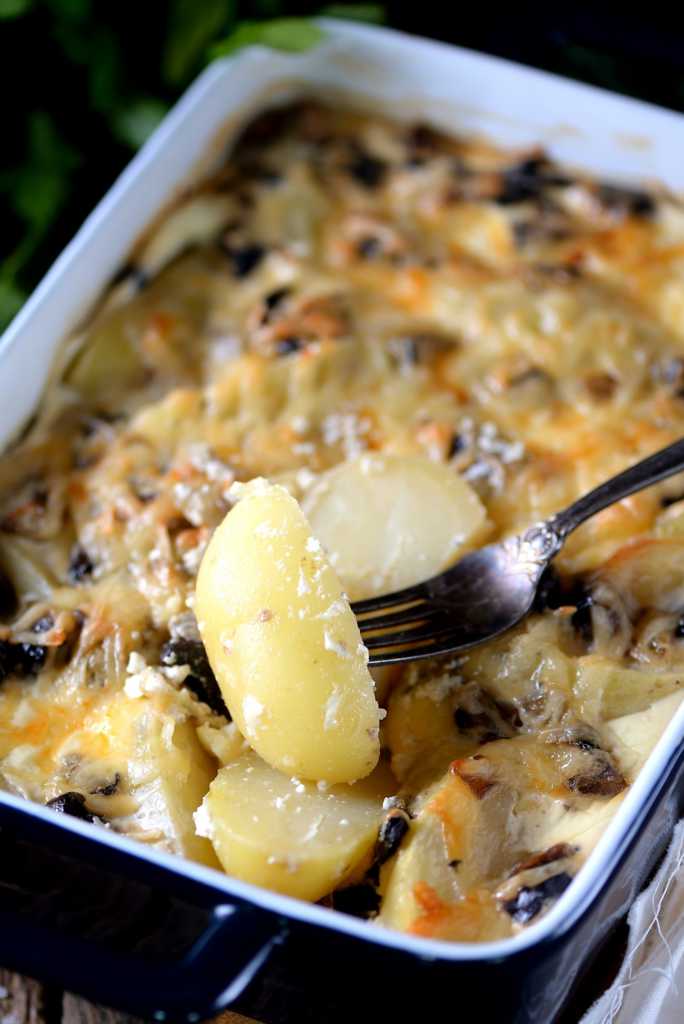 The sour cream sauce is tangy and creamy against the delicate potatoes, and the mushrooms that are folded in bring a pleasant earthiness and a more substantial meaty bite to the dish. Since sour cream is a bit thicker than traditional cream used in a bake like this, we pour a bit of chicken broth over the top. (You can totally use veggie broth if you want to keep this vegetarian.) It adds flavor and ensures that those potatoes have enough liquid to cook through all the way.
After it bakes a bit, sprinkle a little more cheese on top – because a little more cheese never hurts – and let it become melty and golden brown. And there you go! You've got a hot and comforting potato dish that's creamy, earthy, and a little cheesy too. It's good stuff. Really, really good stuff.
Sour Cream Potato Bake
Ingredients
2 pounds small Yukon Gold potatoes, peeled and cut in half lengthwise
8 oz cremini mushrooms, thinly sliced
1 1/2 cups mild cheddar cheese, grated
1/2 cup sour cream
1/4 cup chicken or vegetable broth
2 tablespoons olive oil
1 clove garlic, minced
Butter, for greasing dish
Kosher salt and freshly ground pepper, to taste
Preparation
Preheat oven to 400°F and liberally grease an 8x12-inch baking dish with butter. Set aside.
Place potatoes in a large pot and cover with cold salted water. Bring to a boil and let cook 8 minutes.
Meanwhile, in a large bowl, mix together sour cream, olive oil, garlic, 1/2 cup of the cheese, and season with salt and pepper. Drain potatoes and add them to this bowl, along with mushrooms. Toss to coat.
Pour potato mixture into prepared baking dish and drizzle with broth. Bake until potatoes are tender, 20-30 minutes. Sprinkle with remaining cheese, and bake until cheese is melted and golden brown, 10-15 more minutes. Let sit 5 minutes before serving. Enjoy!
Adapted from Kayotic.