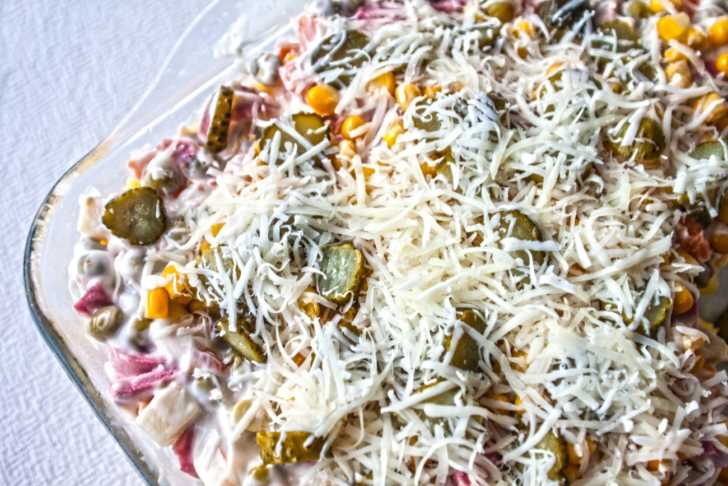 Olivier Salad (also known as Russian Salad, Russian Potato Salad, or Salad Olivier) has been around for over a century. And if something lasts that long, you know there's a reason why. (That reason is that it's totally delicious, which is why we've made it into a casserole version. More on that later. First, the history!) The salad as we know it today is much different than the original, which was created by Lucien Olivier for the Hermitage hotel in Moscow in the 1860s. That version of the salad included some combination of veal tongue, grouse, caviar, lettuce, and smoked duck, though the recipe – and mainly the specific recipe for the dressing – was a very closely guarded secret.
So secret, in fact, that one of Olivier's sous-chefs tried to steal the recipe by sneaking into the kitchen while the chef was away to take note of the ingredients that were sitting out in preparation for making the dressing. That sous-chef later sold the recipe (which rumor has it he didn't get quite right) to various publishing houses, and since then the Olivier Salad has evolved and grown in popularity.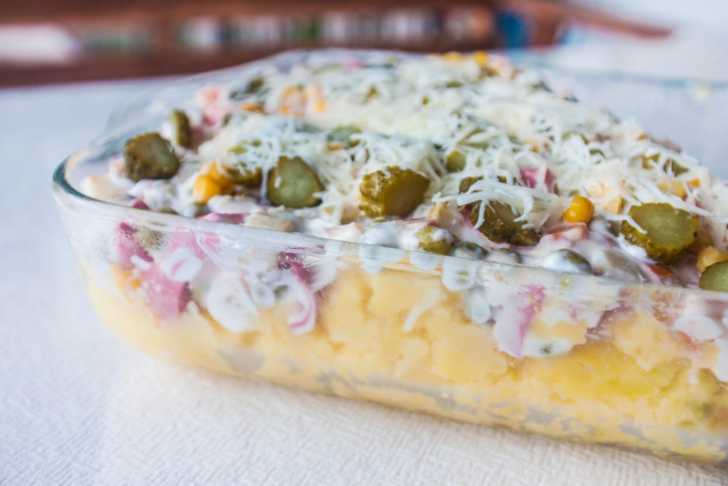 The modern version isn't much like the original. These days the salad is a combination of boiled potatoes, pickles, hard-boiled eggs, peas, carrots, and (usually) bologna, blanketed in a creamy mayonnaise dressing. A fancy potato salad, if you will. It's popular throughout the world but mostly so in Russia, where it's a traditional New Year's dish that you can find on every holiday table. The components in it vary from household to household (some say there as many variations as there are Russian cooks), so some recipes use chicken, beef, or smoked sausage instead of bologna, and others include a generous sprinkling of fresh dill or some finely chopped onions.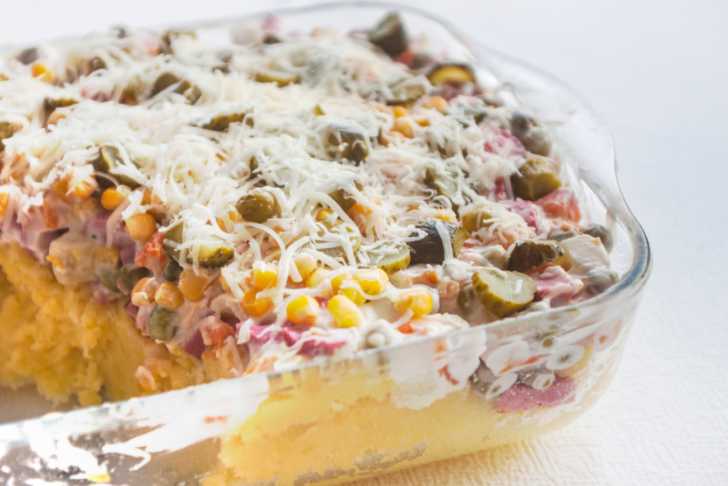 We love it so much, we thought we might try to transform it into a casserole version and boy, are we glad we did. We used a base of creamy mashed potatoes and topped it with our traditional version of Olivier Salad – peas, carrots, corn, bologna, pickles, mayo, and sour cream – and then sprinkled some cheese over the top for good measure. The creamy fluff of the mashed potatoes against the crunch of the pickles and the smokiness of the meat is just so good.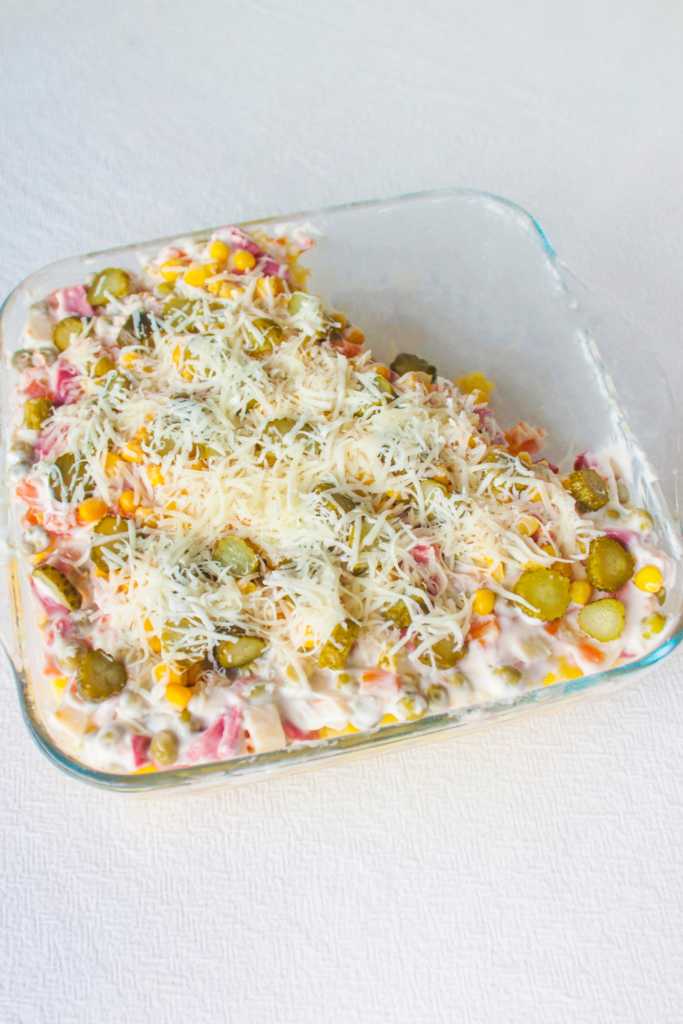 You can use canned mixed vegetables or frozen, though if you use frozen, you just want to make sure to thaw them first. You can serve this while the potatoes are still hot or when it has come to room temperature. The traditional salad is sometimes served chilled, and while you can do that here, we prefer to go with warm… it works better with the mashed potatoes.
The tradition of Olivier Salad has been changing for over a hundred years, so giving it a new little twist doesn't hurt. Give it a try, and find your own Russian Salad tradition.
Russian Salad Casserole
Ingredients
3 pounds yellow potatoes, peeled and cubed
1 pound bologna, chopped
3 cups frozen or canned mixed vegetables (peas, carrots and corn)
1 1/2 cup sour cream, divided
1 1/2 cups mayonnaise
1 cup mozzarella cheese, grated
4 tablespoons butter
2 eggs, hard-boiled and finely diced (optional)
6 small dill pickles, chopped
Kosher salt and fresh ground pepper, to taste
Preparation
Set aside an 8x8-inch baking dish.
Place potatoes in a large stockpot and cover with cold, salted water. Place over high heat and bring to a boil. Cook until potatoes are very tender, 15-20 minutes. Drain potatoes and return to pot.
Mash potatoes very well and add the butter and 1 cup of the sour cream. Season well with salt and pepper and beat with an electric mixer on medium until smooth and well-combined. (If you'd like fluffier or less dense potatoes, you can add some milk too.) Spread potatoes into the bottom of the baking dish.
In a medium bowl, combine mixed vegetables (thawed if they were frozen), bologna, eggs (if using), mayonnaise, and remaining sour cream. Season to taste with salt and pepper. Spread vegetable mixture over the potatoes.
Sprinkle chopped pickles over the top, followed by the cheese. Enjoy!