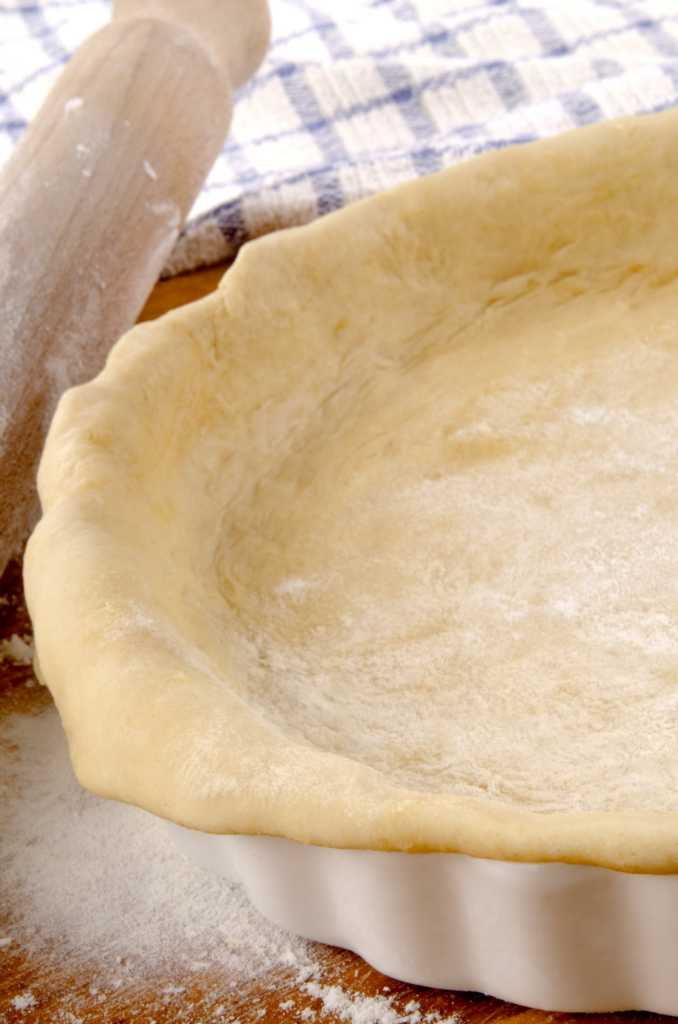 Going gluten free doesn't mean you need to give up great flavor. While it certainly is a big dietary change, you can still have so many of your favorite things… like tender, flaky pie crust, for instance! Pie makes so many occasions special and we wouldn't want anyone to have to go without, so we've whipped up a pie crust that's devoid of gluten but still has everything you'd want from a pie crust.
The basic method is the same: you cut cold butter into flour until its crumbly and then you add liquid until the dough holds together when squeezed. Then chill the dough, roll it out, and so on. See? Mostly the same. But we have a few tricks up our sleeve.
1) Add an egg. An egg mixed into the dough makes it a little more forgiving and easy to work worth. It's like perfect crust insurance. In egg form.
2) Apple cider vinegar. A little dash of vinegar helps ensure that the pie crust remains tender. Something about the acidity… We don't know why it works. But it does.
3) Xantham gum. It's pricey, but a little bit goes a long way. Xantham gum mimics the elasticity and texture that gluten normally gives a baked good, so a little mixed into the pie crust ensures that it's as tender and flaky as the traditional version. (Note: some gluten free flour blends might already have this incorporated, so take a look at the ingredients on the package.)
Any 1-to-1 gluten-free flour blend that you find in the grocery store will work, but we recommend ones that use a blend that includes rice flour. It gets incredibly close to the texture you're used to with wheat flour.
When it comes time to add the ice water, you might need it, you might not. You want a dough that will hold together when squeezed, but you don't want it to be too wet. So after the egg and vinegar have been added, see if the dough will hold its shape. If not, add ice water a tablespoon at a time until it will.
Serve this crust and your guests won't know a single thing is missing. Because it isn't! This crust may not have gluten, but it's still everything pie crust should be.
Gluten Free Pie Crust
2
15 minutes active, 1 hour inactive
Ingredients
1 1/2 cups all-purpose gluten free flour
1/2 cup (1 stick) unsalted butter, chilled and cubed
1 egg, beaten
2 teaspoons apple cider vinegar
1 teaspoon xantham gum
1/2 teaspoon kosher salt
Ice water, as needed
Preparation
In a large bowl, whisk together flour, xantham gum, and salt. Cut in chilled butter until crumbly.
Mix together the egg and apple cider vinegar in a separate bowl. Add to the flour mixture and stir until well blended. Add ice water, one tablespoon at a time, until dough holds together when squeezed.
Gather dough into a ball, wrap in plastic wrap, and refrigerate until chilled, about 1 hour. Roll out and use as needed. Enjoy!
Adapted from Free Range Cookies.