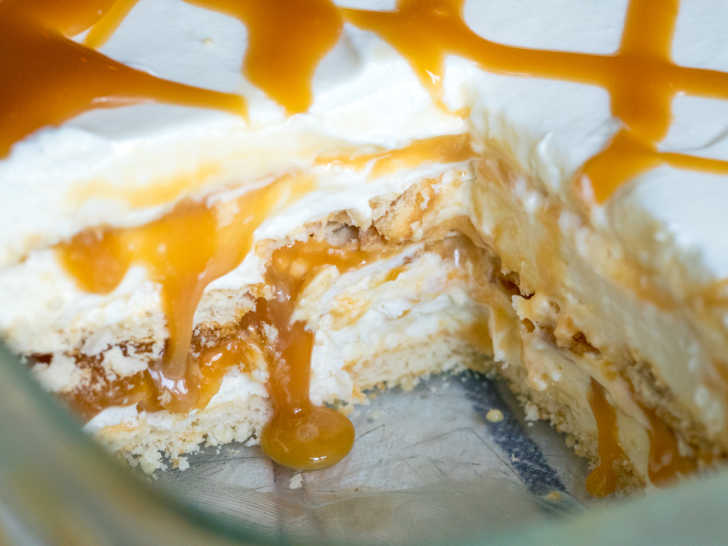 When it comes to cooking in the summer, no one wants to be standing by a hot stove or oven, sweating into whatever it is they're making. Elaborate dishes that require lots of ingredients and that take hours to prepare? No, thank you. Which is why we're such huge fans of icebox cakes. If you haven't heard of an icebox cake then you're in for a serious treat today.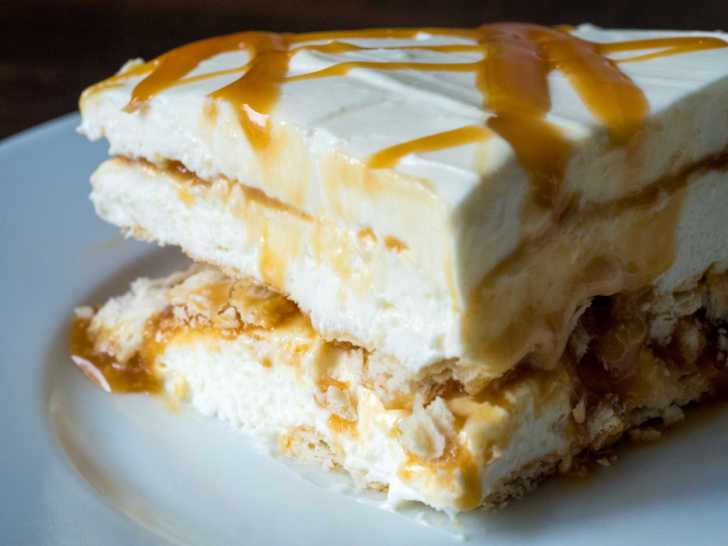 First originating during WWI, icebox cakes are comprised of alternating layers of wafer cookies and some sort of whipped cream filling. Once you've built your cake, you pop it in the fridge or "icebox" to chill, so all the layers set together and the cookie layers absorb some of the moisture of the filling, turning into a delicious, cakey confection that you won't want to miss. The beauty here is that you can easily customize your icebox cakes to your preferences: classic chocolate cookies and whipped cream; graham crackers and lemon cream filling; oreos and peanut butter cream cheese filling…the sky's the limit!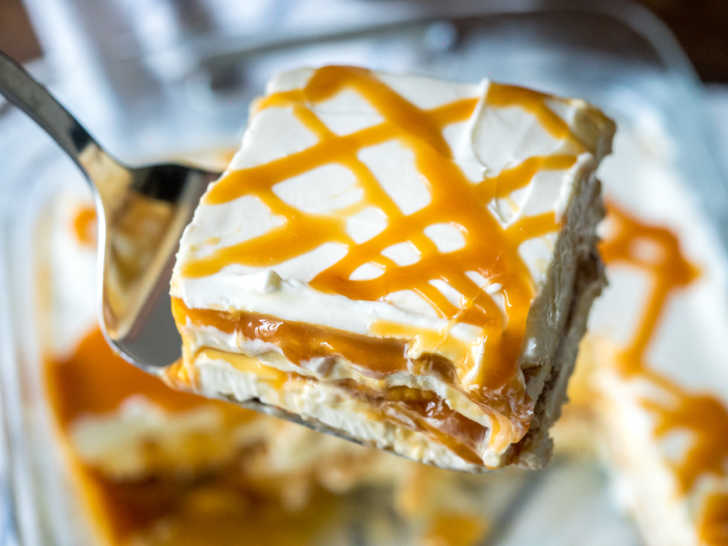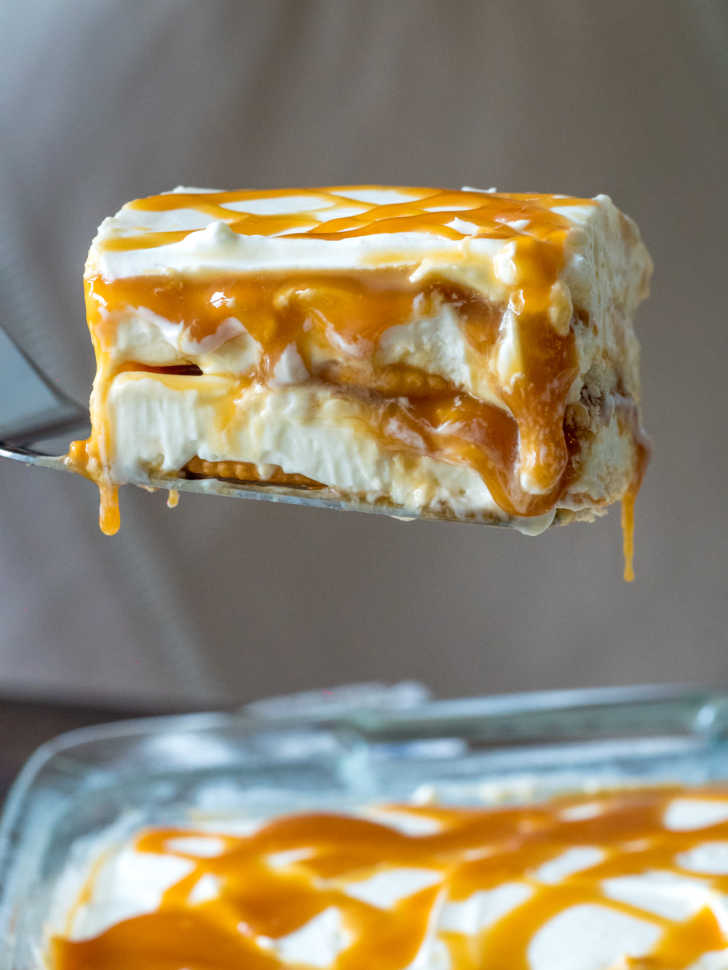 Here, we wanted a fix for our sweet and salty craving, so we decided to use salted caramel as the flavor base for the dish. Whip up a quick, sweetened cream cheese filling mixture, then start layering your ritz crackers in your baking dish. Top each layer of crackers with your creamy filling, then drizzle on a layer of salted caramel sauce. Repeat the process a couple times and you're good to go! We're telling you, the final result is absolutely incredible. The salty crackers and salted caramel sauce go together perfectly, and the sweetened cream cheese filling is the best complement to all that salty goodness. If you can handle having to wait a couple hours (or overnight) for this dessert to truly reach its full potential of greatness, then you have an amazing sweet to look forward to – you won't regret it!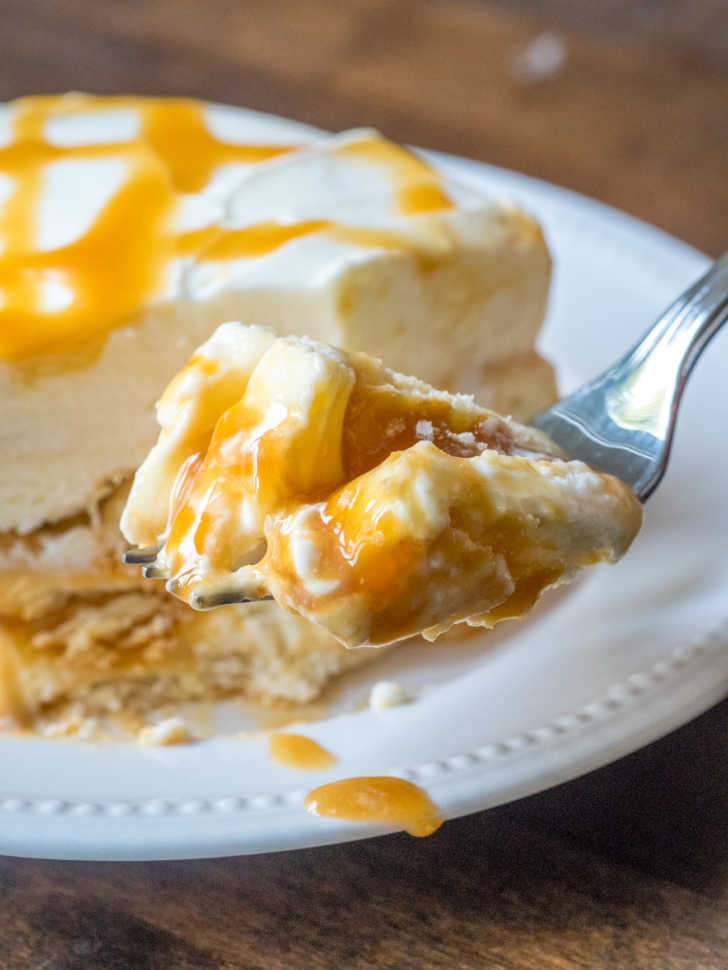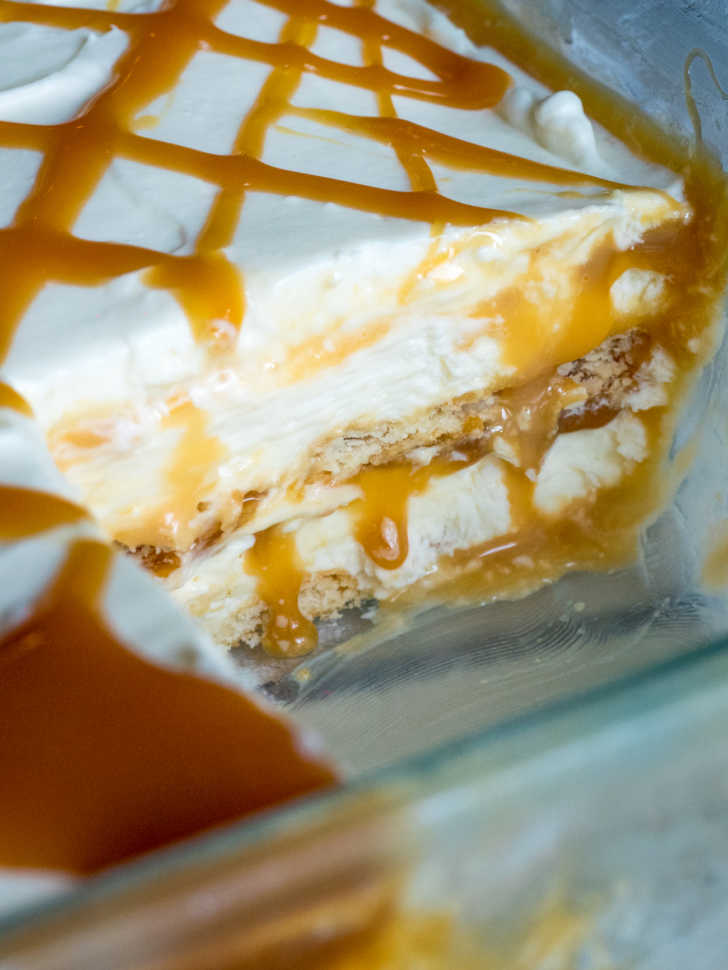 Salted Caramel Icebox Cake
6-8
20 minutes active; 4 hours inactive
Ingredients
48 ritz crackers
2 (8 oz.) packages cream cheese, softened
1 cup granulated sugar
1 cup heavy whipping cream
1 teaspoon vanilla extract
1 cup salted caramel sauce, divided
Whipped cream, for garnish (optional)
Preparation
Grease an 8x8-inch baking dish with non-stick cooking spray and set aside.
In a large bowl, beat the cream cheese and sugar with an electric mixer on medium until smooth.
Add heavy cream and vanilla, and beat until stiff peaks form, about 3-5 minutes.
Arrange an even layer of crackers over the bottom of the baking dish. Top the crackers with 1/3 cream cheese mixture, then, drizzle 1/3 caramel sauce over the top.
Repeat with another layer of crackers, 1/3 cream cheese mixture, another 1/3 of the caramel sauce, another layer of crackers, and remaining cream cheese mixture.
Cover and chill in refrigerator until set, at least 4 hours, preferably overnight.
Once chilled, cut into squares and top with additional whipped cream and caramel sauce, if desired. Enjoy!
Recipe adapted from Lauren's Latest