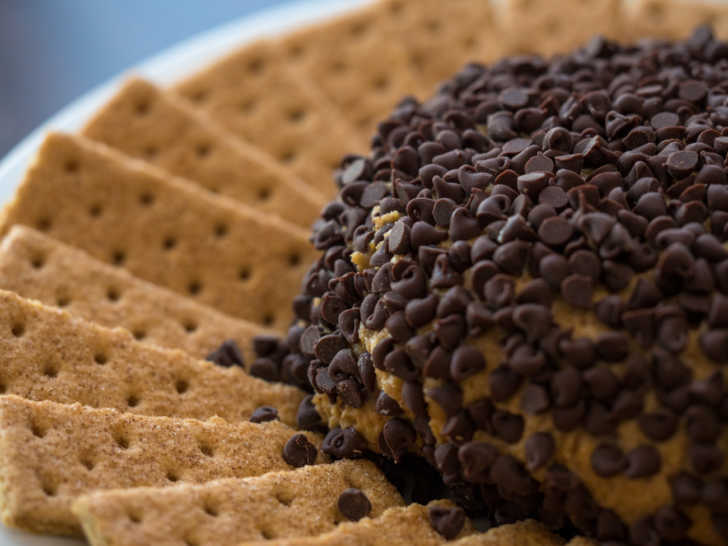 If you're in need of an easy, delicious, showstopping appetizer to bring to the next party, this is definitely the one to make. It's glorious to look at and even better to eat – you'll have everyone clamoring for it before they even know what it tastes like! That's what so great about this pumpkin cheesecake ball – it's ridiculously addictive and perfect for when you want to impress people, but it's also a total cinch to make…we love recipes like that.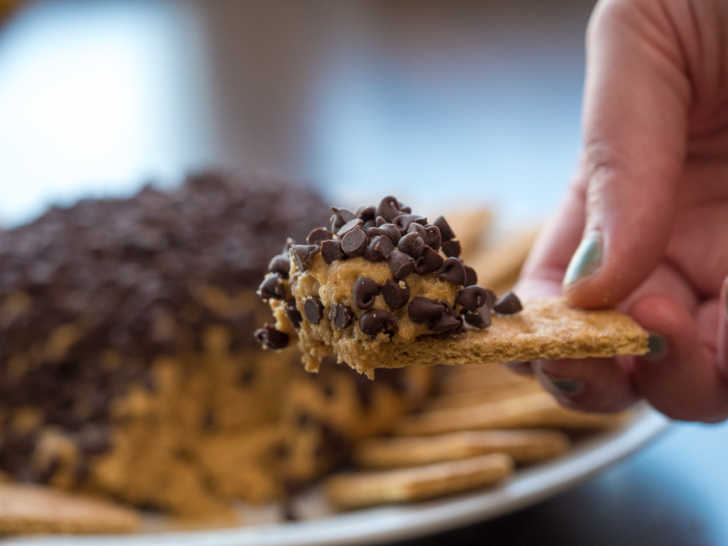 Now, if you looked at the photo and thought, that's just cream cheese and canned pumpkin and chocolate chips rolled into a ball, you'd be incorrect; there's a whole lot more packed in there than meets the eye. While those three things – cream cheese, pumpkin and chocolate chips – are in the recipe, we also use dry spice cake mix, brown sugar and pumpkin pie spice to pump more flavor into this ol' cheesecake ball.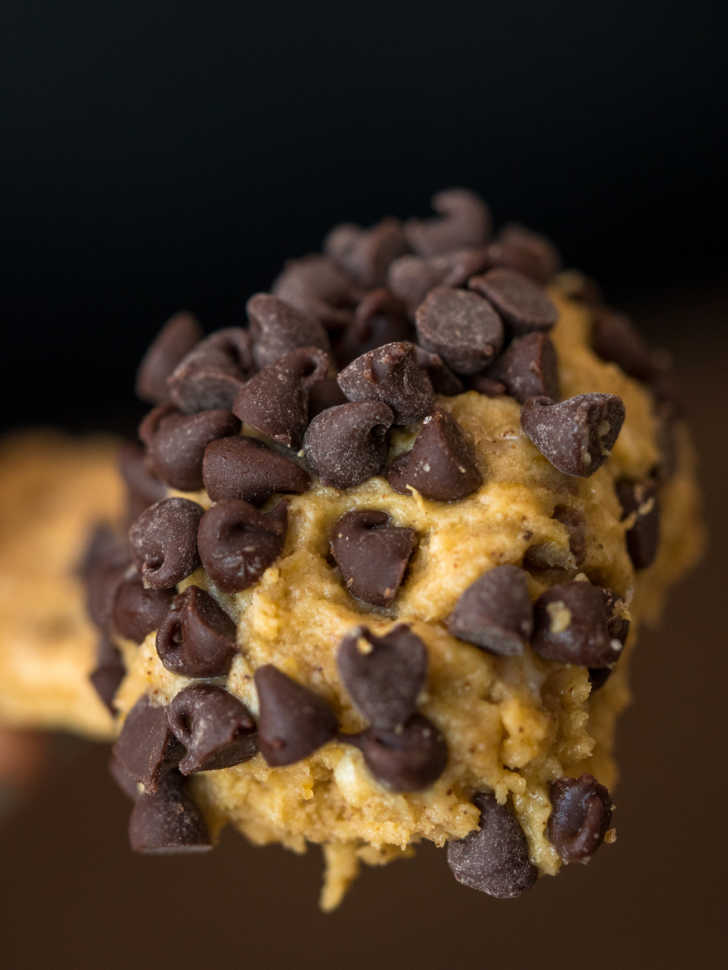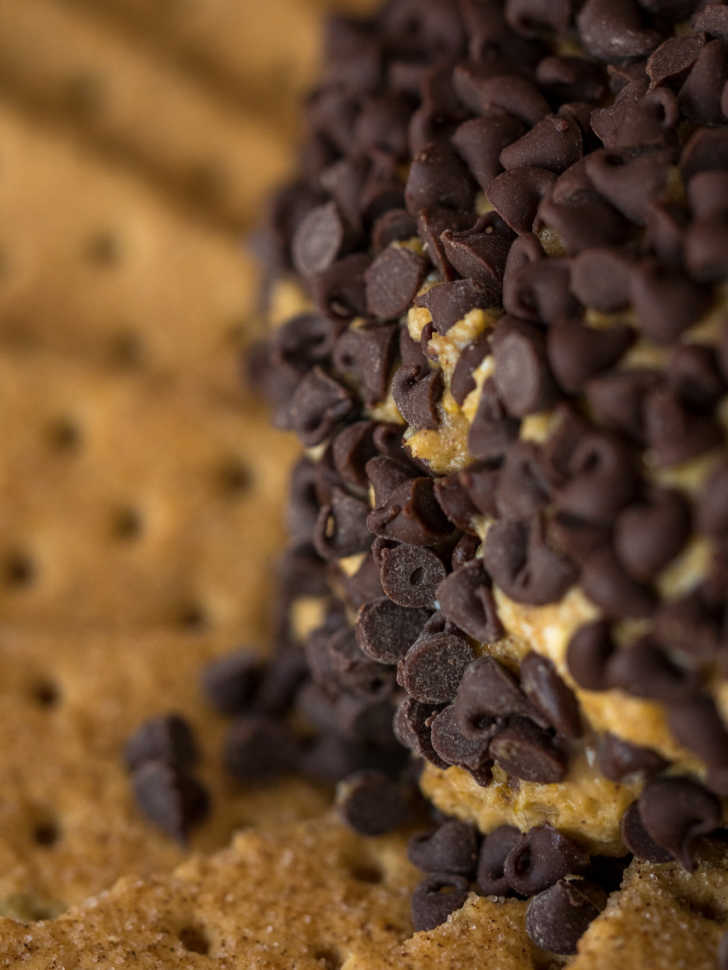 And if rolling it all in chocolate chips didn't seem like it was enough, don't worry, we also threw in bite-sized toffee bits for added crunch and just the right amount of toffee goodness. This recipe is perfect for any fall-related activity, be it a birthday party, game day bash, or pot luck – seriously, people go nuts for it!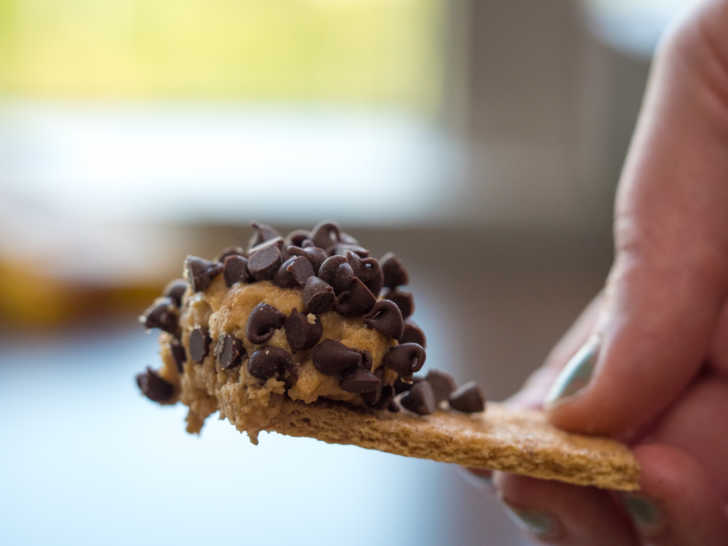 Pumpkin Cheesecake Ball
10-12
15 minutes active; 2+ hours inactive
Ingredients
1 (8 oz.) package cream cheese, room temperature
1/2 cup (1 stick) unsalted butter, room temperature
1/3 cup canned pumpkin
1 1/3 cups spice cake mix (dry)
3/4 cup powdered sugar
1/2 cup toffee bits
1/4 cup brown sugar
1 bag mini chocolate chips, or as needed (you'll use roughly 1 cup)
1 teaspoon pumpkin pie spice
1 teaspoon vanilla extract
cinnamon graham crackers or gingersnap cookies, garnish
Preparation
In a large bowl, beat together cream cheese and butter for 2-3 minutes, or until fluffy.
Mix in vanilla extract and pumpkin pie spice, then add in canned pumpkin, powdered sugar, brown sugar and spice cake mix.
Once everything has come together, fold in toffee bits. (If mixture is too wet, add in more spice mix 1 tablespoon at a time.)
Turn mixture out onto a large sheet of plastic wrap and roll tightly into a ball, being careful to seal all the edges. Refrigerate until cheesecake ball is chilled and holds its form, 1-2 hours.
Place chocolate chips in a large, shallow dish. Unwrap cheesecake ball and gently transfer it to bowl with chocolate chips. Use your hands to either roll or coat cheesecake mixture in chocolate chips.
Place cheesecake bowl on serving platter and serve with graham crackers or cookies of your choice. Enjoy!
Recipe adapted from Chelsea's Messy Apron