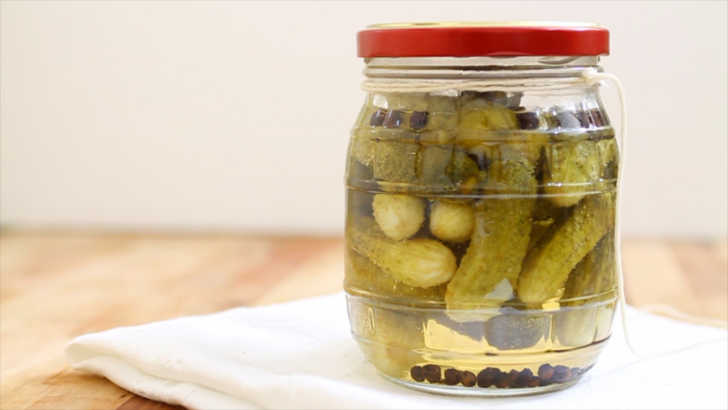 There's nothing better than cracking open a fresh jar of pickles. Cold and refreshing, any store-bought pickles will do in a pinch, but did you know these bad boys are super easy to make at home? It's true, by making your own, you can add all the flavors you want, then you can let the pickles pickle until they're just the way you like them. If you've got a mason jar and some twine (but really all you need is the mason jar) you can whip up a batch. Throw in garlic, peppercorns, and any other herbs you want, then try them and be shocked by how great they are. Seriously, you won't ever go back to store-bought!
Pickles
Ingredients
18 mini cucumbers
1 clove garlic
1 cup vinegar
1/2 cup water
1 bay leaf
1 teaspoon whole cloves
1/2 teaspoon peppercorns
1 tablespoon kosher salt
twine
Preparation
Sterilize mason jar in boiling water for 10 minutes. (Water should come to 1 inch above the top of the jar.) Remove, let cool and leave water boiling.
In a separate pot, combine vinegar with 1/2 cup water and salt.
Place cucumbers, garlic, bay leaf, peppercorns and cloves in sterilized mason jar, then pour vinegar solution on top.
Seal jar and tie a long piece of twine around the lip, making a handle so you can securely dip mason jar in boiling water.
Boil mason jar in original pot of water for 15 minutes, then remove and let cool.
Keep stored in a cool dark place for at least 1 week. Store in refrigerator after opening.
Recipe adapted from Gourmet A Dois