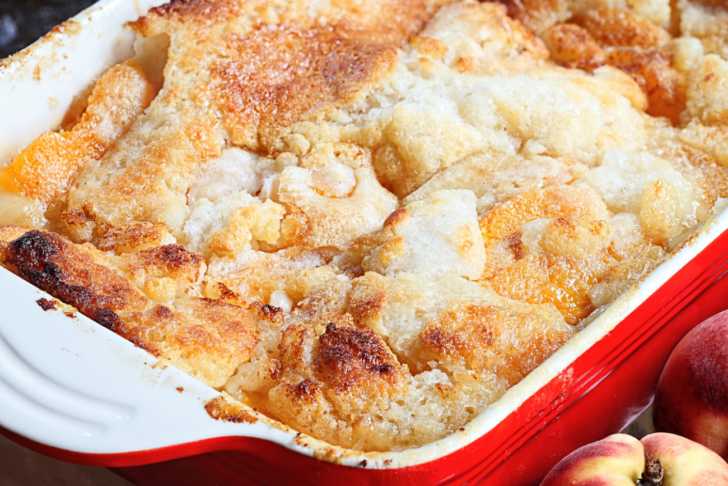 If there's one dessert that defines summer, it's absolutely peach cobbler. Top that cobbler with a scoop of cool vanilla ice cream, and I'm immediately taken back to summers' on my grandmother's porch, a big bowl of cobbler in my hand with sweet vanilla slowly melting over top of the warm peaches. It's funny how food can trigger memories, and this is one of those dishes that takes me back to those carefree summer days when I was a kid. Grandma wasn't fussy about her ingredients, except for using fresh peaches, so it was our job to run down to the farmer's market to pick up a bushel of fresh peaches. We'd come home and disappear off into the yard while grandma worked her magic.
There's nothing like a little bit of nostalgia to inspire a delicious dish, and we thought, with the season warming up, and farmers markets once again pulling into town, that it was high time for one of Grandma's classic peach cobblers. I pretty much know the recipe by heart, so there's almost no need to pull out the recipe box. Fresh peaches really are the key ingredient here, so when they're in season, we use nothing else. A quick dip in boiling water then another ice cold bath will help loosen the skin, making the peeling process much easier. Instead of using just granulated sugar, we love to add brown sugar to the mix because it adds a great, almost caramel flavor to the dish as a whole. As each layer of ingredients is added to the baking dish, there's a hard and fast "no stir" rule; the ingredients will come together on their own during the baking process.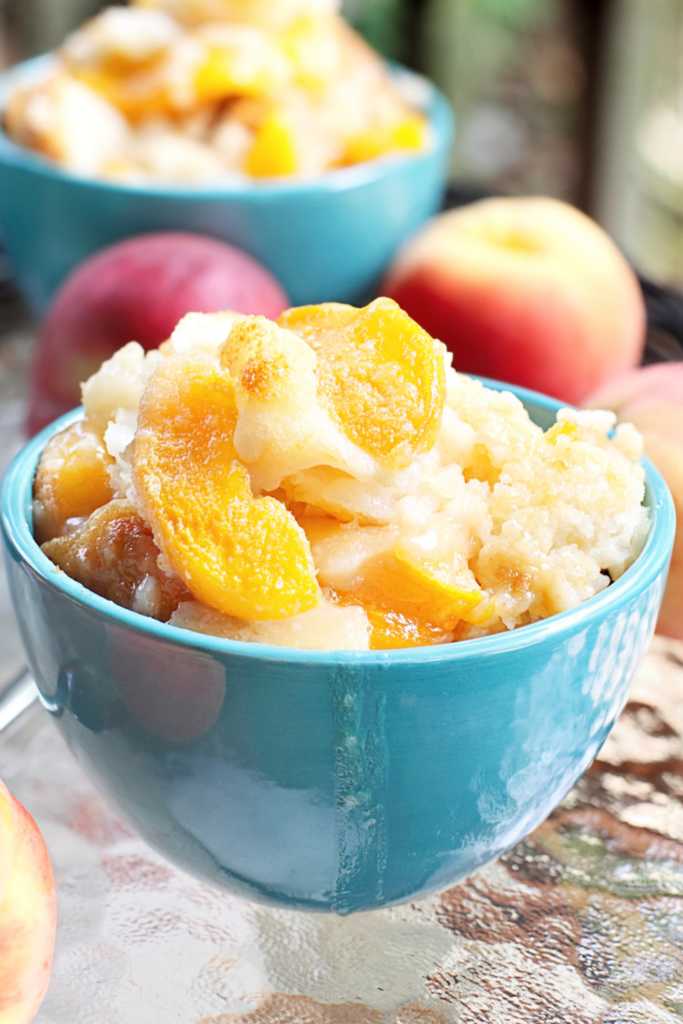 As the cobbler bakes, our kitchen is filled with the aroma of sweet warm peaches, and we can hardly wait for it to cool down enough for everyone to dive in. Whenever possible, I also like to whip up a batch of homemade vanilla ice cream, but a good quality store-bought brand will absolutely do the trick; vanilla bean is a big favorite in our house. But ice cream really isn't required; this is a dish that stands up on its own, no additional "flare" required. This peach cobbler is absolutely irresistible, and one that we know will be in the family for a long time to come!
Grandma's Peach Cobbler
Ingredients
8 fresh peaches, peeled and sliced
Juice from ½ small lemon
1 teaspoon cinnamon
1 teaspoon vanilla extract
1 stick unsalted butter, melted
1 cup granulated sugar
1 cup brown sugar
1 cup flour
1 cup milk
1 tablespoon baking powder
1 pinch salt
Preparation
Preheat oven to 375°F. Pour melted butter into a 9x13-inch baking dish.
Place peaches into pot of boiling water for 30 seconds. Turn off heat and, with a slotted spoon, transfer peaches to a bowl of ice water. Once cool enough to handle, remove skins with a paring knife. Slice peaches and set aside.
Combine granulated sugar, flour, baking powder, and salt, stirring until well blended.
Slowly stir in 1 cup milk until mixture comes together into a batter. Pour batter over butter in baking dish.
In a saucepan, combine peaches, cinnamon, brown sugar, vanilla, and lemon juice. Bring to a boil, stirring frequently. Turn off heat and pour peaches over top of batter.
Bake for 40 minutes or until top crust has become a golden brown color.
Recipe adapted from Center Cut Cook