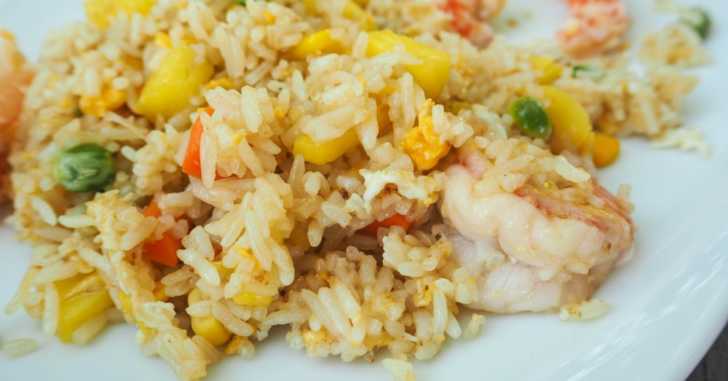 We like to make up a big pot of rice on the weekends and use it for a few different dinners during the week. This saves us time on meal prep and leads to lots of creative rice-based meals. So when we found this recipe for shrimp and pineapple fried rice, we knew we had a winner. Sometimes we leave the shrimp out if we're serving this dish as a side, or we substitute whatever veggies we have in the fridge.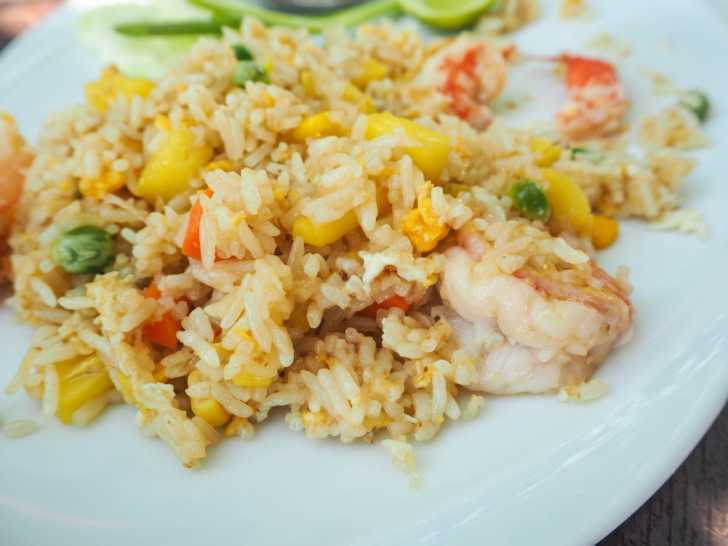 There are a couple secrets to really good fried rice. First, we use a big pan or wok so that we have enough room for all the ingredients, and second, we prep all of our veggies beforehand because it comes together quickly once we start cooking. Try out this recipe for shrimp and pineapple fried rice for an easy and delicious alternative to take out.
Pineapple Shrimp Fried Rice
Serves 6
15m prep time
15m cook time
Ingredients
4 cups cooked white rice
16 ounces raw shrimp, peeled and deveined
2 medium cloves garlic, minced
2 large red bell peppers, chopped
16 ounces canned chopped pineapple, juices drained
1 package frozen peas
1 medium yellow onion, chopped
1 tablespoons sesame oil
2 tablespoons olive oil, divided; 1 tablespoon for shrimp, 1 tablespoon for veggies
3 tablespoons soy sauce
2 teaspoons powdered ginger
1/2 teaspoon black pepper
1 optional tablespoon sesame seeds
2 optional tablespoons green onions, finely chopped
Preparation
Heat a large skillet over medium-high heat. Add 1 tablespoon olive oil and sauté garlic with shrimp until shrimp is pink throughout, about 2 minutes per side. Transfer from pan to a bowl.
Add peppers, onions, pineapple and peas to pan, and stir fry until peas are cooked and peppers have softened. Place in bowl with shrimp and wipe pan clean.
Add remaining olive oil and sesame oil to pan and sprinkle with ginger. Add cooked rice and stir fry for 5 minutes or until lightly toasted. Return shrimp and vegetables to pan and drizzle with soy sauce. Add pepper and stir fry 2 minutes or until all ingredients are heated through. Sprinkle with optional sesame seeds and green onions to serve.
Recipe adapted from Savory Nothings