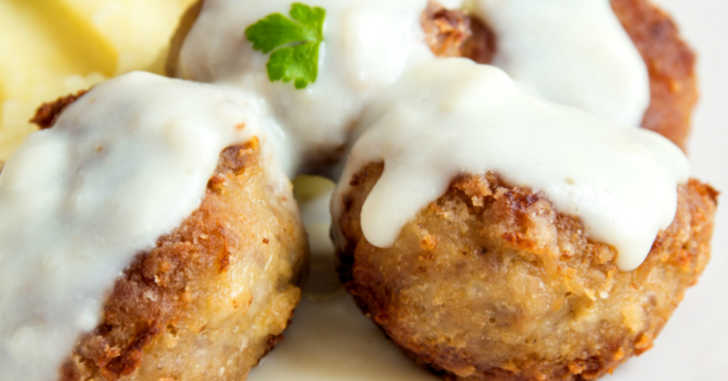 Although we love traditional spaghetti and meatballs, sometimes we prefer our meatballs with a nice creamy white sauce. This family favorite includes a rich, cheesy Parmesan sauce paired with hearty turkey meatballs. Breading and pan frying the meatballs only takes a few extra minutes, and adds a nice crunch and great flavor to contrast with the creamy sauce. Serve this one up over noodles or paired with mashed potatoes for a hearty dinner with flavors the family loves. We like to keep the meatballs small for plenty of cheese sauce in every bite, but if your family likes them larger, just cook for a little bit longer to make sure they are done all the way through. The combination of the the flavorful meatball, crisp crust and delicious creamy sauce taste great at every size.
Creamy Fried Meatballs
6 servings
15m prep time
30m cook time
Ingredients
1.5 pounds ground turkey
2 eggs
1 1/2 cups dry bread crumbs, divided (1/2 cup; 1 cup)
1/4 cup grated Parmesan cheese
1/2 teaspoon garlic powder
1/2 teaspoon onion powder
1 teaspoon salt
1/4 teaspoon black pepper
2 teaspoons dried parsley
3 tablespoons vegetable oil
For the sauce:
2 tablespoons butter
2 teaspoons flour
1 1/2 cups heavy cream
1/2 cup freshly grated Parmesan
1/4 cup chopped fresh parsley
Preparation
Mix together ground turkey, 1 egg, 1/2 cup dry bread crumbs, grated Parmesan and seasonings until well blended.
Form the meat mixture into small meatballs about 1 inch in diameter.
Beat second egg in a shallow bowl. Place the remaining 1 cup dry bread crumbs in a shallow dish.
Heat the oil in a large skillet over medium heat.
Dip each meatball in beaten egg and then roll in bread crumbs until well coated.
Add oil to pan on medium/medium-high heat. Place meatballs in pan, turning occasionally to brown all sides. Continue cooking until meatballs are completely cooked through to center.
For the sauce, melt butter over medium heat in small saucepan. Whisk in flour.
Slowly whisk heavy cream into butter-flour mixture. Whisk frequently until mixture starts to thicken, about 5-7 minutes. To test thickness, dip a wooden spoon into sauce and run a finger down center of the spoon. If mark remains, sauce is thickened.
Remove sauce pan from heat and stir in Parmesan until completely melted.
Serve warm sauce over meatballs and top with chopped fresh parsley as garnish.
Recipe adapted from Will Cook For Smiles