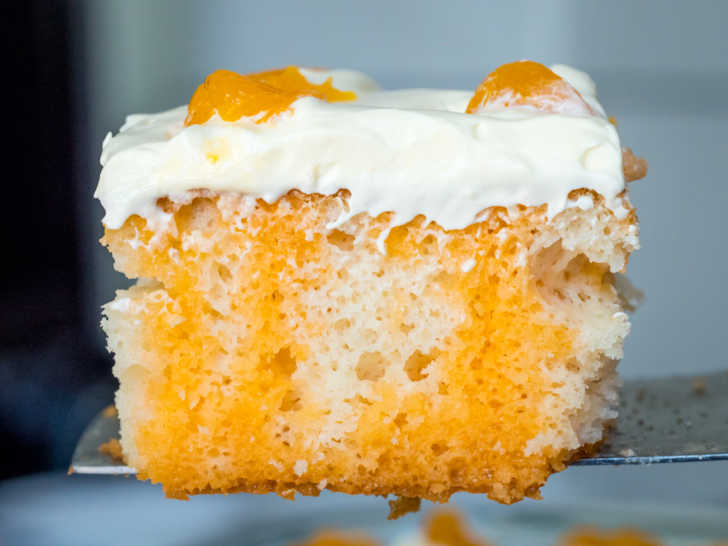 Is there anything more summery than an orange creamsicle?? What originated as a creamy, dreamy vanilla and orange popsicle has turned into a cult favorite flavor combo that we are thrilled to be playing around with, resulting in this delectable, warm weather treat. And not only that, but since we decided to make this version of our creamsicle cake a poke cake, the finished result is just as great to look at as it is to eat! Look at all those cute orange swirls – it's like an orange tie-dye cake! Now for those of you who aren't familiar with poke cakes, don't worry, it's easy.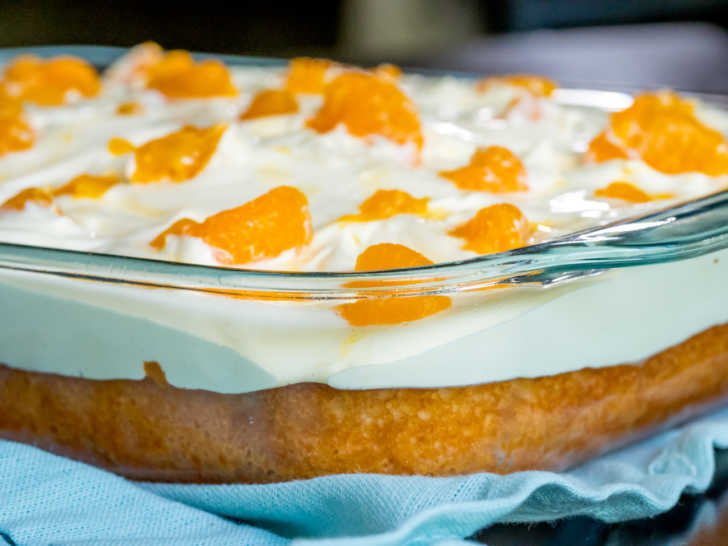 The way poke poke cakes work is you take a warm cake and use a fork (or the top of a wooden spoon) to poke holes in the cake. Jello or pudding are popular filling options, so once you whip that up – we used orange jello – you pour that directly into the holes in the cake, letting the colored liquid mixture stain and flavor the inside of the cake. If you're wondering about whether jello sets into its gelatinous form when used here, don't worry, it doesn't; it just adds flavor and its bright, beautiful color.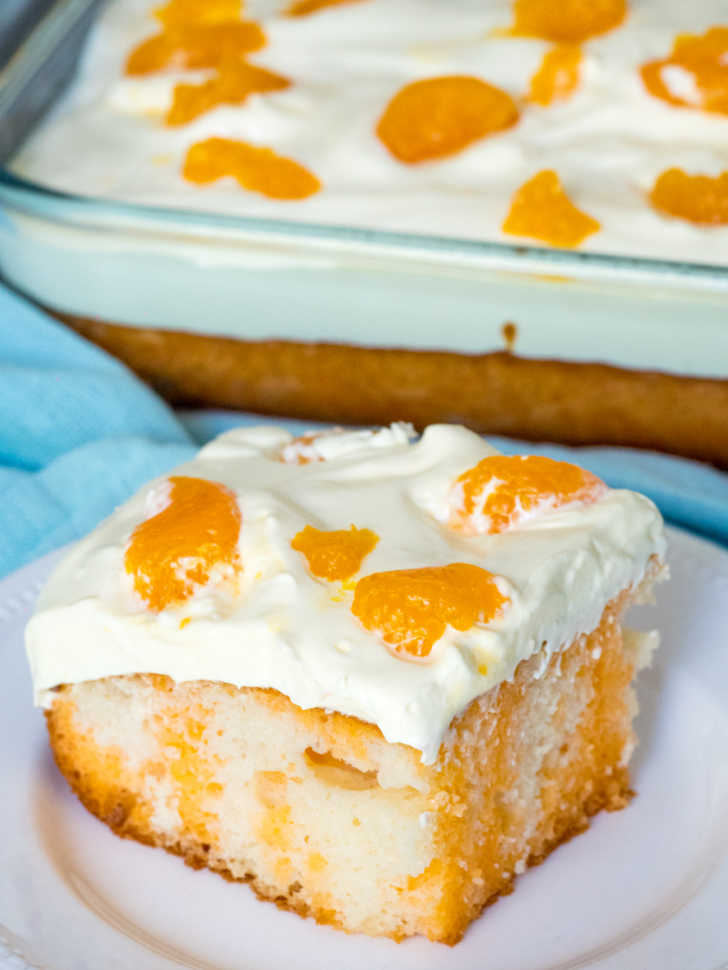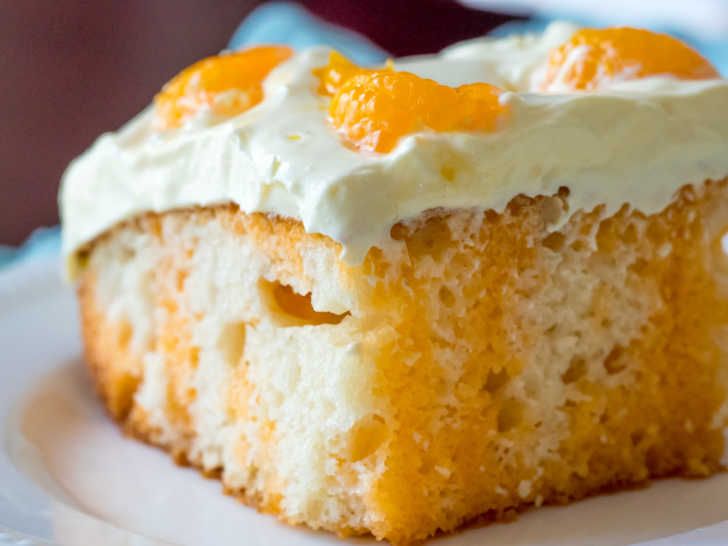 Once you've got the filling taken care of, skip on over to the frosting. We used vanilla pudding as the crux of our frosting, fully tying in that classic creamsicle flavor, but you can use any frosting you like. It's pretty hard to go wrong with this pretty, delicious cake. You'll see why when you taste it!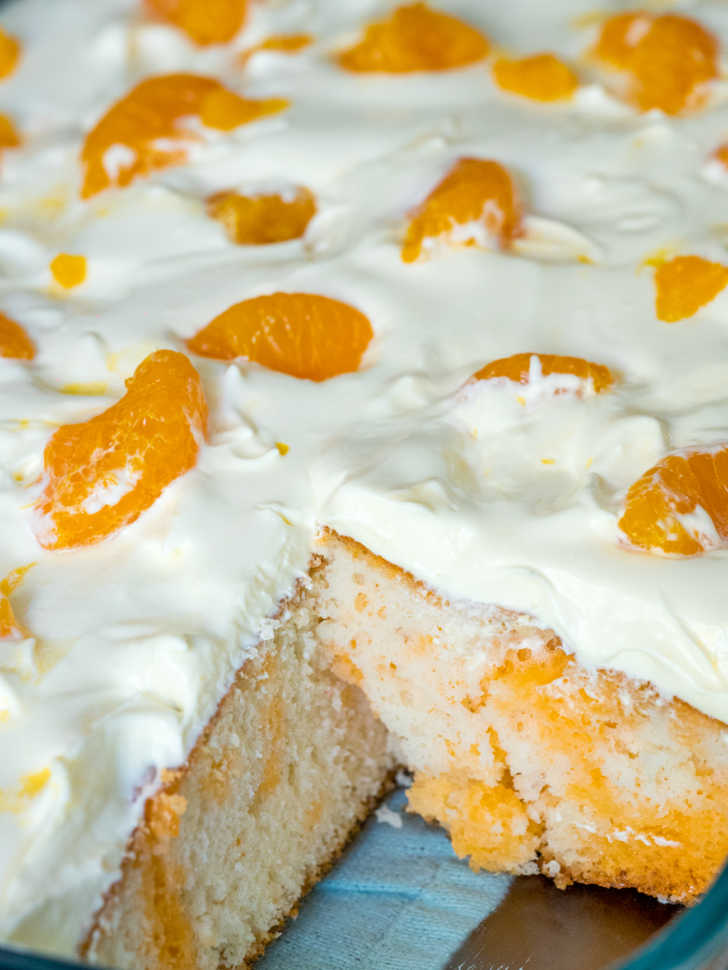 Creamsicle Poke Cake
Ingredients
1 (15.25 oz.) box white cake mix
3 eggs
1/2 cup oil
1 cup water
1 teaspoon vanilla extract, optional
Filling:
1 (3 oz.) package orange jello
1 cup boiling water
1/2 cup cold water
Frosting:
1 (8 oz.) package frozen whipped topping, thawed
1 (3.4 oz.) instant vanilla pudding mix
1 cup milk
1 (11 oz.) can mandarin oranges, drained, garnish
Preparation
Preheat oven to 350º F or according to cake packaging directions and lightly grease a 9x13-inch baking dish with butter or non-stick spray.
Place cake mix in a large bowl and mix in eggs, oil, water and vanilla extract until smooth.
Pour into greased baking dish and bake according to package instructions.
Remove from oven and let cool 15 minutes, then pierce holes all over cake with a fork.
Place jello mix in a large bowl and whisk in boiling water, stirring until jello is fully dissolved. At that point, stir in cold water.
Pour jello over the top of cake, so that it fills in the holes you've just made, then cover and refrigerate cake for at least 2 hours.
Place pudding mix in a separate large bowl and whisk in milk, stirring until mixture has thickened, then fold in frozen whipped topping until fully incorporated.
Spread mixture over chilled cake in an even layer and top with drained mandarin oranges.
Slice, serve and enjoy!
Recipe adapted from Spend With Pennies