We're always trying to create simpler versions of our favorite dishes, and our most recent adventure was with Chicken Cordon Bleu. We deconstructed the classic dish into a rich and creamy pasta bake that allows us to enjoy the decadent flavors of the original without the hassle!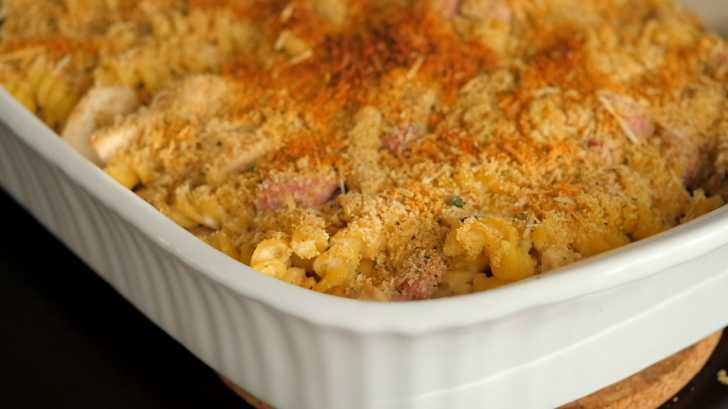 While we love all things ham and swiss, the real star of this dish is the luscious sauce everything bakes up in; it's thick and creamy, with a hint of tangy dijon. We also love being able to prep this casserole in advance…we can pop it in the oven right before we want to chow down, making it a perfect weeknight dinner!
Chicken Cordon Bleu Pasta Bake
Ingredients
1 pound rotini pasta
2 1/2 cups whole milk
2 cups cooked chicken, cubed
1 cup cooked ham, cubed
1 cup swiss cheese, sliced or grated
3/4 cup seasoned breadcrumbs
1/4 cup parmesan cheese, grated
4 tablespoons unsalted butter, divided
2 tablespoons all-purpose flour
1 1/2 teaspoon Worcestershire sauce
1 1/4 teaspoons Dijon mustard
kosher salt and freshly ground pepper, to taste
Preparation
Preheat oven to 350º F and lightly grease a 9x13-inch baking dish with nonstick spray.
Bring a large pot of salted water to boil and cook pasta according to packaging directions, or until just al dente. Drain and return pasta to pot, then set aside.
Melt 2 tablespoons butter in a medium saucepan over medium-high heat. Whisk in flour and stir continuously until roux is thick and paste-like. Cook for 2 minutes.
Gradually whisk in milk, stirring until smooth. Bring to a gentle boil, then add Worcestershire sauce and mustard, and season with salt and pepper.
Cook for 3-5 minutes, or until sauce thickens.
Pour sauce over drained pasta, then stir in cubed chicken and ham until everything is thoroughly coated in sauce.
Pour 1/2 pasta mixture into greased baking dish, then top with swiss cheese. Pour remaining pasta over the cheese and spread it out into an even layer.
Melt butter in a microwaveable bowl. In a separate small bowl, whisk together bread crumbs and parmesan cheese. Pour in melted butter and whisk together until combined.
Evenly sprinkle breadcrumbs over the pasta, then place baking dish in oven.
Bake for 20-25 minutes, or until breadcrumbs are golden brown and edges are browned and bubbly.
Recipe adapted from Lovely Little Kitchen