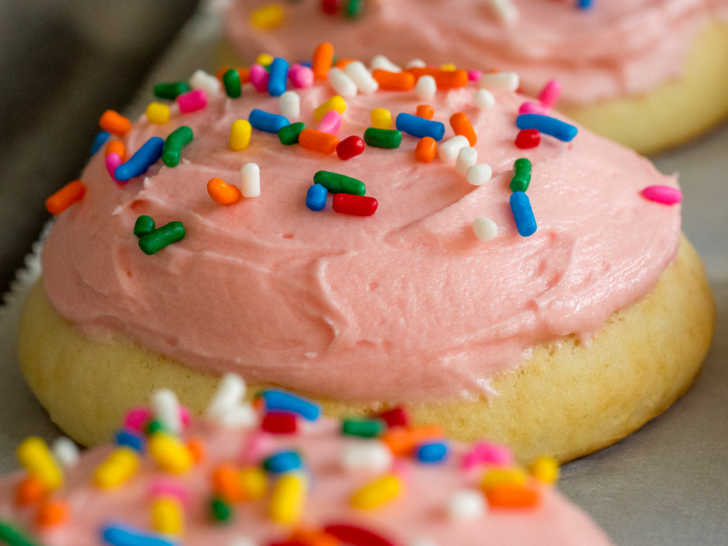 Do you remember those cookies from the grocery store that are covered in brightly-colored frosting and then topped with lots of fun sprinkles? Lofthouse Cookies is their official name, but if you've only referred to them as "those magical, frosted, grocery-store sugar cookies," that's totally fine too. Those cookies are not only adorable, but also insanely delicious and addictive, and for years we've debated about what makes them so special and whether or not we could make them at home.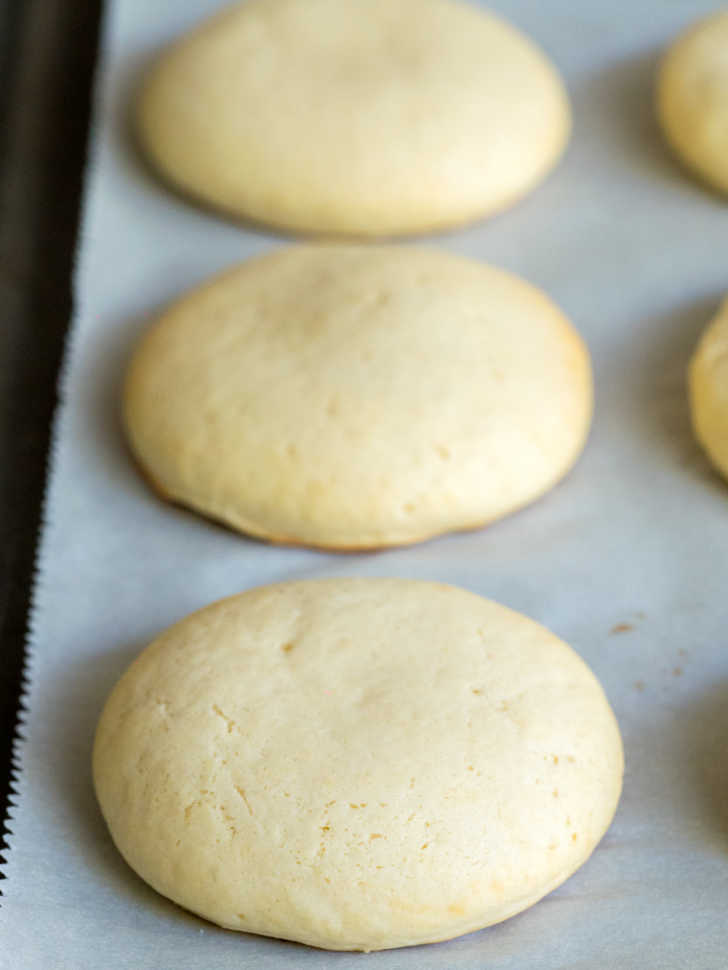 Is it the perfect cakey-cookie balance that we notice in every bite or the way the frosting sets to perfection? Is it the lofted nature of the cookie – no flat-as-a-pancake confections to be seen here – or the way the cookie basically just melts in your mouth as soon as you take a bite? Whatever it is, we're here to tell you that you can, in fact, make them yourself.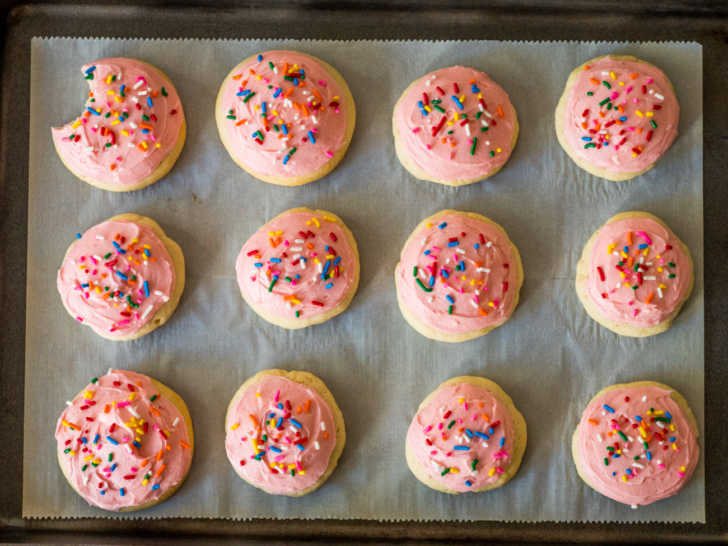 And you know what? They're even better than the original!! The two main ingredients that set this recipe apart from other sugar cookie recipes are sour cream (in the cookie dough) and vegetable shortening (in the frosting). The sour cream adds moisture and lightness to the dough, and keeps it from being tough or chewy; the vegetable shortening is used to help the frosting set, to get the slightly crisp shell, leaving light and fluffy frosting underneath.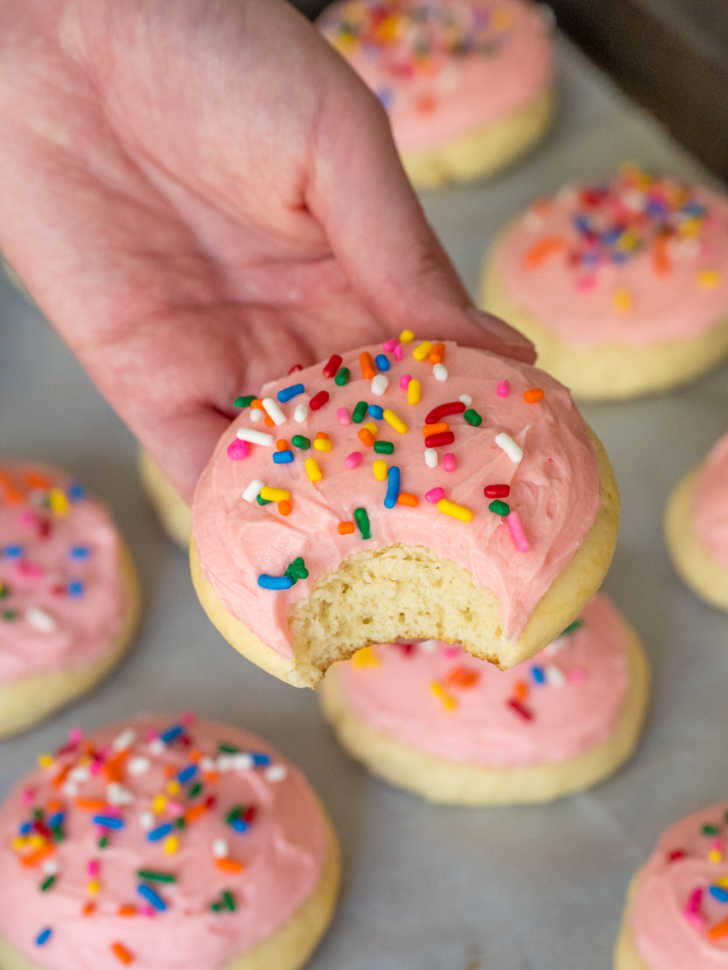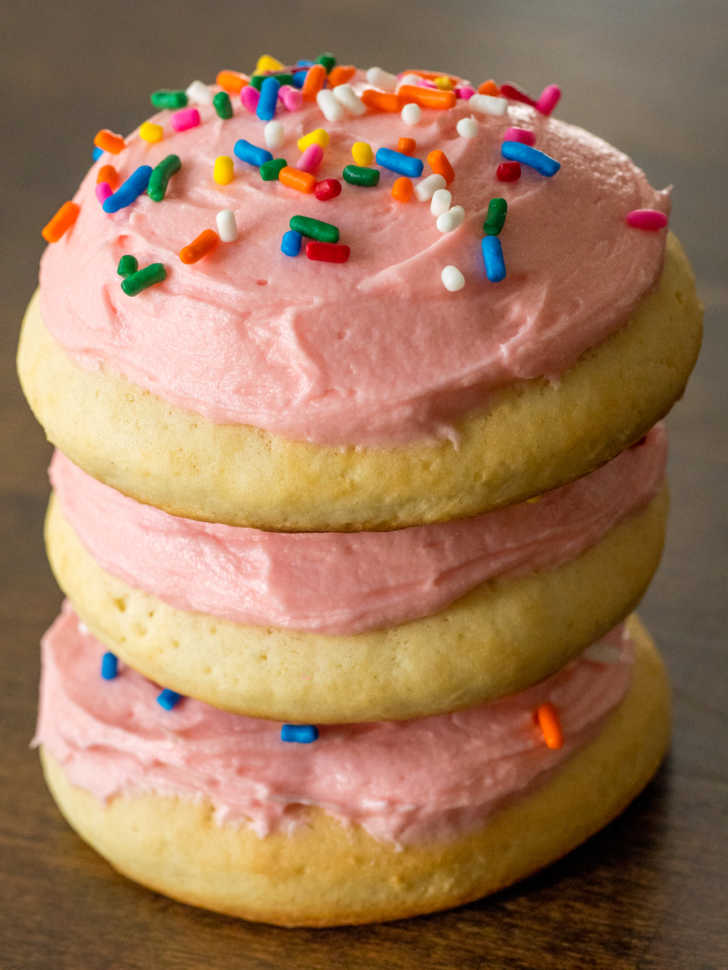 To top it all off, feel free to go crazy with the sprinkles – jimmies or nonpareils, you can't go wrong with any choice…but we do feel partial to using the traditional rainbow sprinkles to give that classic vibe. Trust us, the pride you'll feel after having made the cutest cookies out there will only be surpassed by your joy when you bite into one and realize how amazing they are. You won't be going back to store-bought!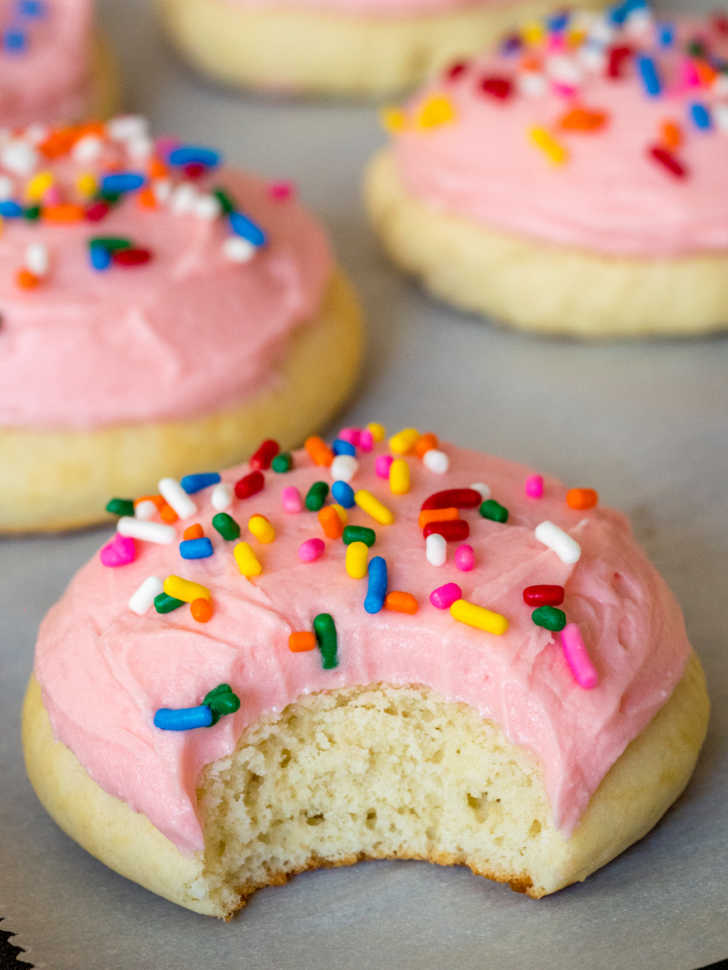 Lofthouse Sugar Cookies
Ingredients
Cookies:
3 cups all-purpose flour
1 cup sugar
1/2 cup (1 stick) unsalted butter, room temperature
2 eggs
3/4 cup sour cream
1 teaspoon vanilla extract
1/2 teaspoon baking soda
1/2 teaspoon baking powder
1/4 teaspoon almond extract, optional
1/4 teaspoon salt
Frosting:
1/2 cup (1 stick) unsalted butter, room temperature
3 cups powdered sugar
2 tablespoons vegetable shortening, optional
1 teaspoon vanilla extract
2-3 tablespoons whole milk or heavy cream
food coloring, if desired
sprinkles, garnish
Preparation
Preheat oven to 425º F and line two baking sheets with parchment paper.
In a medium bowl, whisk together flour, baking soda, baking powder and salt until combined. Set aside.
In a large bowl or mixer, cream together butter and sugar for 3-5 minutes, or until fluffy and lightened in color. Scrape down sides as needed.
One at a time, beat in eggs, then mix in sour cream and vanilla extract.
Gradually mix in the dry ingredients until just incorporated.
Divide cookie dough in half and transfer to 2 sheets of plastic wrap. Wrap tightly and refrigerate or freeze until firm and chilled.
Roll dough out to 1/4-inch thickness and use a cookie cutter to form cookies, or scoop dough into 2-inch balls and use a flat-bottomed drinking glass to gently flatten.
Transfer cookies to baking sheet and place in oven. Bake for 6-8 minutes, or until pale golden on the bottom. Do not overbake.
Remove cookies from oven and transfer to a wire rack to cool.
Start frosting by creaming together butter, vegetable shortening (if using), powdered sugar and vanilla extract until smooth and creamy.
Working with 1 tablespoon at a time, gradually whisk in milk or heavy cream until desired consistency is reached.
Add food coloring, then frost cooled cookies, adding sprinkles if desired. Let frosting set and enjoy!
Recipe adapted from Wholefully