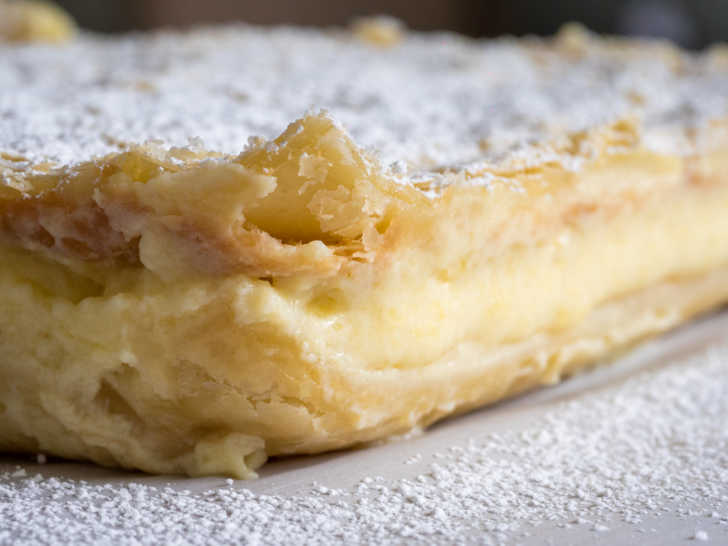 Did you grow up eating custard? Egg custard features prevalently in our recollections of the desserts we ate as kids, then, when researching similar dishes, we realized that what was egg custard to us seems to be pretty similar to what others knew as vanilla custard…bottom line being that it doesn't matter what it's called, custard is a heavenly, delicious dessert that will always hit the spot, no matter what.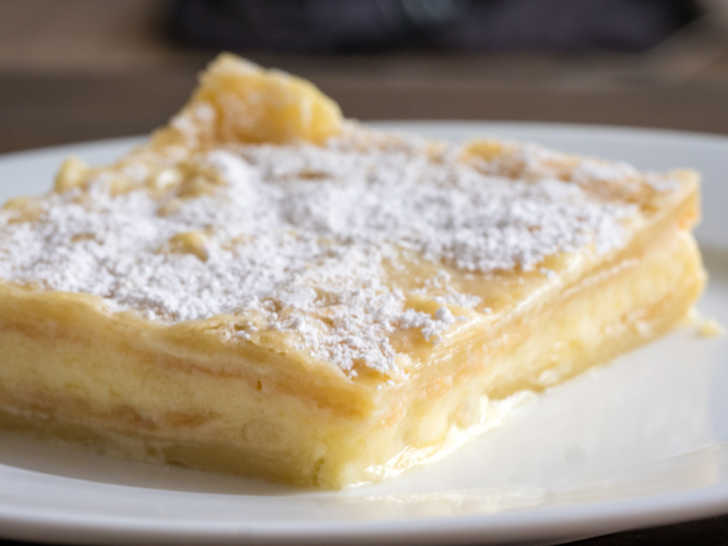 Instead of making a custard destined to be scooped out of a bowl or ramekin, we decided to make vanilla custard slices. Considered a classic in some parts, these bars are all the creamy vanilla (or egg) custard you can imagine, sandwiched between crispy layers of puff pastry.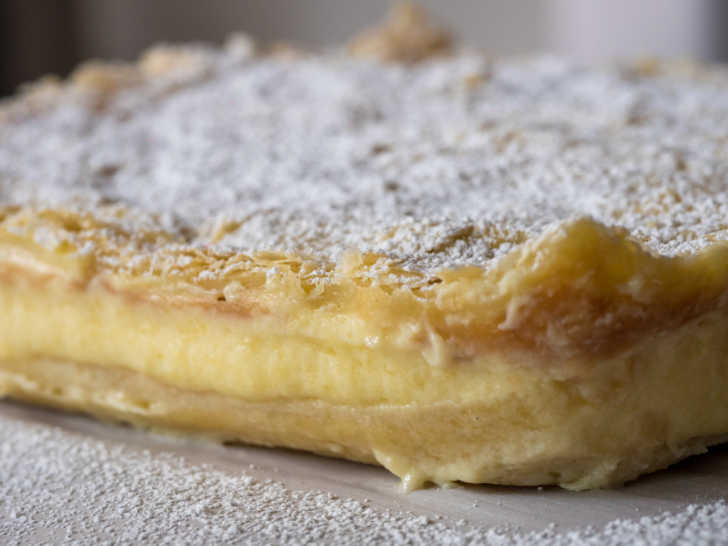 The finished result is an incredibly smooth, irresistible dessert that tastes like you got it from a bakery – that's what our fam thought when we made it for the first time! Whether you make a batch just for your friends and loved ones, or you decide to whip something up to gift someone (and trust us, they'll love you forever after trying this), there's no bad time for vanilla custard slice.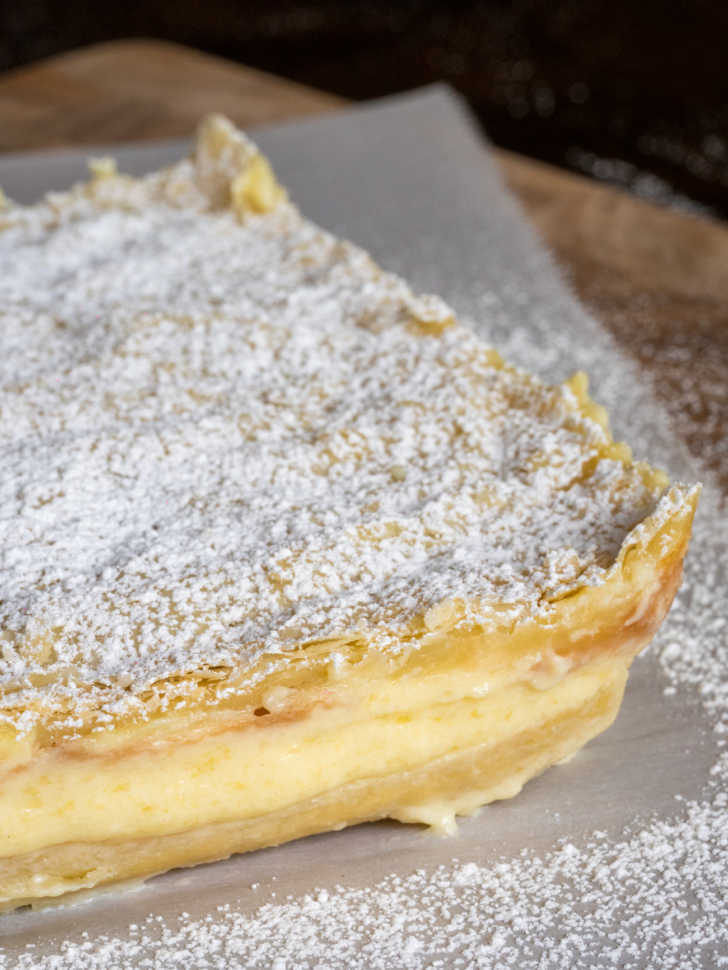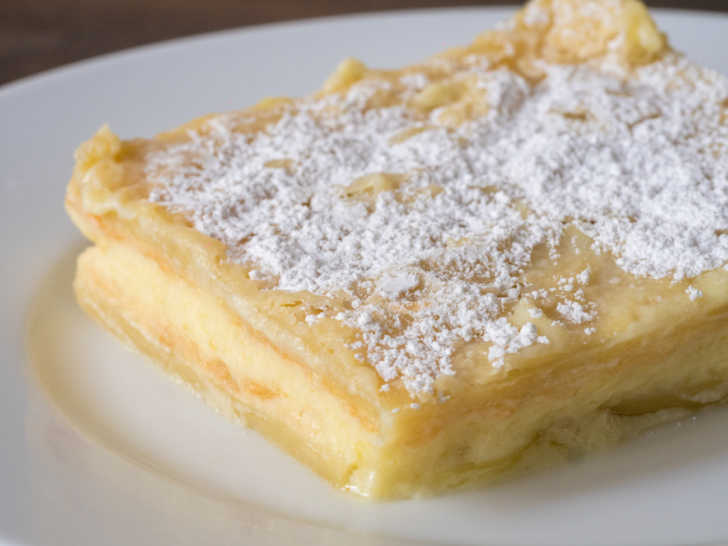 Classic Vanilla Custard Bars
9-12
40 minutes active; 3+ hours inactive
Ingredients
1 (16 oz.) package store-bought puff pastry, 2 sheets, thawed
1 1/2 cups whole milk
1 1/2 cups heavy cream
1/2 cup water
2/3 cup caster sugar, or superfine sugar
1/3 cup all-purpose flour
1/4 cup (1/2 stick) unsalted butter, cubed
6 egg yolks, beaten
2 teaspoons vanilla extract
powdered sugar, as needed
Preparation
Preheat oven to 350º and line two baking sheets with parchment paper, and line a 9x13-inch baking dish with parchment paper, leaving a 2-inch overhang on both sides.
Unroll puff pastry sheets and place onto lined baking sheets, using a fork to gently prick all over the dough, without piercing the bottom.
Optional: top each sheet of puff pastry with parchment paper, then top with another baking sheet, acting as a weight, so puff pastry won't inflate.
Place baking sheets in oven and bake for 20-22 minutes, or until golden brown. Remove from oven and let cool completely.
Optional: use a serrated knife to trim edges off puff pastry so that it fits into 9x13-inch baking dish. Place one sheet of puff pastry
In a medium saucepan, whisk together milk, cream, butter, vanilla and sugar over medium heat, and cook until little bubbles appear around the edge of the pan, before it comes to a boil.
Whisk together flour and water to create a slurry, then whisk into hot milk mixture and remove pan from heat.
Whisk a little of hot milk mixture into beaten egg yolks to temper the yolks, then, while saucepan is still off the heat, whisk yolks into mixture until combined.
Return saucepan to the heat and bring to a boil. While whisking continuously, cook for 30-60 seconds, or until custard thickens.
Pour thickened custard over puff pastry in 9x13-inch baking dish, then top with second sheet of puff pastry. (Trim edges to fit dish.) Gently press down so pastry adheres.
Refrigerate baking dish until custard is set. 3-4 hours.
When ready to serve, dust with powdered sugar, slice and serve.
Recipe adapted from Domayne Style Insider