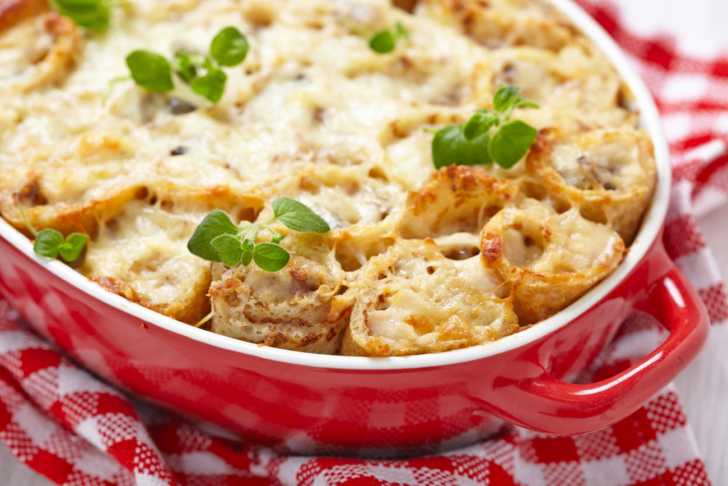 We see so many different varieties of crepe recipes ranging from sweet to savory, and, as much as we love classic crepes, we were hankering for a baked crepe casserole. This casserole might be composed of light and fluffy crepes, but believe us when we say it's hearty enough to feed a small country or just your average, hungry family!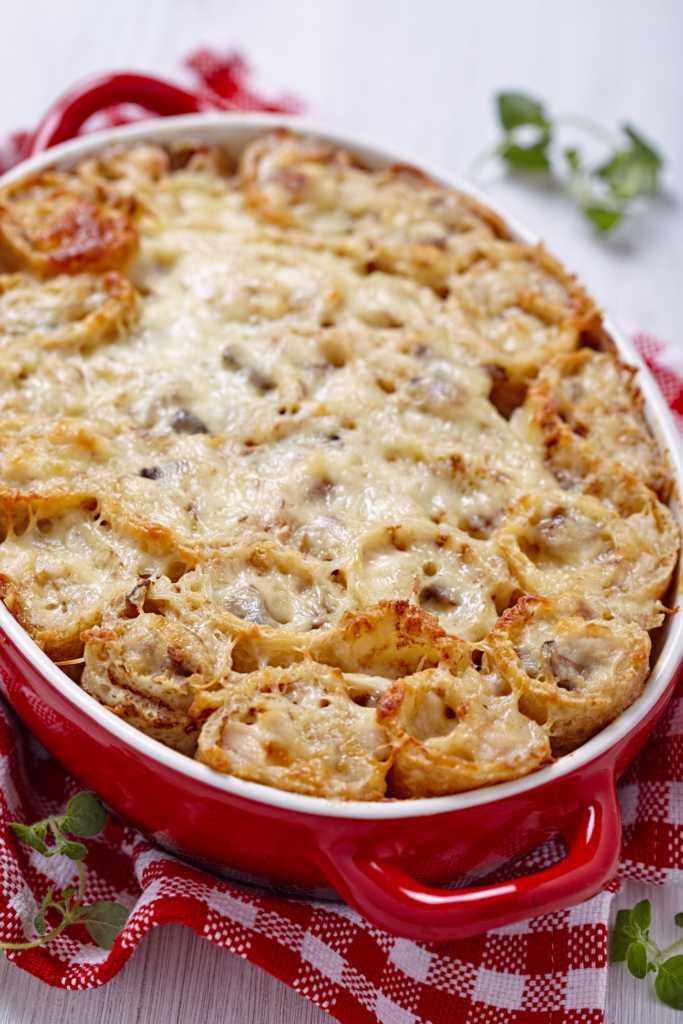 If you decide to make your own crepes and if you have the time and energy you definitely should! you can still save time by using store-bought cooked chicken and mushroom soup. If you're feeling more ambitious, feel free to add in fresh mushrooms as well. The filling and the crepe batter only take a few minutes to put together, which frees up your time, and once you get to rolling up the crepes, you're in the home stretch! If you want a totally different way to make a casserole, try this out and be amazed it's scrumptious!
Chicken & Mushroom Crepe Casserole
Ingredients
Crepes:
1 cup all-purpose flour
2 eggs
1/2 cup milk
1/2 cup water
2 tablespoons unsalted butter, melted; 1 tablespoon for greasing pan
1/2 teaspoon salt
Filling:
3 cups cooked chicken, shredded
1 cup Swiss cheese, grated, plus extra for topping
1 cup Gruyere cheese, grated, plus extra for topping
1 (10 oz.) can cream of mushroom soup
1/2 cup mayonnaise
1/2 cup sour cream
1 clove garlic, cut in half
salt and pepper, to taste
Preparation
Combine flour and eggs in a large mixing bowl. Once combined, slowly pour in water and milk.
Stir well and add melted butter and salt.
Place a small frying pan (7-8 inches) over medium-high heat and melt 1/2 tablespoon butter.
Once hot, pour 1/4-1/3 cup batter into the pan, swirling so it evenly coats the bottom, and cook until golden brown. About 2 minutes.
Repeat with remaining batter and set crepes aside.
Preheat oven to 350º F and rub halved garlic all over the inside of 9x13-inch baking dish.
In a large bowl, combine mayonnaise, sour cream, mushroom soup and cheeses.
Stir and fold in shredded chicken, and season with salt and pepper.
Spoon 1/3 cup of mixture into each crepe and roll it up like a burrito.
Cut crepes in half (or into thirds if they're large) and carefully transfer to baking dish. Place them close together so they stand upright.
Sprinkle extra cheese over the top of casserole.
Put baking dish in oven and bake for 20-25 minutes, or until cheese is melted and bubbly.
Remove from oven and let rest 5 minutes before serving.
Recipe adapted from Oprah