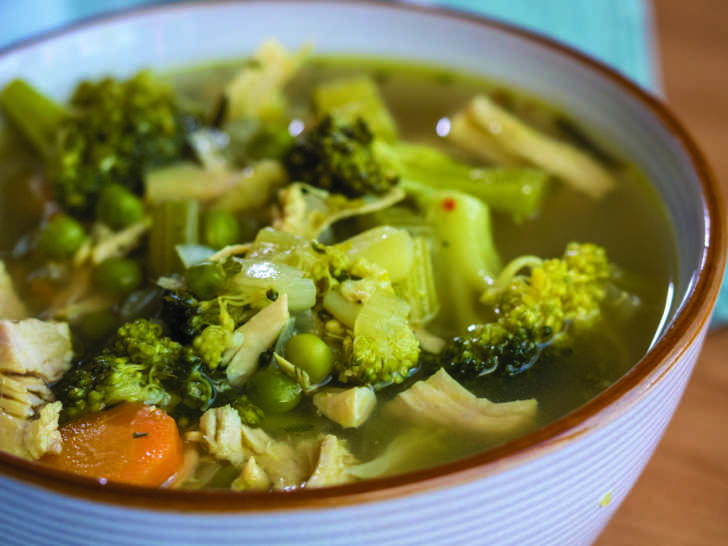 You can stop your hunt to find the best soup to get you through the winter, because we've found it for you. It's totally delicious and so good for you, packed with tons of nutrients and immunity-boosting spices and herbs. Plus, it's easy to make, truly making it a trifecta of greatness that we can't stop ourselves from making again and again. Seriously, after coming up with this a few weeks ago we've made it four other times – FOUR! Our family loves it and requests it regularly now, and we feel so good knowing we're serving up a healthy dinner that will help protect our loved ones from all the germs and sicknesses going around this time of year.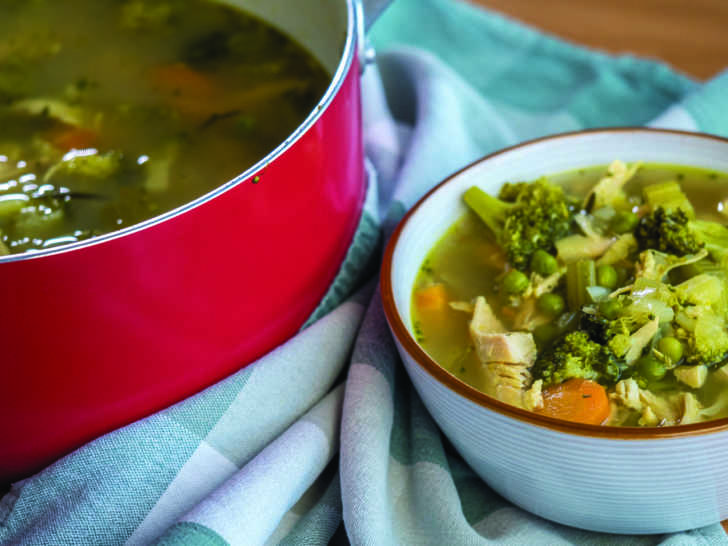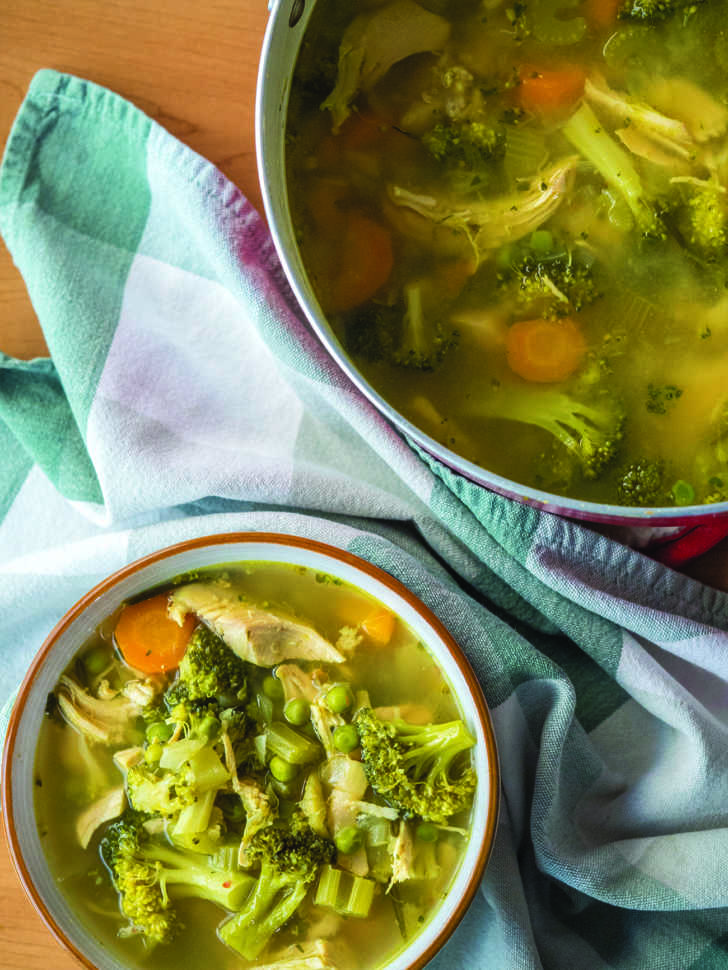 What makes it so great you ask? Along with adding broccoli – sort of an unusual soup ingredient these days – it's got fresh ginger, apple cider vinegar and turmeric in it, which add so much flavor to the dish, and which provide antioxidants and can even help lower cholesterol. While you may think soup isn't really your thing and isn't something that you crave, that's just because you haven't tried this one yet. It's refreshing and comforting, flavorful and so. good. for. you. It doesn't get better than that! Don't be intimidated by the long grocery list and don't forego the fresh ginger and rosemary…that freshness makes all the difference!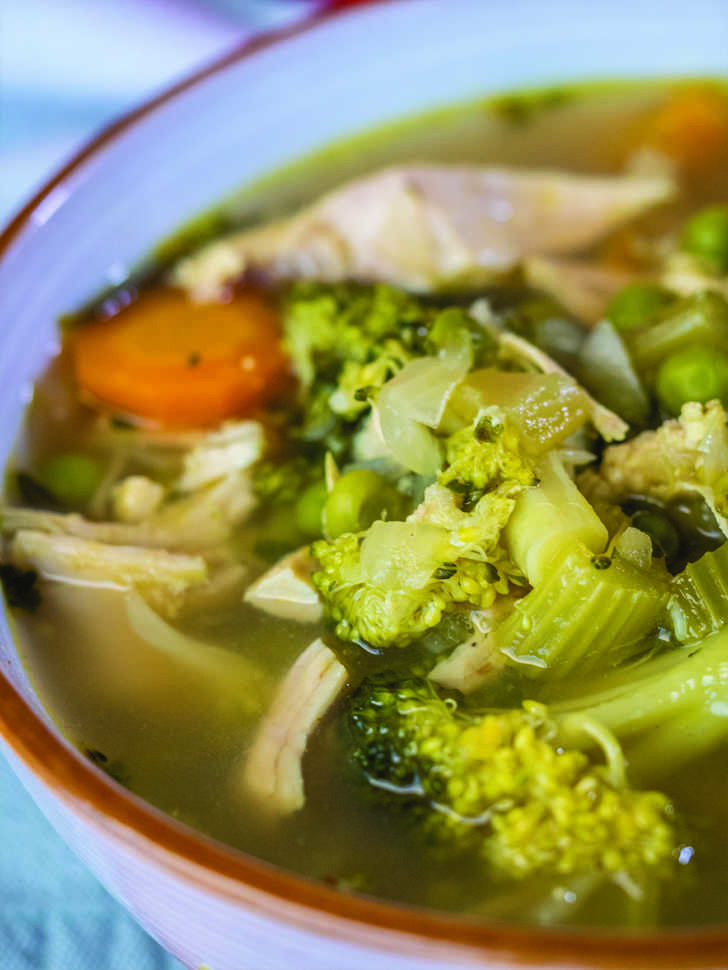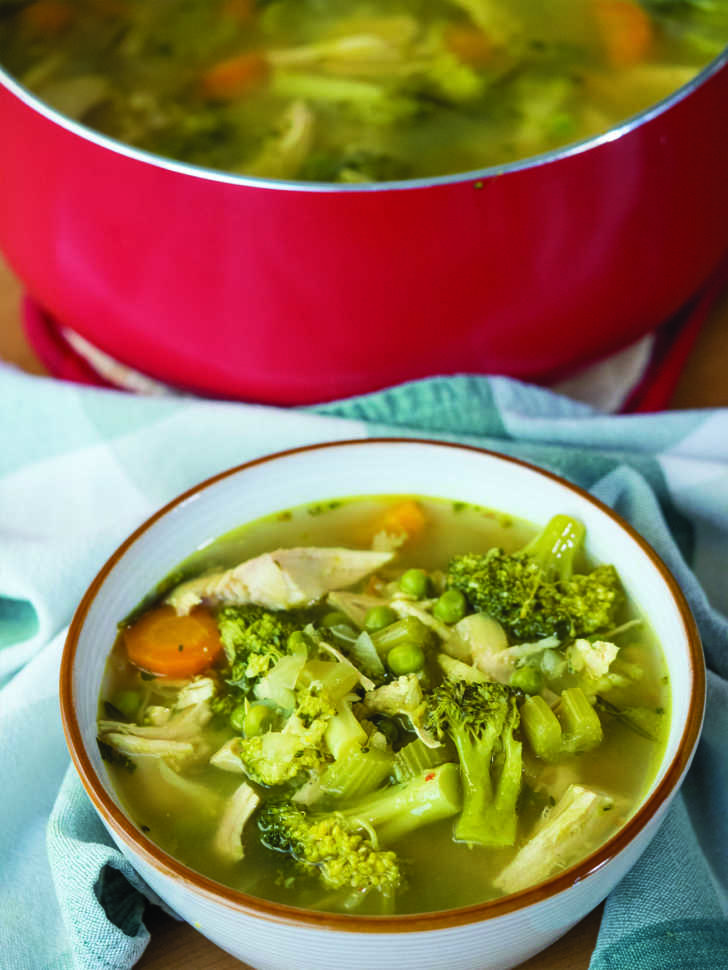 Chicken Detox Soup
Ingredients
1 1/2 pounds boneless, skinless chicken breast
2 (32 oz.) boxes low-sodium chicken broth
1 1/2 cups frozen peas
1/4 cup fresh parsley, minced
5 cloves garlic, minced
3 ribs celery, diced
3 carrots, peeled and diced
2 sprigs rosemary
1 head broccoli, cut into florets
1 large yellow onion, diced
2 tablespoons fresh ginger, minced
1 tablespoon apple cider vinegar
1/4 teaspoon ground turmeric
1/4 teaspoon red pepper flakes
extra-virgin olive oil, as needed
kosher salt and freshly ground pepper, to taste
Preparation
Heat 2-3 tablespoons olive oil in a large Dutch oven or stock pot over medium-high heat. Add onion, celery and carrots and sauté for 8-10 minutes, or until softened.
Add garlic and ginger and cook for another 1-2 minutes, or until fragrant, then add chicken breasts and chicken broth.
Season with red pepper flakes, turmeric, salt and pepper, and stir in apple cider vinegar and rosemary sprigs.
Bring mixture to a boil over high heat, then reduce heat to medium-low and let simmer for 25-30 minutes, or until vegetables are tender and chicken is cooked through.
Once cooked, remove chicken breasts to a separate plate and let cool. Shred or dice chicken once cooled, then return it back to soup, along with broccoli and peas.
Stir in parsley and cook for 20 minutes, or until broccoli is tender.
Taste and adjust seasoning, if needed, and serve hot.
Recipe adapted from A Spicy Perspective