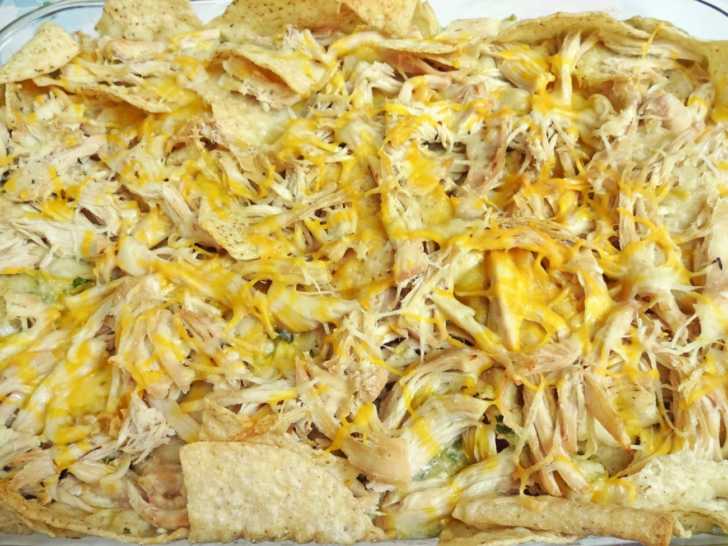 Part of the fun of Chilaquiles is just saying the word, but most of the delight comes in eating it. If you haven't had Chilaquiles before, it's a Mexican dish that basically uses up leftovers in a brilliant way. Stale tortillas are cut up and crisped in some oil before getting mixed into some salsa or mole and mixed up with chicken and cheese. It's usually served for breakfast or brunch with an egg on top and maybe some beans on the side and maybe topped with sour cream, or sliced avocado, raw onion, or radishes, jalapeno, a little lime juice… The toppings are almost as exciting as the dish.
Some people like theirs crispy, others like their soft and saucy; the variations are endless. All we know is that every time we've had it, it's been delicious. We decided to try a layered casserole version and it turned out oh so good. Though we still love it for breakfast, it really lends itself well to any meal of the day. We've used store-bought tortilla chips just to cut out the extra step of frying tortillas in oil. But if you have tortillas to use up, go ahead and use them! You just would cut them into strips or triangles and crisp them up in some oil in a pan before using them to layer this dish.
We love this easy casserole version of Chilaquiles. It's great topped with so many different things. We love sour cream, cilantro, and a little bit of hot sauce, but give a few a try and find your favorites!
Chilaquiles Casserole
Ingredients
1 bag (13 oz.) tortilla chips
3 cups cooked chicken, shredded
3 cups mozzarella cheese, shredded
3 cups salsa verde or green chile sauce
fresh cilantro, chopped, for serving
Sour cream, for serving
Preparation
Preheat oven to 375° F and lightly grease a 9x13-inch baking dish.
Layer half of the tortilla chips to cover the bottom of the baking dish. Top with 1/2 of the green sauce, 1/2 of the chicken, and 1/2 of the cheese.
Top with the remaining chips, then the remaining sauce, chicken, and cheese. Bake uncovered until cheese is melted and bubbly, 20-25 minutes.
Serve with sour cream and cilantro, if desired. Enjoy!
Adapted from My Recipes.