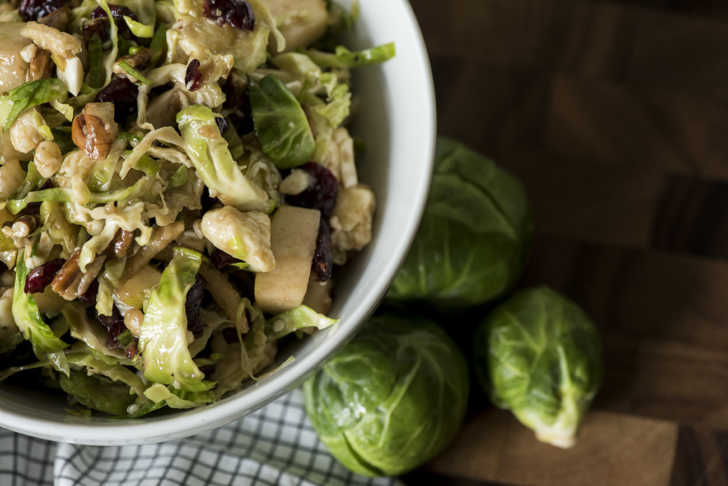 When it comes to salad, it's hard to stay motivated about eating our greens if we know we're just going to eat the same leafy green mix with olive oil and balsamic vinegar…we need there to be something (way) more interesting going on than just a bowl of lettuce. So given the cooler temps, we ended up grabbing a bag of brussels sprouts to use as the base for one of our side dishes last week. Trust us, even if you think you don't like brussels sprouts, it's only because you haven't had them like this yet: thrown together with dried cranberries, bleu cheese, pear and fried onions. Yes, fried onions.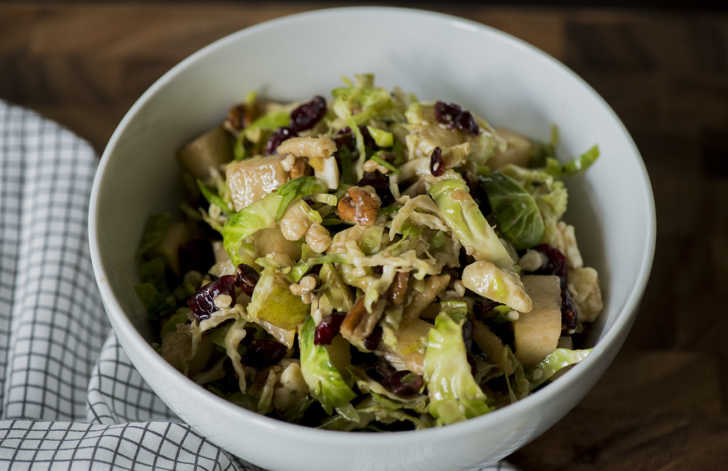 As you can see, it's impossible to go wrong with that combination of flavors, and the result is a crispy, crunchy, fruity salad that will bowl you over every time! Whereas you may usually take just a few bites of salad before moving onto something more interesting, that's not the case with this recipe, since it's just too good to pass up! Whether you make it for your family dinner, or for when you have company over, this salad never disappoints!
Brussels Sprout Salad
Ingredients
12 oz. brussels sprouts, outer leaves removed
1 pear, chopped
1/3 cup fried onions
1/3 cup dried cranberries
1/3 cup bleu cheese, crumbled
1/4 cup pecans, roughly chopped
Dressing:
1/4 cup extra-virgin olive oil
2 tablespoons balsamic vinegar
1 tablespoon maple syrup
2 teaspoon Dijon mustard
kosher salt and freshly ground pepper, to taste
Preparation
Holding brussels sprouts by the stalk, use a sharp knife to cut brussels sprout into strips.
Place brussel sprouts in a large bowl, along with chopped pear, crispy onions, cranberries, cheese and pecans.
In a small bowl, whisk together olive oil, balsamic vinegar, maple syrup and mustard, and season generously with salt and pepper.
Pour dressing over the salad and toss together until everything is evenly coated.
Serve and enjoy!
Recipe adapted from Back To Her Roots