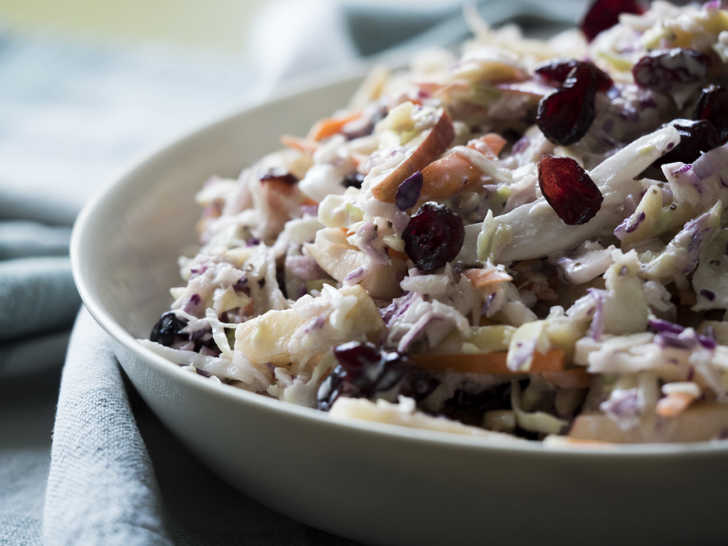 Cole slaw is great, but everyone's so used to the same old recipe, that there never seems to be anything new or exciting about it…until now, that is. While the base of this cole slaw is familiar to anyone who's made it before, we switched a few things up to make it more interesting: apples, dried cranberries and slivered almonds!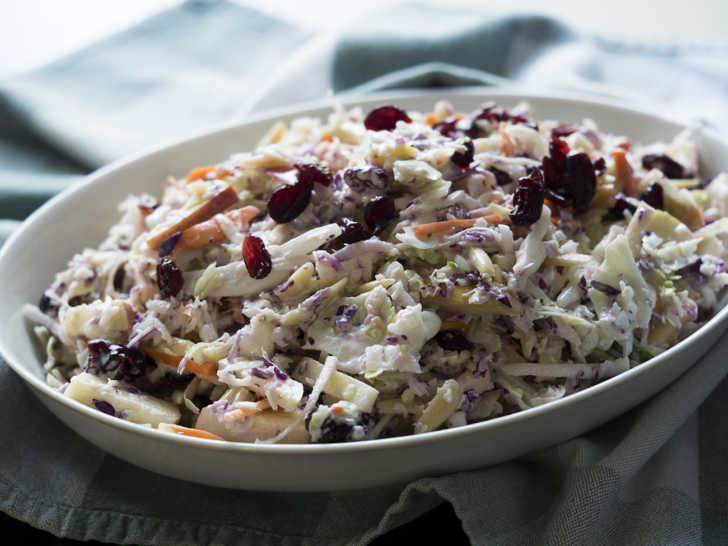 The great thing about this recipe is that it's just similar enough to the traditional version, while still being new and delicious, resulting in the perfect balance. We used half Greek yogurt and half mayonnaise as the base for the dressing, which kept things from being too sweet and also lightened things up calorically-speaking, so we could go back for seconds. The apples and almonds add the best amount of crunch, and the craisins offer soft, sweet contrast. After bringing this to one potluck we know we'll be making it again soon – it was gobbled down!
Apple Cranberry Almond Coleslaw
Ingredients
6 cups cabbage, shredded (about 1 head); or 2 (10 oz.) bags shredded cabbage
3 cups gala apples, cut into matchsticks
1 cup red cabbage, shredded
1 cup carrots, cut into matchsticks
1 cup slivered almonds
3/4 cup dried cranberries
green onions, finely chopped, garnish
Dressing:
1/2 cup plain Greek yogurt
1/2 cup mayonnaise
2-3 tablespoons honey, or to taste
2 tablespoons apple cider vinegar
1 teaspoon dried mustard
1/2 teaspoon celery seeds
kosher salt and freshly ground pepper, to taste
Preparation
Combine cabbage (green and red), apples, carrot, almonds and cranberries in a large bowl, and toss together.
In a medium bowl, mix together dressing ingredients (yogurt, mayonnaise, honey, apple cider vinegar, mustard, celery seeds, salt and pepper) until smooth.
Pour dressing mixture over salad and toss together until everything is evenly coated.
Refrigerate for 30 minutes, then serve chilled. Enjoy!
Recipe adapted from Cooking Classy