Plus, get a free tutorial and pattern for the tumbler quilt!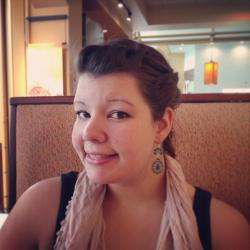 Jessica Griggs
Have you ever used a Dresden Plate before? These templates are so versatile! They are perfect for circles, petals, tumblers, and ruler work. Speaking of tumblers… in this video, Leah Day walks us through every step of how to use a Dresden Plate to make this gorgeous tumbler quilt! Plus, we see as she opens her Quilty Box for February! Each box comes with fun new tools, supplies, thread, and of course – FABRIC! This month, the box comes with fun and funky Alice in Wonderland squares. See what Leah does with her new fabric!
I just love Leah Day and her quilting videos. She has such a warm and friendly personality, plus I just love hearing, "Hello my quilting friends!" Go ahead and watch this video, I bet you can't help but smile! Follow along as Leah shows us what to do, and get the full pattern right here!