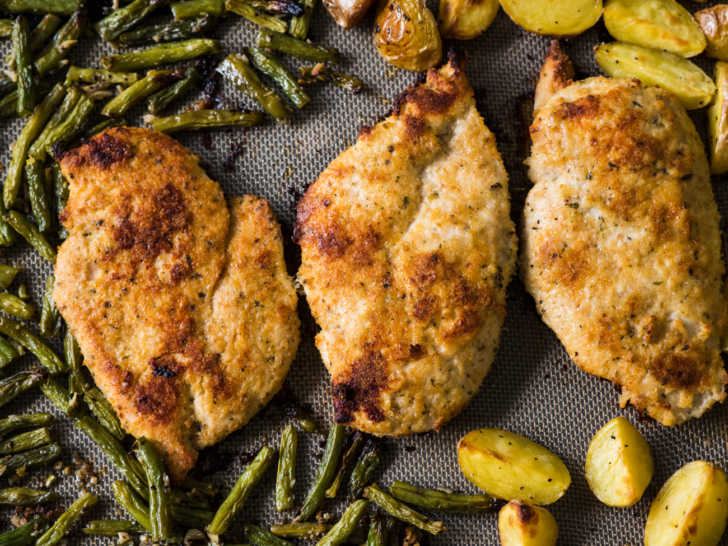 One pot. One skillet. One pan. Any recipe that calls for "one" is highly attractive when it comes to weeknight meal planning, and one pot meal is always a great resource for a busy household. While we love using our sheet pans to bake cookies, we've also used them to make an entire dinner, and clean up is as easy as pie. We must admit, there's a culinary magic to a meal that comes out of the oven on a single sheet. We can get a colorful, well rounded meal on the table in virtually no time with three main ingredients and a few essential sides that add great texture and flavor.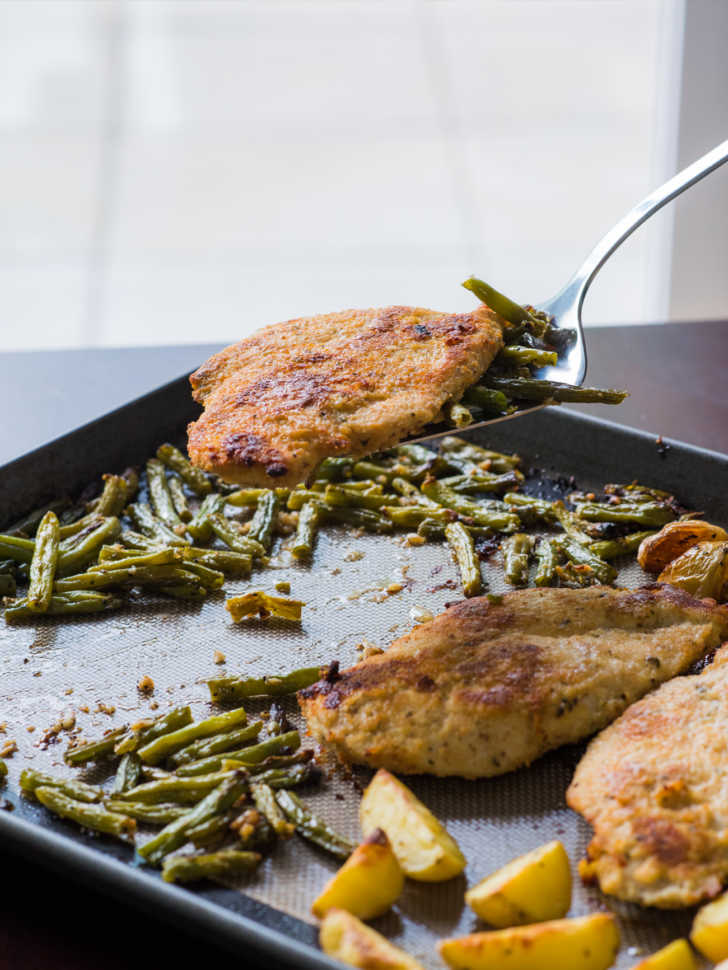 This meal also offers up a version of one of our favorite Italian comfort foods: chicken piccata. We like this because it helps lighten up a dish that is usually fried. When we think of Parmesan chicken, we naturally think of frying in butter and oil, which is of course super delicious. But baking in the oven achieves a similar texture. The chicken comes out light and crisp, flanked by two super delicious sides: the brightness of the roasted green beans and the crunchy creaminess of the roasted potatoes makes for a meal that is full of texture, color, and flavor. We like to finish everything off with an extra squeeze of lemon juice for added freshness.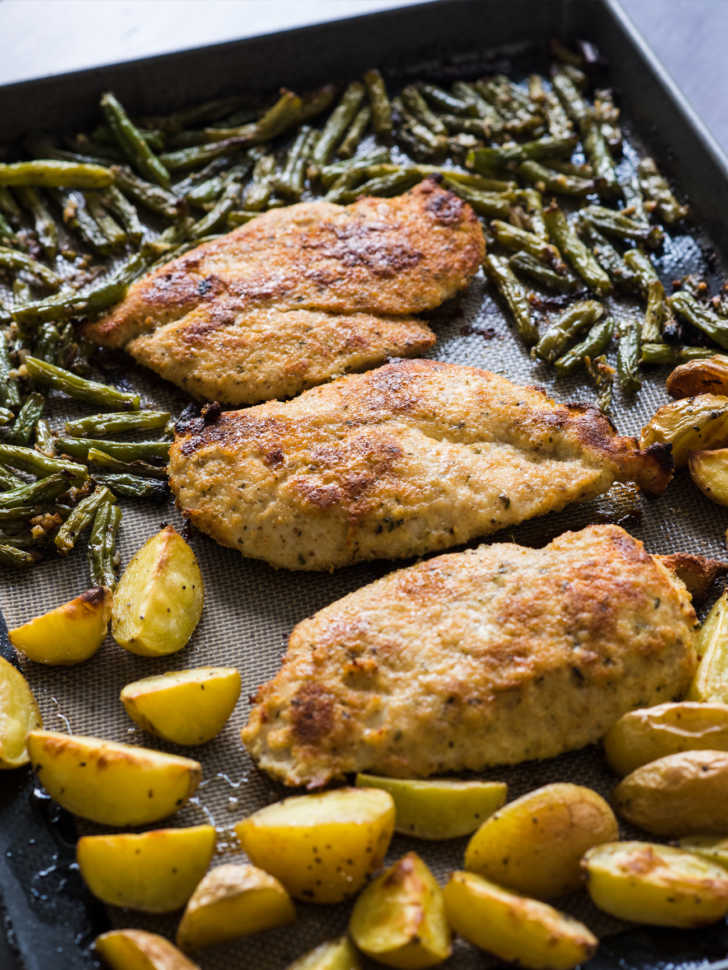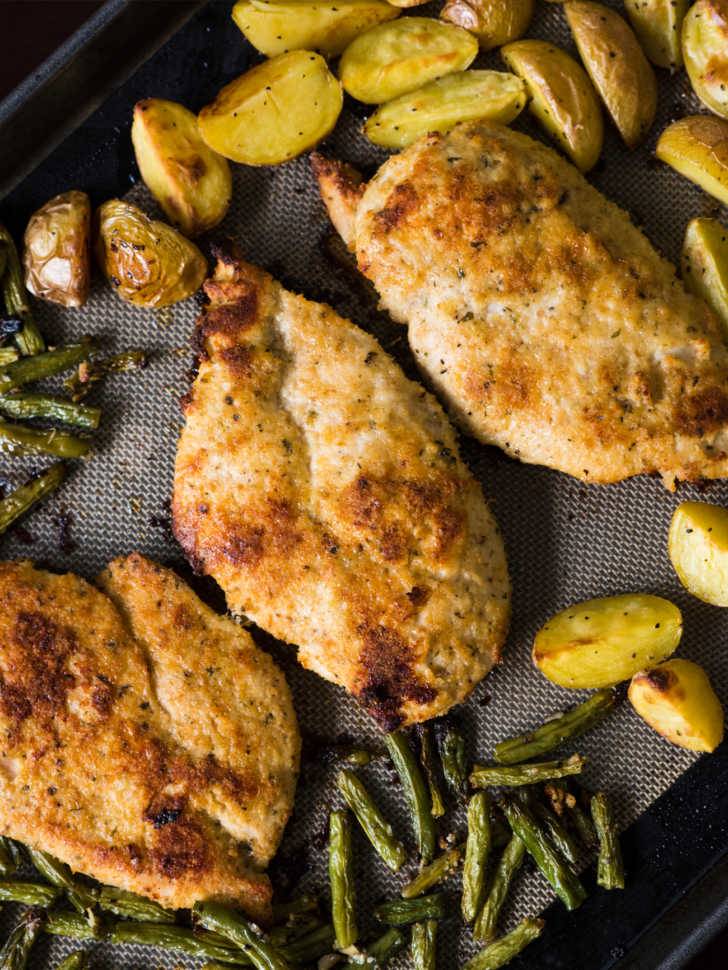 What comes out of the oven is a whole meal that is great for a weeknight supper or for a small, informal dinner party. The one sheet pan baking process allows for time to help the kids with homework or to share a glass of wine with guests. And there's a bit of a rustic charm to the finished product; simple preparation, but everything looks colorful and smells so inviting. And if we haven't sold you on the texture and flavor, then let us remind you how easy this is to clean up! A one pan meal is a time saver that makes putting a really good meal on the table so much easier!
Sheet Pan Parmesan Chicken With Veggies
Ingredients
For the chicken:
4 boneless, skinless chicken breasts, pounded to even thickness
1 large egg
⅓ cup freshly grated Parmesan cheese
½ cup Italian breadcrumbs
2 tablespoons lemon juice (or juice of ½ lemon)
2 cloves garlic, minced
½ teaspoon each, salt and pepper
1 tablespoon chopped fresh parsley, garnish
For the vegetables:
1 pound baby potatoes, quartered
1 pound green beans, cut into thirds
2 cloves garlic, minced
½ teaspoon each salt and pepper
4 tablespoons (½ stick) butter, melted
Preparation
Preheat oven to 400°F. Line a baking sheet with aluminum foil, lightly coat with cooking spray, and set aside.
In a wide, shallow dish, whisk egg, lemon juice, garlic, salt and pepper. In a separate wide, shallow dish, pour breadcrumbs and Parmesan cheese. Coat chicken in egg mixture then in cheese and breadcrumbs. Place on one side of baking sheet.
Melt butter, garlic, salt and pepper. Drizzle half of butter mixture over potatoes and toss them together, then place potatoes on baking sheet.
Pour remaining butter over green beans and place on baking sheet.
Place baking sheet in oven and bake for 15 minutes.
After 15 minutes, flip chicken over and return baking tray to oven.
Set oven to broil for an additional 10-15 minutes to crisp chicken and finish roasting vegetables. Serve immediately, topped with chopped fresh parsley as garnish.
Recipe adapted from Cafe Delites