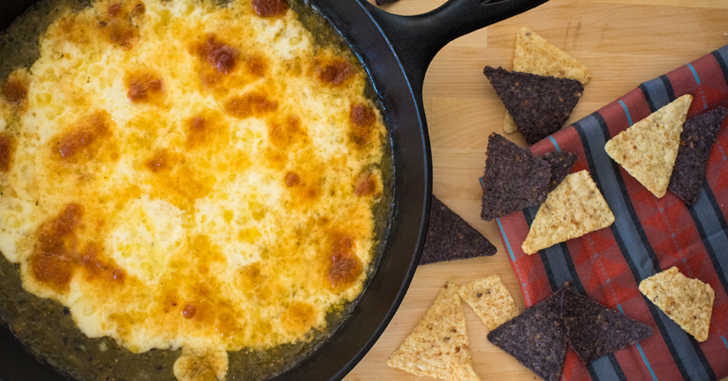 You can't go wrong with chips and salsa, but when we want to go all-out, we whip up this super creamy queso dip. The melty cheese and juicy tomatillo sauce is a perfect pairing with crunchy tortilla chips. We love being able to customize the heat level to our guests' tastes, especially if there are little ones around! It comes together in a flash, and is a huge hit at any get-together – from game night to Cinco de Mayo fiestas. This stuff always disappears in no time, you may need to make a double batch!
Cheesy Tomatillo Verde Dip
Ingredients
1 (12 oz.) jar tomatillo verde sauce
1 (4 oz.) can diced green chiles
16 oz. mozzarella cheese, cut into cubes
8 oz. fontina cheese, cut into cubes
1/4 cup cilantro, finely chopped
1/4 cup green onions, finely chopped
3 tablespoons lime juice
2 tablespoons extra-virgin olive oil
Tortilla chips
Preparation
Preheat oven to broil (if you have two settings, set it to low), and place rack in the second highest position.
In a large bowl, mix together tomatillo sauce, green chiles and lime juice until combined.
Drizzle olive oil into oven-proof skillet, then make a short pile of cheese cubes in the center of pan. Carefully pour tomatillo chile mixture in a circle around the edge of cubed cheese.
Place skillet in oven and broil for 5-7 minutes, or until cheese is bubbly and starting to brown.
Remove from oven and let cool 5 minutes, then garnish with cilantro and green onions, and serve with tortilla chips.
Recipe adapted from Kitchen Swagger