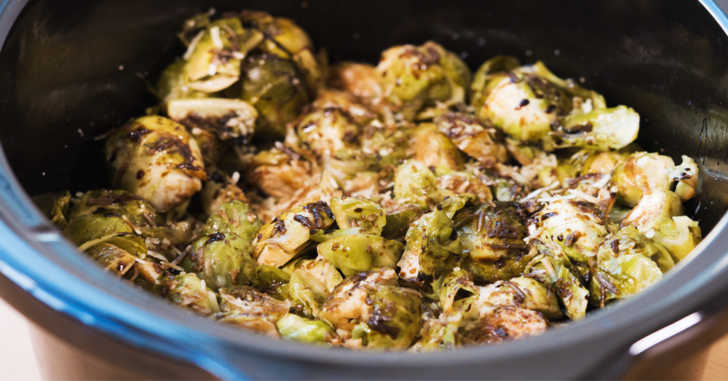 We like to put our slow cooker to work as often as possible – not just with main dishes, but with sides as well! And these slow cooker Brussels sprouts are really great for when the oven is already occupied, or for warm days when we don't want to heat up the house. The sprouts themselves require very little work (that's what the slow cooker is for!) and come out fork-tender, but the star of this dish is the balsamic glaze. We reduce it down with a little brown sugar until it's thick and syrupy. It's soooo good, you'll want to put it on everything…. We certainly do!
Slow Cooker Balsamic Brussels Sprouts
4-6
15 minutes active; 2 hours inactive
Ingredients
2 pounds brussels sprouts, trimmed and halved
1/2 cup balsamic vinegar
1/4 cup parmesan, grated
1/4 cup olive oil
2 tablespoons packed brown sugar
Salt and pepper, to taste
Preparation
Add olive oil, brussels sprouts, salt, and pepper to a slow cooker, and stir well to thoroughly coat.
Cook on high for 2 hours, or on low for 4 hours.
To make the glaze, heat balsamic vinegar and brown sugar in a small saucepan over medium-high heat, until it starts to simmer. Let simmer until liquid reduces by half, about 5-10 minutes.
When brussels are cooked through, drizzle with glaze and top with parmesan.
Serve warm and enjoy!
Recipe adapted from Damn Delicious