See how we tackled this project, and get inspired to do your own!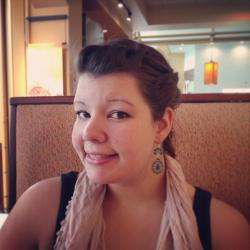 Jessica Griggs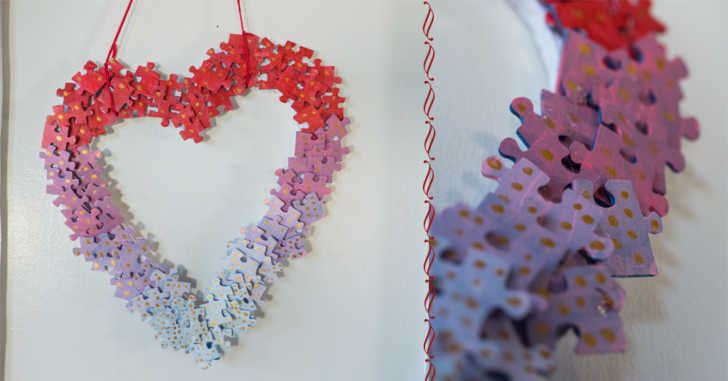 This craft was so fun and easy! I bet the kids would love to help paint or glue for this project. Looking back on the process, it would have gone faster if we spray painted the pieces instead of painting them all by hand, but then we wouldn't have gotten the chance to mix colors and really blend the gradient as well as we did. Either way, I'm sure your wreath will be perfect because you did it! See how we tackled this project in the video below, and get inspired to try this easy craft out for yourself.
Want more Valentine's Day craft ideas? Check out these stacked heart candles and marbled ring dishes!
Supplies:
– Scissors
– Cardboard
– Glue
– Puzzle
– Ribbon/string
– Paint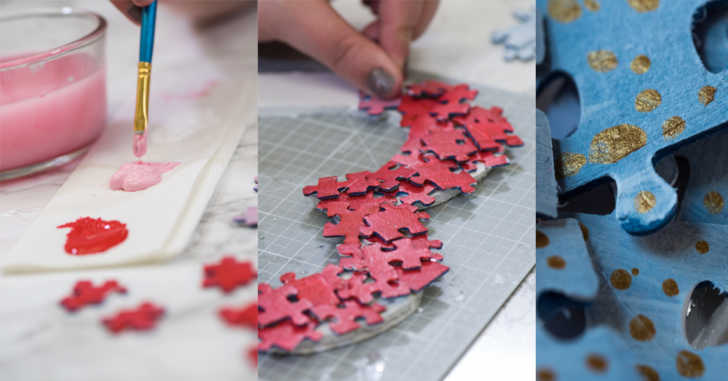 Directions:
1. Paint puzzle pieces.
2. Trace and cut out a heart from cardboard or foam board.
3. Glue pieces to the heart, hiding as much of the cardboard as possible. Once one layer has dried, glue on another layer.
4. Decorate with a painted design, ribbon, etc. Hang up and enjoy!