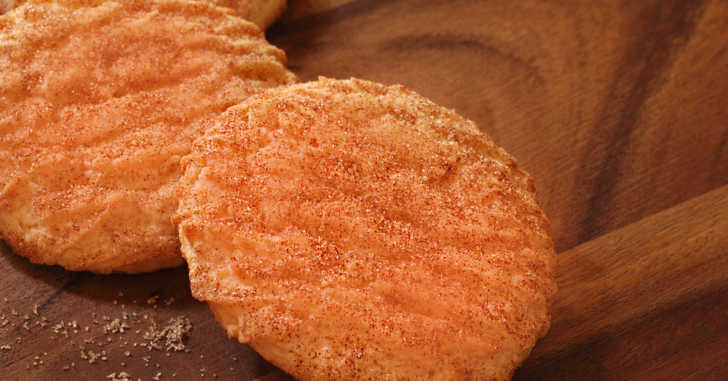 It's officially autumn here, and cooler weather brings boots, scarves, and a plethora of pumpkin recipes! We've got the absolute best cookie recipe for you this fall: pumpkin snickerdoodle. With all of the soft and chewy texture of traditional snickerdoodles, these cookies step it up a notch with pumpkin pie spices and pumpkin puree, coated in a layer of lightly crisp cinnamon sugar perfection.
You may end up eating all of these cookies on your own, they're that good. Then again, the recipe makes 3 dozen, so you might have a few to spare at your next potluck or dinner party. Don't say we didn't warn you – these things are addicting!
Pumpkin Pie Snickerdoodle Cookies
Ingredients
3 1/4 cups flour
3 1/2 teaspoon cornstarch
1 teaspoon cream of tartar
1 teaspoon baking soda
1/2 teaspoon baking powder
1/2 + 1/8 teaspoon salt
3/4 teaspoon ground cinnamon
1/2 teaspoon ground ginger
1/4 teaspoon ground nutmeg
1/4 teaspoon ground allspice
1 cup granulated sugar
3/4 cup brown sugar, packed
1 cup butter, softened
1 egg yolk
3/4 cup canned pumpkin puree
1 1/2 tsp vanilla extract
Topping: 1/4 cup granulated sugar, 1 1/2 teaspoon ground cinnamon
Preparation
Preheat oven to 350 degrees and line cookie sheets with parchment paper.
Whisk together flour, cornstarch, cream of tartar, baking soda, baking powder, salt, cinnamon, ginger, nutmeg, and allspice in a large mixing bowl.
In a separate bowl, cream together butter, granulated sugar, and brown sugar until just combined. Add in egg yolk, pumpkin puree, and vanilla extract. Slowly add in dry ingredients, mixing until combined.
Divide dough in half, placing each half in a bowl, covering in plastic wrap. Place bowls in fridge to chill for 45 minutes.
While dough is chilling, prepare the topping by combining ¼ cup granulated sugar and 1 ½ teaspoon ground cinnamon in a small bowl.
Scoop dough out in approximately 2 inch balls, and roll in cinnamon sugar mix. Place dough balls on cookie sheet with parchment paper, about 2 inches apart.
Bake 12-14 minutes, cool on baking sheet for 5 minutes, and transfer to a wire rack to cool completely.
Recipe adapted from Cooking Classy.