This decadent spa treatment is just what the dr. ordered!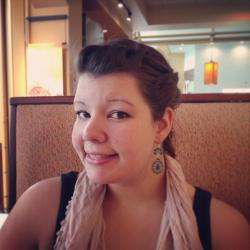 Jessica Griggs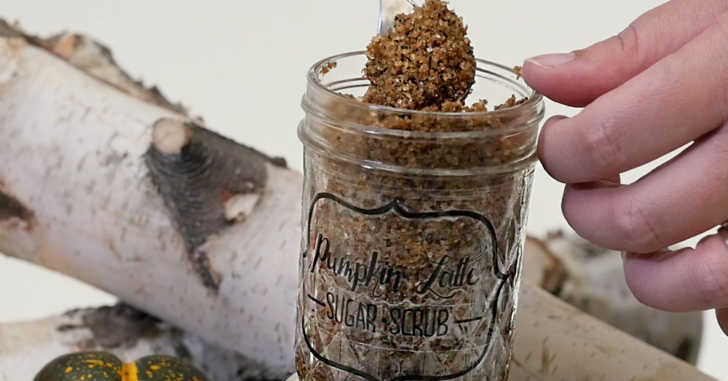 Autumn is offically upon us, and you know what that means: pumpkin spice everything. Call us basic, call us clichè, we don't care. We love the pumpkin spice craze! We also love at home spa treatments! And coffee! So this DIY pumpkin latte sugar scrub was a no-brainer. We just had to try it out!
This sugar scrub is loaded with stuff that smells heavenly and works wonders on your skin! Coffee grounds have long been a part of skin care routines and it's easy to see why – they help reduce swelling and puffiness in skin, they exfoliate dry skin, and in some cases they can minimize cellulite! (Temporarily, of course). Plus, coconut oil is known for its anti-aging properties, its ability to deep clean skin, and of course as a moisturizer.
Plus, learn how to make your own labels from simply printing a design on paper and transferring it onto tape using a really fast and easy method. Go ahead and indulge your pumpkin spice side – it's good for you!
Pumpkin Latte Sugar Scrub
– Mason jar
– Packing tape
– Label printed on laser jet printer
– Bowl of warm water
– 1 ½ cups brown sugar
– ½ cup sugar in the raw
– 1 Tbs ground coffee
– 1 tsp ground cinnamon
– 1 tsp pumpkin pie spice
– 1 tsp nutmeg
– ½ cup coconut oil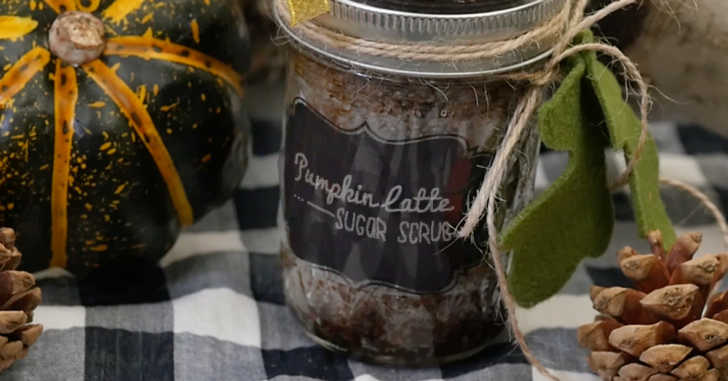 Directions:
1. Cut out label from paper. Cover with packing tape.
2. Dunk the tape & paper in the bowl of warm water and let soak for a few minutes.
3. Gently remove the paper by rubbing it off with your thumb. Lay the tape out to dry.
4. In a large bowl, combine all of the ingredients except the coconut oil.
5. Melt the coconut oil in the microwave, stirring every 30 seconds.
6. Pour the oil into the dry ingredients and mix until combined.
7. Store in the mason jar, and attach the label onto the front of the jar.