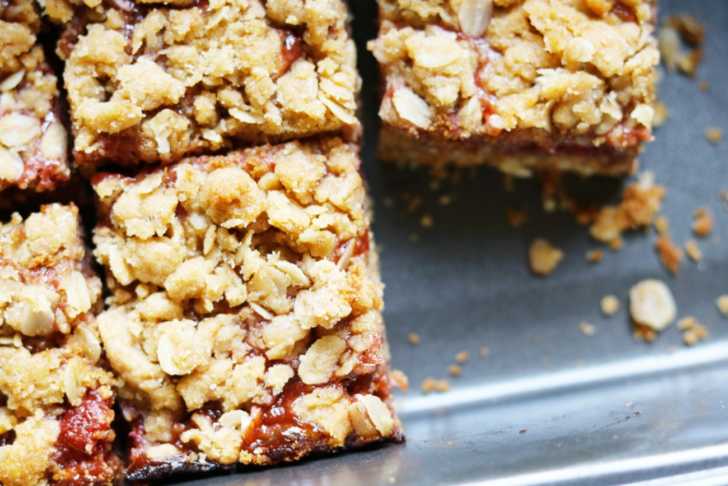 Peanut butter and jelly are the peas and carrots of the sandwich world: a match made in heaven. We love the creamy sweet and salty nuttiness of peanut butter combined with pretty much any flavor of jam or jelly. We've made our own preserves in the past, but a jar of our favorite jam from the grocery store is just as good. That sweet-salty-fruity combination is such a simple but satisfying pairing of favor. A peanut butter and jelly sandwich is a lunchtime staple as well as a great late-night snack.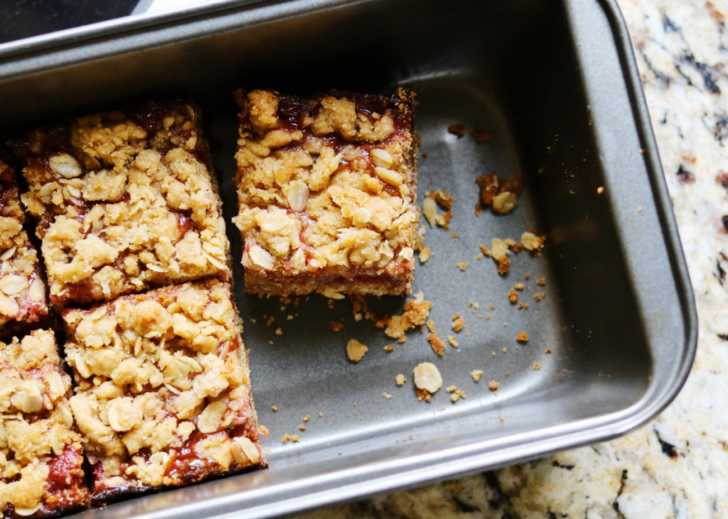 We've found a fun way to rethink the classic PB&J, turning the sandwich staple into a sweet breakfast bar. Peanut butter and jelly oat crumbles are great for breakfast, cut into square bars perfect for those mornings when everyone needs to just grab something and go. Peanut butter offers a little bit of protein while the oats offer that long-lasting energy to get us through the morning. Grab a cup of coffee or a tall glass of milk and everyone's satisfied.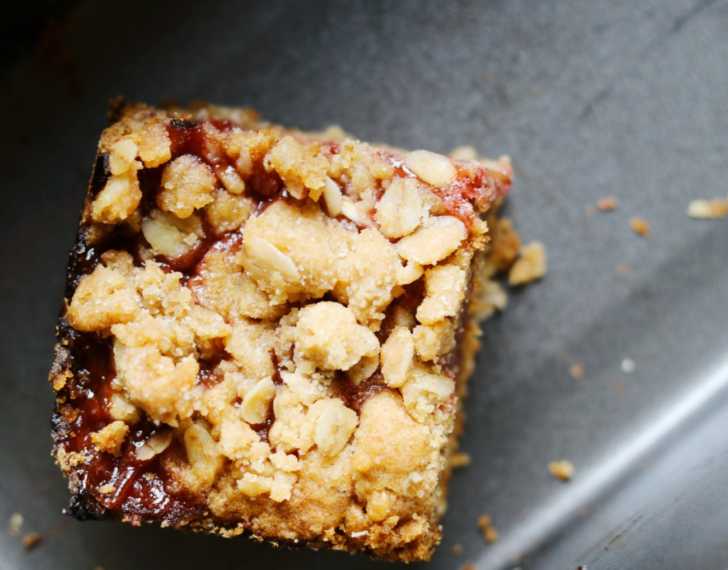 We can think of a million-and-one reasons why these peanut butter and jelly bars are so good. As a snack or a meal, they are a quick and easy way to make sure that no one leaves the house hungry. And if you need to refuel after a workout, these bars are just the trick for putting a little more energy into the tank. No special ingredients required! Just pantry staples blended together into one classic combination of goodness!
PB & J Oat Crumble Bars
Ingredients
1 ¼ cup flour
1 stick unsalted butter, room temperature
1 large egg
2 tablespoons brown sugar
4 tablespoons sugar
⅓ cup peanut butter
½ cup jam or jelly, room temperature
¾ cup old fashioned oats
1 teaspoon vanilla
½ teaspoon baking soda
½ teaspoon salt
Preparation
Preheat oven to 375°F. Line 8x8-inch baking dish with parchment paper and set aside. Leave sides of paper long for easy removal of bars later.
Cream butter and both sugars. Add egg and beat until blended. Add vanilla and peanut butter and beat until combined.
In a separate bowl, mix oats, flour, salt, and baking soda. Slowly add into wet ingredients until dough forms. Reserve ⅓ of dough for crumble topping. Press remaining dough into bottom of baking dish, spreading evenly to edges.
Spread jam over top of dough. Use reserved dough and break into crumbles, then sprinkle over top of jam.
Bake for 20-25 minutes. Cool completely then remove from pan, lifting out the parchment paper and setting onto a cutting board. Cut into bars to serve.
Recipe adapted from Lovely Little Kitchen