These sweet and salty treats are a fun Thanksgiving treat!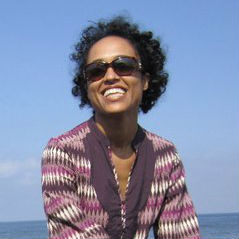 Sarah Cool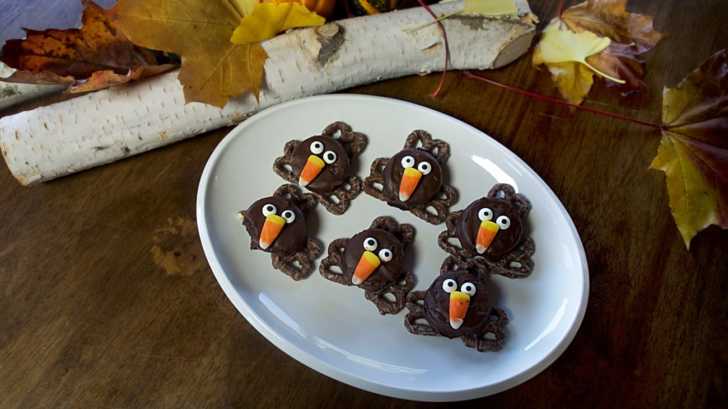 It's a rare occasion where we tell kids to play with their food! We've found a pretty good excuse this time; these sweet and salty Thanksgiving turkeys are a fun holiday craft for the kiddos and have the added benefit of being edible! We love this because it's super simple but definitely a little bit messy, so be sure to prepare a work space and wear an apron to avoid getting covered in chocolate. With a few ingredients from the pantry and one specialty item (sugar eyes), these fun little treats come together faster than the real turkey in the oven! Be sure to give the turkey a chance to "rest" before serving – a few minutes in the refrigerator will allow all of the chocolate to set. And don't forget to snap a picture of these little guys before they're gobbled up!
– Makes 12, or as many as you'd like!
Oreo Pretzel Turkeys
Supplies
— 1/3 cup semi-sweet chocolate chips
— 1/2 tablespoon vegetable oil
— 12 fudge-covered chocolate-sandwich cookies
— 36 chocolate-covered pretzels
— 24 candy eyeballs
— 12 pieces candy corn
Directions
— Melt chocolate chips and vegetable oil for 30 seconds in a small microwave-safe bowl. Remove and stir. Continue cooking in 30-second increments until chips are melted.
— Assemble cookies using chocolate as glue; spread on back of cookie and attach 3 pretzels in a fan pattern to look like feathers.
— Dip backs of eyeballs and candy corn in chocolate and stick to the front of the cookie to make a face.
— Place finished turkeys on a plate and cool in refrigerator until chocolate is set (at least 30 minutes).